Cano, Hernandez, Young honored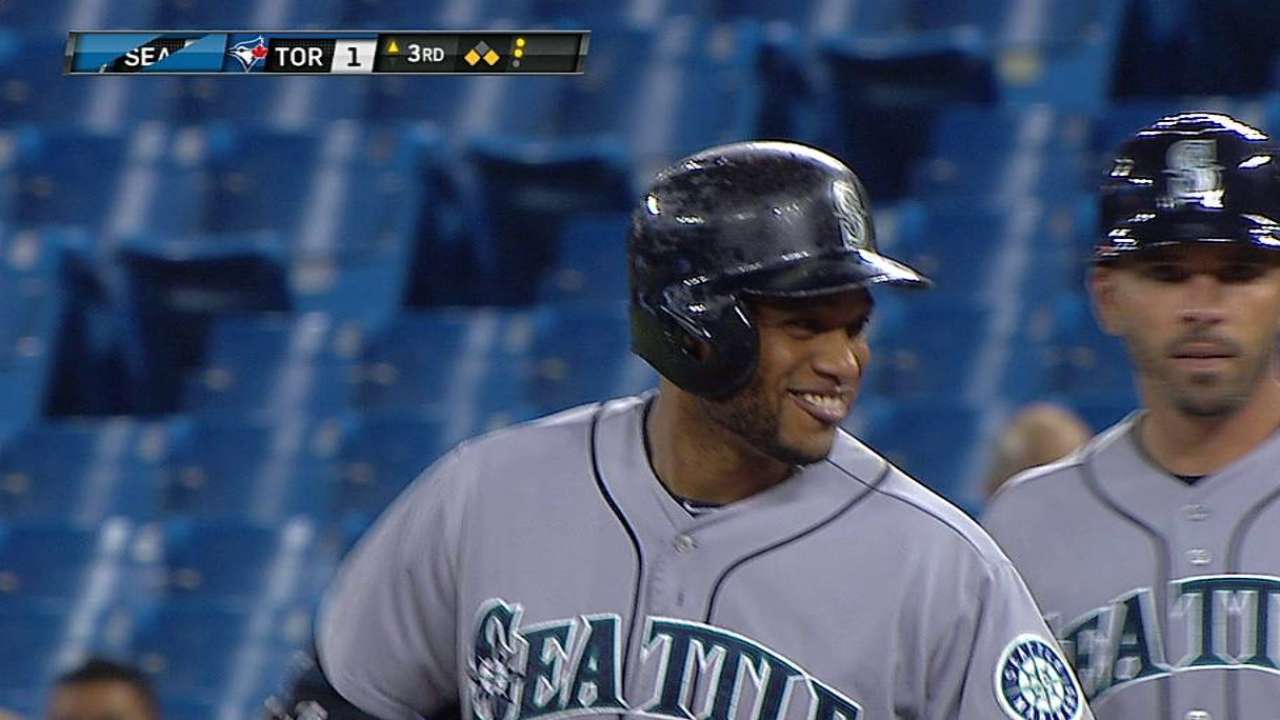 SEATTLE -- With the regular season winding to a close, a few Mariners were honored in a ceremony staged by the Baseball Writers' Association of America minutes before Friday night's series opener against the Angels.
There were no surprises.
Second baseman Robinson Cano was named the Player of the Year, American League Cy Young candidate Felix Hernandez earned Pitcher of the Year honors and veteran right-hander Chris Young was given the Unsung Hero Award.
The Mariners began Friday two games behind the Athletics in the race for the second American League Wild Card spot.
They likely wouldn't be in position to make the playoffs at all if it weren't for the contributions of all three players.
The Mariners made arguably the game's biggest free-agent acquisition last offseason, when they signed Cano to a 10-year, $240 million contract. He's responded with a productive first year in the Emerald City that included his fifth consecutive All-Star appearance.
Cano entered Friday with a .318/.384/.460 slash line, 14 home runs, 82 RBIs and a career-high 10 stolen bases in 154 games. After finishing 71-91 and struggling to score in 2013, the Mariners needed a true middle-of-the-order presence, and Cano has filled that role admirably as the No. 3 hitter while mentoring some of the younger hitters.
Meanwhile, Hernandez has been the ace of a rotation that began Friday with a 3.54 ERA, third in the AL. Even after allowing eight runs over 4 2/3 innings against the Blue Jays in his most recent start, "The King" is among the favorites to win the AL Cy Young Award.
In 33 starts this season, Hernandez is 14-6 with a 2.34 ERA over 230 2/3 innings, and he set a Major League record by pitching at least seven innings and allowing two runs or fewer in 16 consecutive starts (May 18 to Aug. 11).
He is scheduled to start against the Angels on Sunday on the final day of the regular season.
"Felix is fine. He's a champion. He's very disappointed in his outing," manager Lloyd McClendon said after Hernandez's last outing. "He'll be ready Sunday."
Then there is Young.
Signed late in Spring Training after being released by the Nationals, the six-foot-10 right-hander proved perfect for a Seattle club needing a pitcher to fill the back end of its rotation.
Young is 12-9 with a 3.65 ERA in 29 starts (30 appearances) after battling assorted shoulder injuries for the past five seasons. He did, however, wear down toward the end of the season, and when he gave up seven runs in three innings last week against the Astros, McClendon chose to take him out of the rotation.
"Chris has done a tremendous job for us this year," McClendon said. "To think he's won as many games as he's won and gone out there as many times as he's gone out there, coming off the type of surgery that he had, I think it's just tremendous. I'm not sure we'd be in the position we're in now if not for him."
Worth noting: Third baseman Kyle Seager on Friday was given the Mariners' Heart and Hustle Award, presented by the Major League Baseball Players' Alumni Association.
Adam Lewis is an associate reporter for MLB.com. This story was not subject to the approval of Major League Baseball or its clubs.