Chavez's value not lost on contending Mariners
Always a true professional, veteran further motivated by playoff push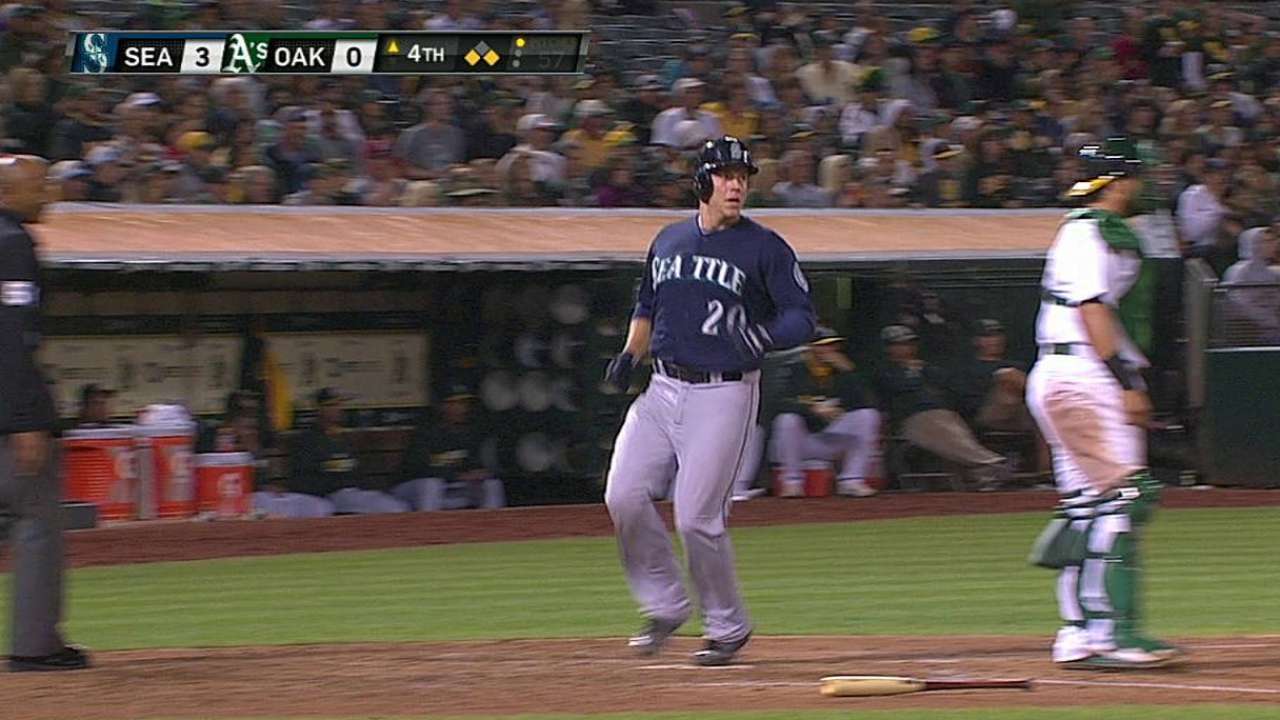 OAKLAND -- Endy Chavez has come to Mariners camp as something of an afterthought on Minor League deals the last two years, but he's wound up playing an integral role in Seattle's outfield in both seasons.
This year, the 36-year-old Venezuelan has been a big part of Seattle's success as Chavez has hit .281 with 12 doubles, two triples, two home runs and 22 RBIs in 70 games while filling the gap created by Michael Saunders' injuries and illness.
Chavez delivered another key hit in Tuesday's 6-5 victory over the A's with a two-run double in the fourth inning, when he drove a ground ball through the middle of a drawn-in infield, then hustled into second base when he noticed no defenders were covering the bag.
"That's him," said teammate Kyle Seager. "He battles everything, he's going to give you a professional at-bat every time. He goes about his business and plays the game the right way. He took advantage of something there. Everybody was super excited that the ball got through the infield and we're scoring two runs, and he's hustling and turning it into a double by taking advantage of the middle infielders going after the ball. That's just the heads-up baseball player that he is."
Chavez put up a .267/.290/.327 line last year in 97 games for the Mariners. This year, he's at .281/.323/.386 and playing as well as he has in a career that took him to the 2006 playoffs with the Mets and the 2011 World Series with the Rangers.
The veteran says he's renewed by Seattle's playoff push and excited to be part of it. Chavez has hit .381 with six runs, six doubles, one home run and 12 RBIs and a .469 on-base percentage over his last 19 games since Aug. 7.
"I think it's the competition level. I want to be in the next round, so I'm trying to do what I can," Chavez said. "Lloyd [McClendon, manager] is using me and trying to be good for the team. I always play to compete, so everything is going good."
And while McClendon continues platooning Chavez and giving him regular rest, Chavez insists that isn't necessary.
"Honestly, I don't know why," Chavez said. "He's giving me some rest and keeping me fresh. But I know I can play every day for a month or something like that. I feel healthy. I feel fine. Everything is running good. I feel ready to go."
"We've been able to put him in positions where he has a chance to be successful, not expose him against tough left-handers," McClendon said. "He's taken off as a result. He's a very valuable player for us."
Worth noting
• Robinson Cano is just the second player in Major League history with 30 or more doubles in each of his first 10 seasons, joining Albert Pujols. Cano has 405 doubles since debuting in 2005. Only three players have more in their first 10 seasons -- Pujols (426), Joe Medwick (416) and Todd Helton (413).
• Corey Hart was in the lineup at designated hitter on Wednesday for the first time since being recalled from his rehab assignment on Monday.
"He's healthy, he swung the bat good down at Triple-A," McClendon said. "Corey Hart can be an X-factor for us, particularly against left-handers. It's good to have him back."
Greg Johns is a reporter for MLB.com. Follow him on Twitter @GregJohnsMLB as well as his Mariners Musings blog. This story was not subject to the approval of Major League Baseball or its clubs.