Mariners mulling struggling Young's next start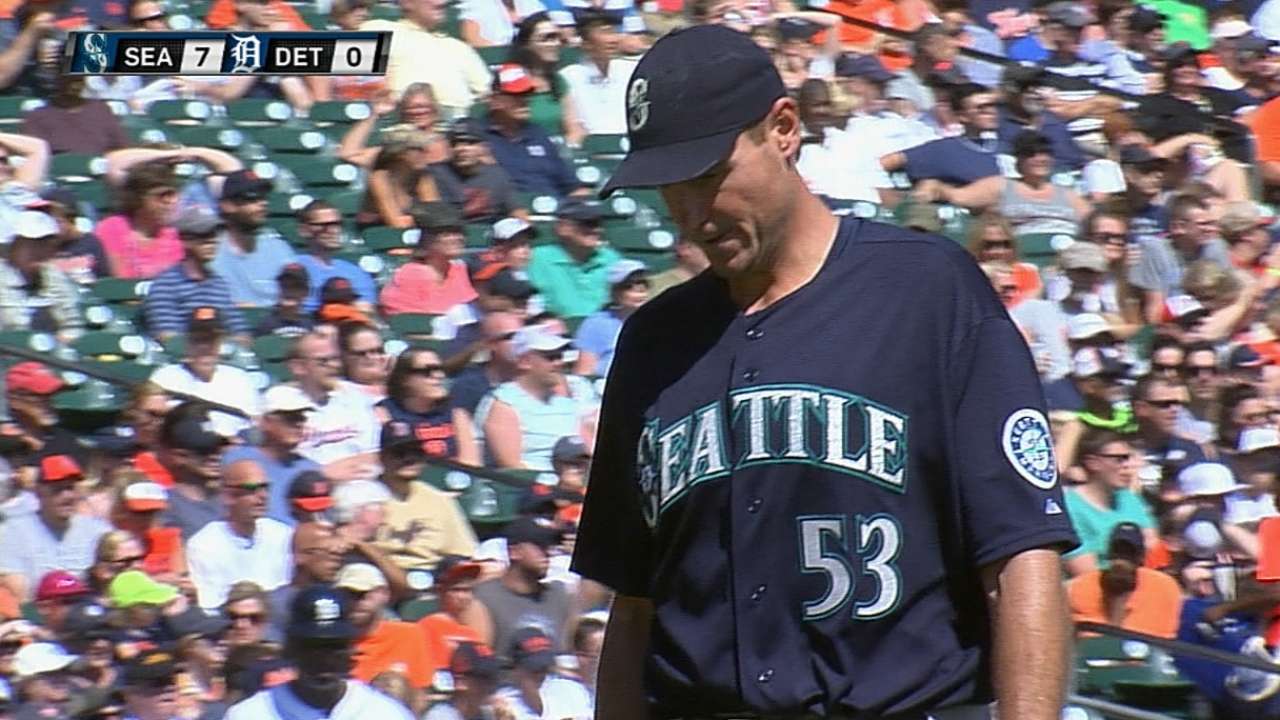 OAKLAND -- After pushing Chris Young's last start back an extra three days and then seeing him get knocked out after two-thirds of an inning Monday, Mariners manager Lloyd McClendon said Tuesday he's facing a decision now whether to keep the veteran right-hander in the rotation.
Young has been a big part of the Mariners' success this season with a 12-7 record and 3.46 ERA in 27 games (26 starts), but he has had two rough outings in a row and McClendon wants to make sure he's healthy as he's passed 150 innings for the first time since 2007 after a series of injury-plagued seasons.
"He threw seven starts in the Minor Leagues last year. He's in uncharted territory," McClendon said. "I have to watch him and evaluate and make a decision."
The Mariners have an option already lined up as rookie right-hander Taijuan Walker threw 89 pitches in six innings of one-run relief Monday and could simply step in Saturday in Texas in Young's next scheduled start.
McClendon said he talked to Young after the 35-year-old gave up five runs on four hits and two walks while getting only two outs in Monday's 6-1 loss and he'll observe the big right-hander's long-toss and bullpen sessions and figure out his course of action.
"He assured me he felt healthy and I assured him I would do what is best for this club," McClendon said. "I'm going to evaluate in the next day or two and we'll make a decision. If I deem him 100 percent healthy, yes, he'll start."
Young said after Monday's start that he feels fine physically.
"I feel good. I wouldn't take the ball if I didn't," he said. "Every pitcher goes through a period during the season where they don't throw the ball as well, and mine is right now. I'm going to get through it, I'm going to keep working and I'm going to finish strong."
But Young walked five batters in his prior start in Boston when he gave up seven hits and three runs while needing 93 pitches to get through 3 2/3 innings. He issued two more walks and struggled with his location again before McClendon pulled him in the first inning after 36 pitches Monday.
"He's not a big velocity guy anyway," McClendon said. "What concerns me is command with him because he's not a power guy. When he starts to lose command, yeah, I'm a little concerned about it."
Greg Johns is a reporter for MLB.com. Follow him on Twitter @GregJohnsMLB as well as his Mariners Musings blog. This story was not subject to the approval of Major League Baseball or its clubs.