Top prospect Walker heads Mariners' callups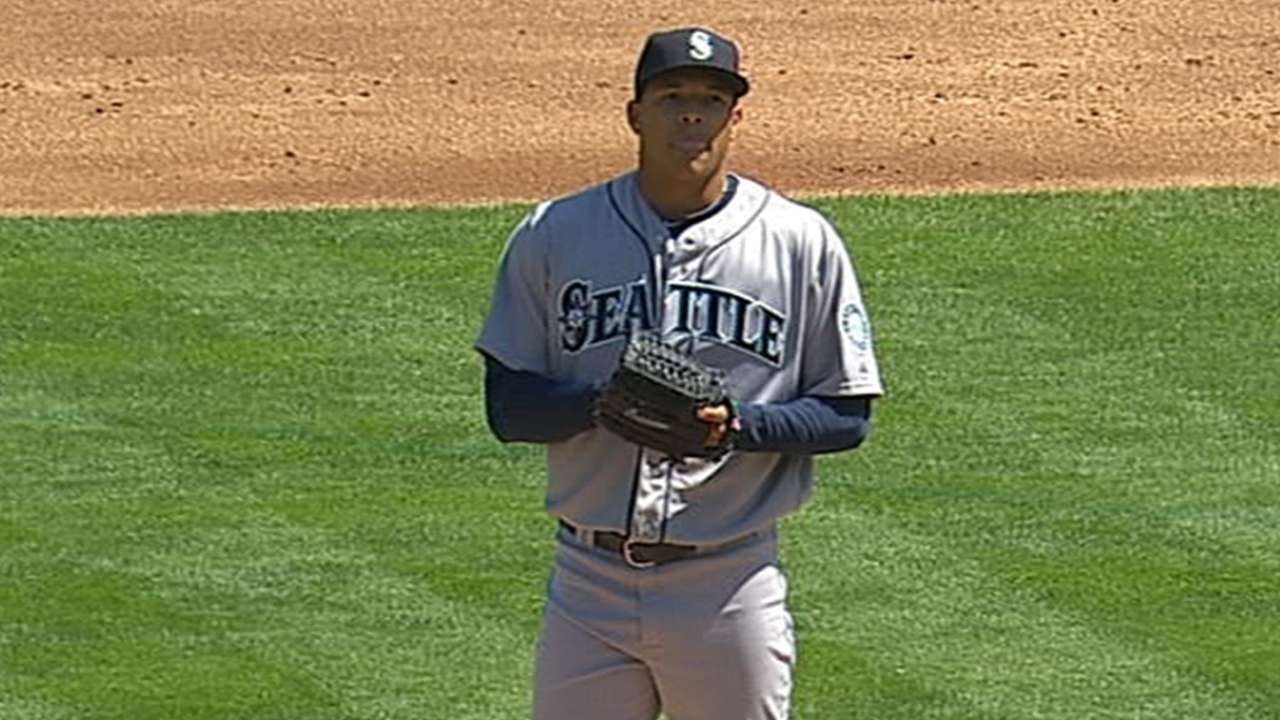 OAKLAND -- Mariners top prospect Taijuan Walker and first baseman Justin Smoak were among seven players added from Triple-A Tacoma on Monday as Seattle's 25-man roster was supplemented by September callups, and both saw considerable action in a 6-1 loss to the A's.
Walker threw six innings of one-run ball in a long-relief role, while Smoak started at first base and went 0-for-3. Additionally, rookie right-hander Carson Smith made his Major League debut after being added to the roster and retired the only batter he faced in the eighth inning, while outfielder Stefen Romero was hit by a pitch while pinch-hitting in the ninth and southpaw Lucas Luetge gave up one hit in one-third of an inning in relief.
Teams are allowed to expand their roster for the final month of the regular season, and the Mariners took advantage by returning outfielder Corey Hart from his Minor League rehab assignment and recalling four others who'd also been with the club earlier this year in Smoak, Walker, Romero and Luetge.
The club also selected catcher Humberto Quintero and Smith, two players who had to be added to the 40-man roster in order to join the big league club. To make room on the 40-man roster, utility man Willie Bloomquist was transferred from the 15-day disabled list to the 60-day DL and infielder Jesus Montero was placed on the suspended list.
"I think all of them bring something to the table," manager Lloyd McClendon said. "And hopefully they'll get opportunities to help us win games."
Two more pitchers -- starters James Paxton and Erasmo Ramirez -- will be added as well, but those two have to wait until Tacoma played its final game on Monday since they were optioned to Triple-A last week. Players who have been optioned must spend 10 days in the Minors or wait until that team's season ends, before being recalled.
Paxton, who is scheduled to start Tuesday's game in Oakland, was sent down strictly to open a spot for Ramirez and then for outfielder James Jones as the Mariners did some roster maneuvering last week. Ramirez will be used out of the bullpen, McClendon said.
Walker has spent most of the year with Tacoma, where he went 6-4 with a 4.81 ERA in 14 starts after a late arrival due to shoulder issues, but is now 1-2 with a 3.00 ERA in four outings for the Mariners this season. Monday's appearance was his first out of the bullpen, which is where McClendon indicated his initial role would lie.
"Right now, he's probably going to be more of a long man," McClendon said. "Hopefully he'll get to the point where he's so dominating that he's in the rotation, but we'll see. I had a talk with him today, and that's totally up to him. We've all heard the hype and know he's a very talented individual, but I want to see it on the field."
Hart hit .273 with three home runs and five RBIs in nine rehab starts while returning from a bruised right knee that sidelined him on Aug. 1. The two-time National League All-Star has been trying to get healthy all season after missing 2013 with two microfracture knee surgeries. He's hit .203 with five homers and 20 RBIs in 58 games for Seattle since signing a one-year deal in free agency last winter.
"He actually swung the bat pretty good down there," McClendon said. "We'll try to get matchups for him as well. He's a veteran guy that knows what he's doing. I'm sure there'll be plenty of opportunities for Corey Hart to swing the bat."
Romero and Smoak have both been swinging hot bats of late. Romero hit .390 with 21 runs, nine home runs and 27 RBIs in 25 games since being optioned to Tacoma on Aug. 1. For the year, he's hit .358 with 12 homers and 38 RBIs for the Rainiers after splitting time with Seattle.
Smoak has hit .447 with six doubles, one home run and 18 RBIs over his past 21 games for the Rainiers. Smoak was sent down by the Mariners in July after losing his starting job at first base to Logan Morrison, but he was in the lineup for Monday's series opener. Luetge is another who has split time between Seattle and Tacoma this season, going 3-2 with a 3.32 ERA in 43 appearances for the Rainiers.
Quintero and Smith are making their first appearances with Seattle this season. Quintero, 35, is a veteran catcher who hit .290 in 73 games with Tacoma and gives Seattle some depth behind Mike Zunino and Jesus Sucre.
Greg Johns is a reporter for MLB.com. Follow him on Twitter @GregJohnsMLB as well as his Mariners Musings blog. This story was not subject to the approval of Major League Baseball or its clubs.