Felix pushed back as Mariners adjust rotation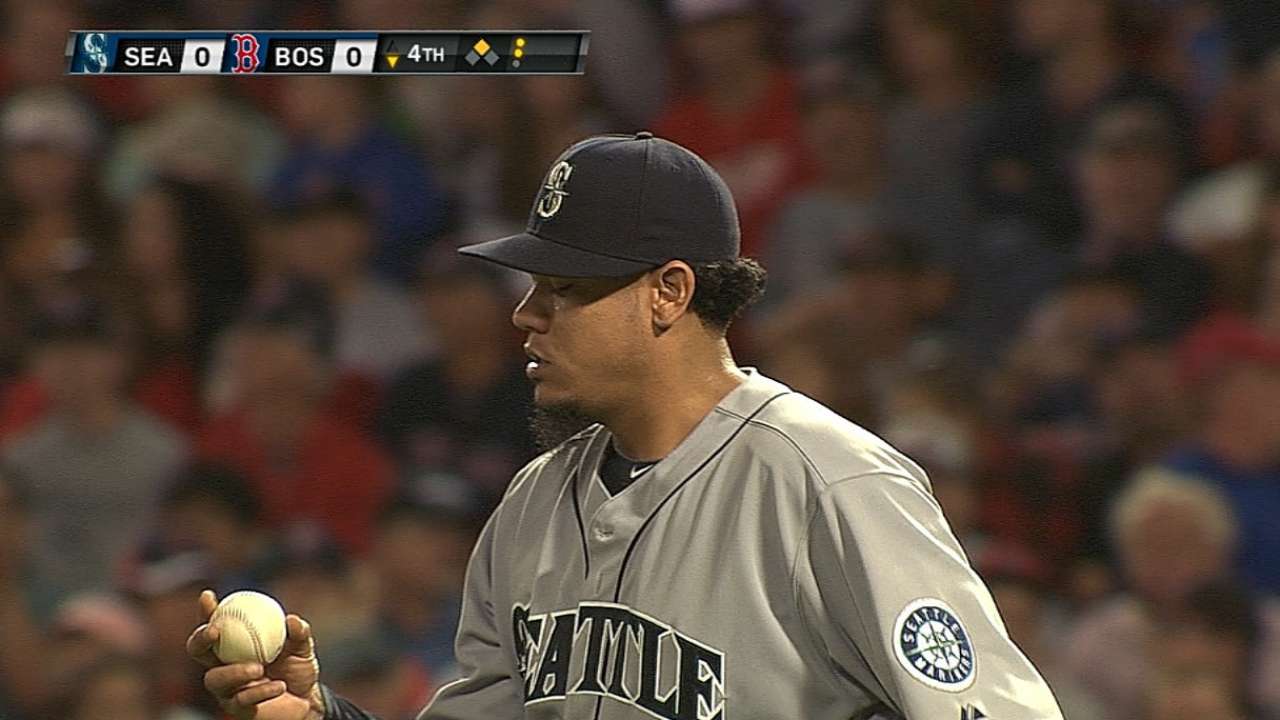 SEATTLE -- The Mariners are tweaking their starting rotation again.
Instead of making his scheduled Wednesday start, ace right-hander Felix Hernandez will pitch Friday on six days' rest when Seattle welcomes the Nationals for the start of a three-game Interleague series.
Seattle has yet to announce who will start in place of Hernandez on Wednesday against the Rangers, but the situation became more clear after right-hander Taijuan Walker allowed five runs over six innings for Triple-A Tacoma in Monday night's 8-0 loss to the Iowa Cubs.
Right-hander Erasmo Ramirez is scheduled to pitch Tuesday for the Rainiers, but that seems unlikely. With Walker unavailable, Ramirez became the logical candidate to start Wednesday's series finale. Manager Lloyd McClendon said he'll "probably" announce a starter Tuesday.
Ramirez has served primarily as a No. 6 starter for the Mariners while bouncing between Seattle and Triple-A Tacoma after beginning the year in the Mariners rotation. He's had middling success at both levels, going 1-5 with a 4.06 ERA in the big leagues and 5-5 with a 3.63 ERA with Tacoma.
McClendon confirmed that Ramirez or Walker will join the Mariners' rotation in some capacity Sept. 1, when MLB rules allow rosters to expand from 25 to 40. Assuming Ramirez is recalled before then, it will require a corresponding roster move.
In the meantime, McClendon would like to limit overusing a rotation with a 3.23 ERA -- best in the American League -- but struggled on Seattle's recent nine-game road trip through Detroit, Philadelphia and Boston.
"I've been concerned about that all year. That's why we've done everything we can to push them back whenever we get the chance to do that," McClendon said Monday before the club announced the rotation shuffling.
It's a move McClendon has used numerous times this season.
"I think you probably saw a little bit of the grind ... for us to come back 6-3 off this road trip. Our starting pitching was not very stellar," McClendon said. "There's probably been a little wear but we'll try to make some adjustments and keep our eye on the future a little bit. I'm not sure what we do but hopefully we'll have answers in the next few days."
Adam Lewis is an associate reporter for MLB.com. This story was not subject to the approval of Major League Baseball or its clubs.