Ackley's heads-up baserunning key for comeback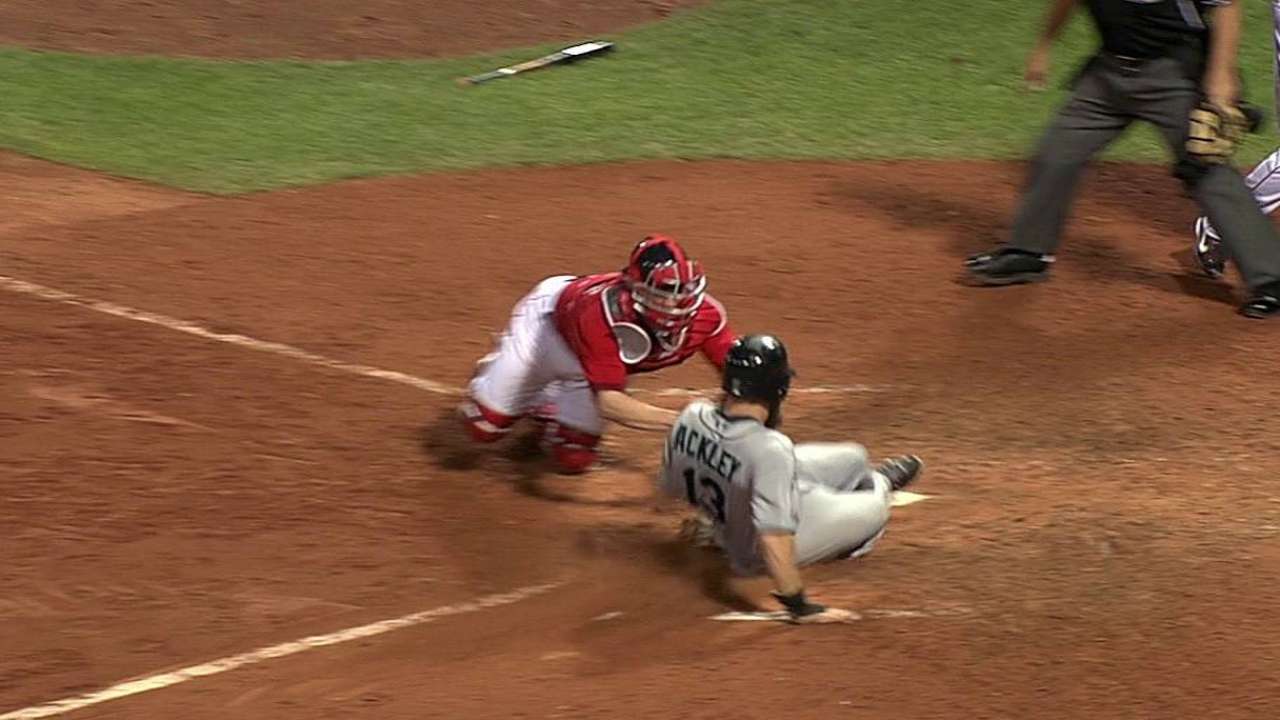 BOSTON -- Perhaps the craziest moment in the Mariners' wild five-run ninth inning rally in Friday's 5-3 victory at Fenway Park was the sight of Dustin Ackley scoring all the way from first for the final run on a single to right by Robinson Cano.
On a play where typically a runner will go first to third, Ackley was waved home by third-base coach Rich Donnelly when right fielder Daniel Nava took his time and lobbed the throw into second baseman Dustin Pedroia.
Ackley never hesitated and just beat a close play at the plate as Pedroia turned and fired to catcher Christian Vasquez as Ackley slid around the tag.
"I was surprised, for sure," Ackley said of being sent home. "I was running on the [3-2] pitch and kept running hard to third. He kept waving and waving and I was like, 'Well, I'll just keep running.' I wasn't expecting it at all because I thought it was just a one- or two-hopper to right and he's going to shut me down any second. I guess there was maybe a little nonchalance out there. I don't know what happened. But I was pretty surprised."
Donnelly said he started pondering the possibility as soon as he saw Nava move out to right field in the ninth, after playing first base the first eight innings, and take a spot about 15-20 feet deeper than starter Allen Craig.
The play only worked because Ackley was taking off on the full-count pitch and because the Mariners had already opened a 4-3 lead and Donnelly could risk pushing it further at that point.
"I noticed he was playing deeper and I said, 'If he hits the ball to his right or left and he lobs it to second, I'm sending him,'" Donnelly said. "I thought Pedroia made a heck of a play in making it close. He heard the crowd and he just turned and threw. A lot of other guys would have hesitated, but I thought he made a heck of a play to recognize what was going on, since he had his back turned.
"Ack was running the whole way. The whole way. It was luck of the draw at home plate. It was close and he made a heckuva slide. Ackley made a great play and Pedroia made a heck of a play to make it close."
Manager Lloyd McClendon credited Donnelly with having the courage to send Ackley in that scenario.
"Unbelievable," McClendon said. "I've always said you show me a third-base coach that doesn't get anybody thrown out and I'll show you a very bad third-base coach. Rich is willing to take the right chances in the right situations and that was just an unbelievable send. Too often third-base coaches don't get the credit for those type of things. That was just tremendous."
Greg Johns is a reporter for MLB.com. Follow him on Twitter @GregJohnsMLB as well as his Mariners Musings blog. This story was not subject to the approval of Major League Baseball or its clubs.