McClendon says club officially entering stretch run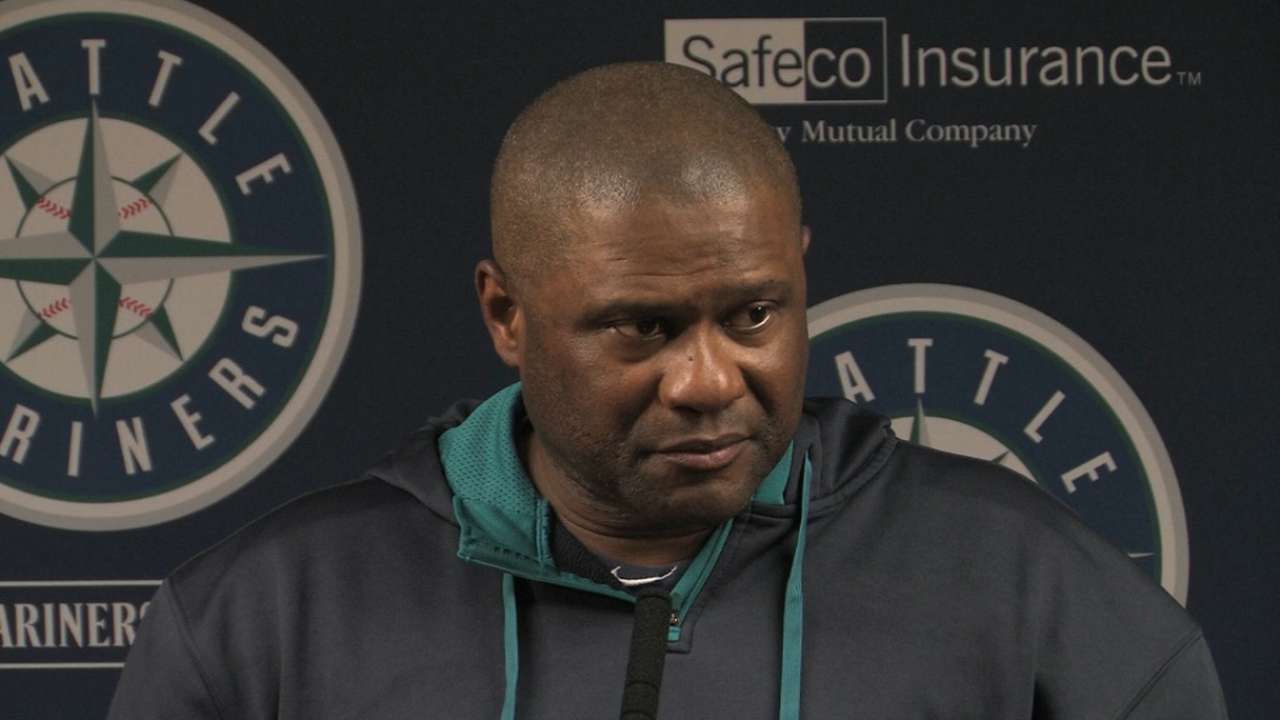 BOSTON -- With 36 games remaining in their season as the Mariners open a three-game set against the Red Sox on Friday, manager Lloyd McClendon said his club is officially entering the stretch run.
"I would say yes. This is it. It really is," McClendon said. "We have to up our game in a lot of different ways, both mentally and physically, because they all get tough from here on out."
The Mariners entered Friday's play a half-game behind the Tigers in the race for the American League's final Wild Card spot as they pursue the club's first postseason berth since 2001.
If the Mariners make the playoffs, they'll have earned it, given 21 of their remaining 36 games are on the road and they still have seven games against the AL West-leading Angels and six against the second-place A's, as well as four against contending Toronto and three against a Nationals team that leads the NL East and entered Friday on a 10-game winning streak.
The Mariners close out with 18 of 27 games on the road in the final month, which would be even-more imposing if not for the fact Seattle has one of the top road records in the Majors at 34-26. That is something McClendon figures is in his team's favor as it deals with a difficult closing stretch.
"No question about it, because if we're going to be successful, we're going to have to do it on the road," he said. "We've got nine home games in September. I don't know who made that schedule, but that's pretty tough. But it is what it is and we'll deal with it. We've done it all year with the travel and the scheduling. We don't talk about it. We don't make excuses about it. We just go out and do it. It'll be no different in September."
Robinson Cano, one of the few Mariners who has been through the heat of a pennant drive, agreed that things start to change about now.
"This is the time you don't want to take a day off because everything means a lot," said Cano. "You must win right now and you have to be ready every single day. This is why in the offseason I work really hard, because this is the time the team really needs you. This kind of situation, whatever you have done in the past doesn't count. It's gone good so far and hopefully we continue playing the same way we've been playing."
Cano believes his new team is ready for the challenge.
"Of course," he said. "Whatever is in my hands, I can do to tell them or show them or talk to them, I'll do it. A lot of people doubted that we'd be there this far into the season, but we've got a bunch of guys that have worked really hard and go out there and play hard. We've got a good chemistry."
Greg Johns is a reporter for MLB.com. Follow him on Twitter @GregJohnsMLB as well as his Mariners Musings blog. This story was not subject to the approval of Major League Baseball or its clubs.