McClendon: Paxton could play key role in stretch
Skipper sees rookie as 'glue to our rotation' who can keep win streaks going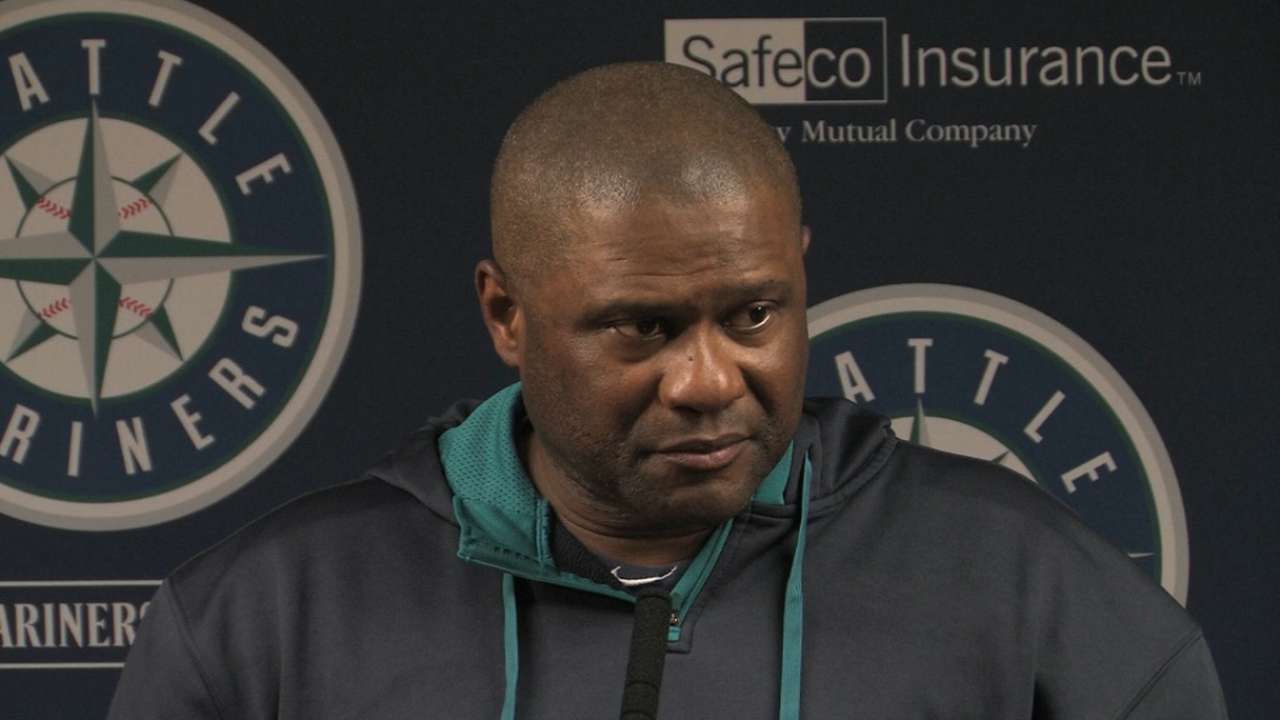 SEATTLE -- Heading into a critical three-game series with the Blue Jays earlier this week, Mariners manager Lloyd McClendon set up his pitching to align his three best veterans against a team with which Seattle was tied in the race for the American League's second Wild Card spot.
That ploy paid off handsomely as Felix Hernandez, Chris Young and Hisashi Iwakuma each picked up a win in a three-game sweep that dropped the Blue Jays back in the Wild Card race and now has Seattle running neck-and-neck with the Tigers and Royals for that final spot.
That would be the same Tigers who host the Mariners in a three-game series starting Friday at Comerica Park. Thanks to Thursday's off-day, Seattle can bring back two of those same pitchers -- Hernandez and Young -- for the final two games against Detroit.
But Friday's starter will be rookie left-hander James Paxton, who has just eight Major League outings to his name and faces a tough matchup in right-hander Rick Porcello (13-7, 3.11 ERA).
Cause for concern? Not for McClendon, due in large part to the promise Paxton has shown in his brief time in the big leagues. The 25-year-old Canadian has yet to lose, going 5-0 with a sterling 1.93 ERA, 0.92 WHIP and .186 batting average against in 46 2/3 innings over the past two seasons.
Paxton's progress was halted by an early-season shoulder issue that sidelined him until two weeks ago, but he appears back on track now after throwing 6 1/3 innings of one-run ball in his last outing against the White Sox.
McClendon has seen plenty from Paxton to think he'll further bolster a pitching staff that has put up the best ERA in the Majors this season at 2.95.
"He's extremely important for us," said McClendon. "Much like [Tom] Wilhelmsen is the glue to our bullpen, this kid can be the glue to our rotation moving forward down the stretch. If he can stay healthy and throw the ball like he did the other day, that's going to be big for us."
The glue for a rotation headed by Hernandez and Iwakuma, two of the best arms in the AL?
"He can keep a roll going for us, stretch those winning streaks out," said McClendon. "If you look at our rotation throughout the year, the guy in the five-hole has not had great success. It's been patchwork. This guy can patch it and it doesn't come loose."
McClendon was the Tigers' hitting coach last year when Paxton pitched at Comerica Park in one of his four September outings. The youngster took a no-decision in that game, as he allowed three runs in five frames, but McClendon saw the potential then, and he has only been further impressed by the 2-0 start with a 2.38 ERA in four outings this season.
"He can really shut down a game," McClendon said. "He can get it to 99 [mph], and it's effortless. He's 6-foot-7 with that [Clayton] Kershaw over-the-top [delivery] where you just don't see it. It's a different angle and it's very difficult on hitters. I think this kid has greatness written all over him. He just needs to stay healthy."
The Mariners just completed an 8-1 homestand by sweeping the Braves and the Blue Jays and winning two of three against the White Sox. They're playing good baseball, getting improved offense with midseason additions Austin Jackson, Kendrys Morales and Chris Denorfia. Coupled with the strong pitching, McClendon has reason for optimism.
But McClendon is well aware of the challenge of facing his former club as he returns to Detroit for the first time as the Mariners' skipper. He isn't taking anything for granted, based on the recent hot streak that has lifted his club to 65-55, the first time Seattle has been 10 games over .500 since 2007.
Can the Mariners carry that over to a nine-game road trip through Detroit, Philadelphia and Boston?
"Momentum is your next day's starting pitcher," McClendon said. "If Paxton pitches the way he's capable, then I'll say yeah. But I don't believe in that momentum stuff or getting too high or too low. They're a tough club [in Detroit] and we just need to be ready to play."
Saturday's game will feature a dream pitching matchup between two former AL Cy Young Award winners in Hernandez and David Price, who'll face each other for the first time. Over the past six seasons, Hernandez has gone 84-53 with a 2.73 ERA in 190 starts, while Price is 82-47 with a 3.21 ERA in 172.
Then on Sunday, it will be Young -- making a strong bid for AL Comeback Player of the Year Award consideration with an 11-6 record and a 3.20 ERA after missing last season with a shoulder injury -- vs. Tigers lefty Robbie Ray.
The Mariners have 27 of their remaining 42 games on the road, so their work is cut out for them. But Seattle's 31-23 road mark is the second best in the AL behind only Baltimore's 35-24 entering play Friday.
Surprisingly, the Mariners' bigger challenge had been winning at home this season, a hump they overcame with the 8-1 stand that finally pushed them over .500 at Safeco Field to 34-32. But McClendon didn't spend much time celebrating.
"It was a good homestand and our guys should be proud of it, but it's over," he said. "Now we've got to get ready for the Tigers."
Greg Johns is a reporter for MLB.com. Follow him on Twitter @GregJohnsMLB as well as his Mariners Musings blog. This story was not subject to the approval of Major League Baseball or its clubs.