McClendon raves about his sterling bullpen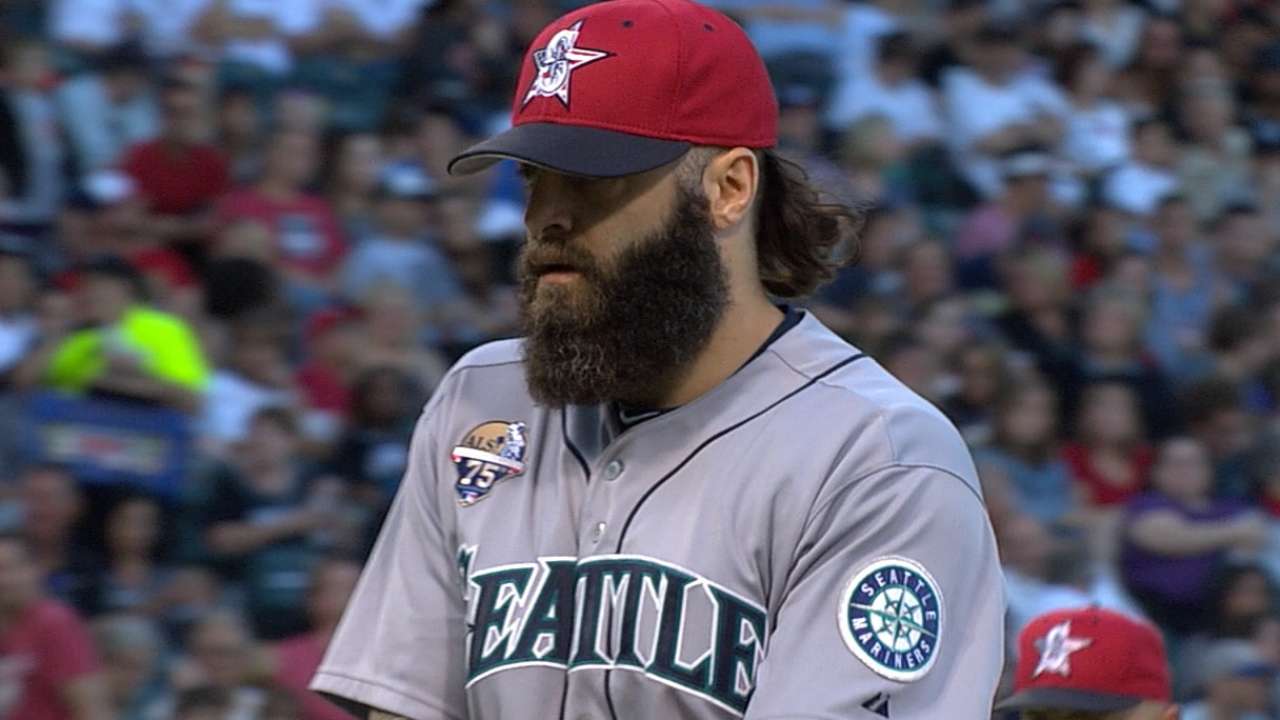 SEATTLE - Mariners manager Lloyd McClendon looks at how things have shaken out this season for his bullpen, which has been the best in baseball with a sterling 2.33 ERA, and points to the depth and quality of arms as the key.
"It's phenomenal," McClendon said prior to Tuesday's game with the Blue Jays. "I've been part of some real good pitching staffs. We had a bullpen in Detroit with [Joel] Zumaya, [Fernando] Rodney and [Todd] Jones and if we had a lead after 5 2/3, the game was over. This bullpen is better. We have more options, more depth.
"One thing about our bullpen, we added two veterans in Joe Beimel and Rodney," he said. "Everybody else was able to be slotted into the proper roles where they weren't overexposed or overused. As a result, they've been fantastic. Now did I think they were going to be this good? This is historical type of stuff and I didn't expect that. It's been pretty special to watch."
General manager Jack Zduriencik solidified the bullpen by signing Rodney as closer, allowing the returning youngsters to fill into middle-inning and setup roles. But McClendon said the group is so versatile that there really aren't specific roles as Danny Farquhar, Yoervis Medina, Charlie Furbush, Beimel, Dominic Leone and even young addition Brandon Maurer have been used in eighth-inning setup situations against different matchups.
McClendon points to the rotation's ability to go deep into most games as a huge factor as well, since he's been able to avoid the "helter-skelter" situations that arise from short starts. But even in those circumstances, the Mariners have fared extremely well because Tom Wilhelmsen has developed into an outstanding multi-inning option and has been able to cover up numerous issues and get the game into later innings.
"He's been the glue that has held our bullpen together," McClendon said. "Time and time again he's pitched three or 3 1/3 innings of shutdown baseball. I was looking at his numbers today and they're just phenomenal. To think he has 63 innings with 36 hits, that's shutdown type of stuff. Opponents are hitting .167 off him. That's pretty good glue."
As for his biggest surprise among this year's relievers?
"Nobody talks about it, because he's the one that doesn't throw the hardest," McClendon said. "But Joe Beimel, if you look at his numbers against left-handers, they're off the charts. He's been pretty good."
The veteran southpaw has a .150 batting average against left-handers and an overall ERA of 1.30 in 34 2/3 innings over 41 appearances after not pitching in the Majors since 2011 due to elbow problems.
Greg Johns is a reporter for MLB.com. Follow him on Twitter @GregJohnsMLB as well as his Mariners Musings blog. This story was not subject to the approval of Major League Baseball or its clubs.