Rookie shortstop off to Taylor-made start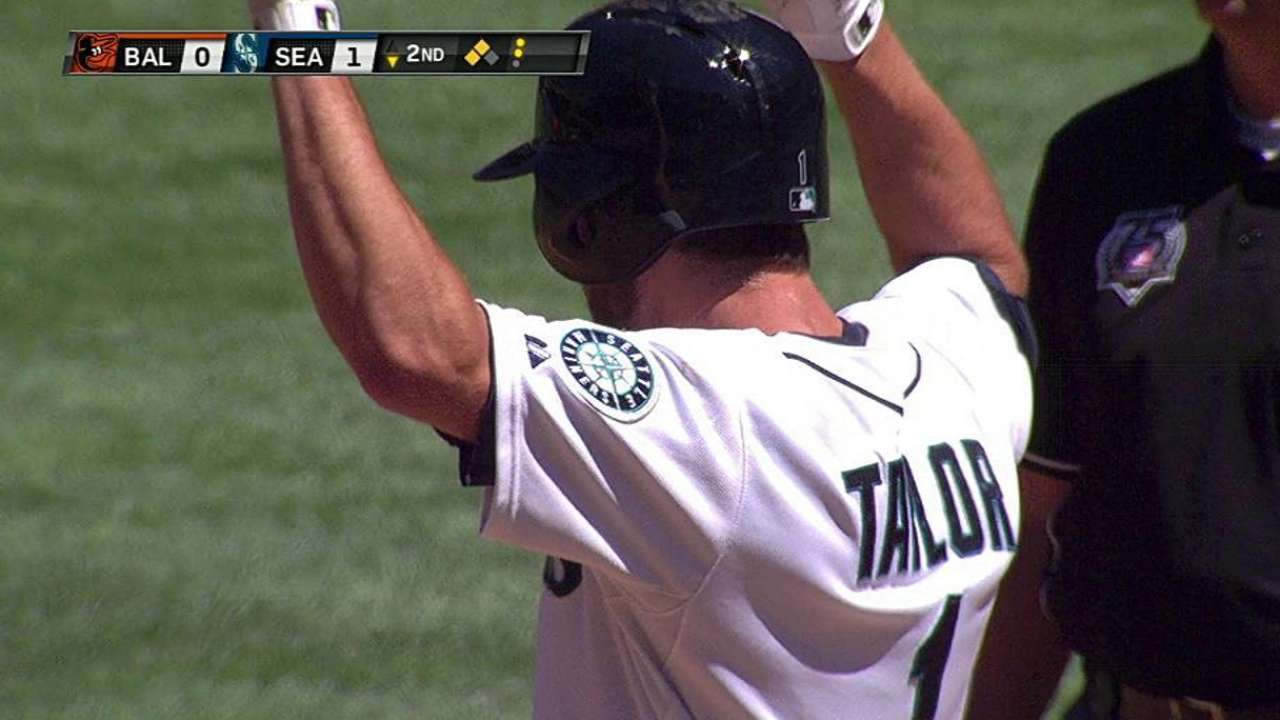 SEATTLE -- Chris Taylor has gotten off to a great start in the Majors, toting a healthy .400 batting average through his first 14 games with the Mariners.
The rookie shortstop has recorded a hit in each of his first 12 starts, but he isn't reading too much into his lofty numbers in 45 at-bats.
"I feel like every game I feel more and more comfortable," said the 23-year-old from Virginia. "And I've been pretty fortunate as far as hitting 'em where they're not as of late. That definitely helped me feel a little more relaxed. It's nice to get some hits when you come up. It's a tough game and it can be humbling at times. So hopefully that continues."
The youngster includes five doubles among his first 18 hits and has consistently hit the ball hard with an aggressive approach at the plate, but pitchers are just getting a book on him. And he knows hard-hit balls don't always lead to results.
"Logan Morrison has been a perfect example," he said, nodding at his nearby teammate in the clubhouse. "Just because you square a ball up doesn't mean you're going to get a hit. And even if you don't square it up, you might find a hit. Baseball is a funny game, but it's been on my side of late."
Brad Miller got the start at shortstop in Monday's series opener with the Blue Jays, but Miller now is adopting more of the utility role previously held by Willie Bloomquist. Taylor remains the regular starter and will get most of the time for now.
"He's playing for a couple reasons," manager Lloyd McClendon said of Miller's start on Monday. "He needs to get some at-bats. My old skipper used to say, 'Everybody needs to feel like a hero every now and then.' But more important is I need to give the kid a blow, too. He's been going at it and I'm sure it's been pretty emotional for him, too, this run he's been on. So it's a good chance to get him off his feet."
Taylor started nine of the previous 10 games at shortstop and has received only two full games off since his promotion from Triple-A Tacoma on July 24.
"I try to take advantage of the days I'm not starting and eat more than I do on the days I'm playing and really put a focus on getting a good workout in, a good lower-body workout because I know I'm not starting," he said. "But you still have to mentally be ready to play, obviously. You never know what can happen in the course of a game, so I have to stay locked in."
Greg Johns is a reporter for MLB.com. Follow him on Twitter @GregJohnsMLB as well as his Mariners Musings blog. This story was not subject to the approval of Major League Baseball or its clubs.