Mariners recall Jones after Ramirez optioned
Speedy outfielder expected to provide help on defense, running bases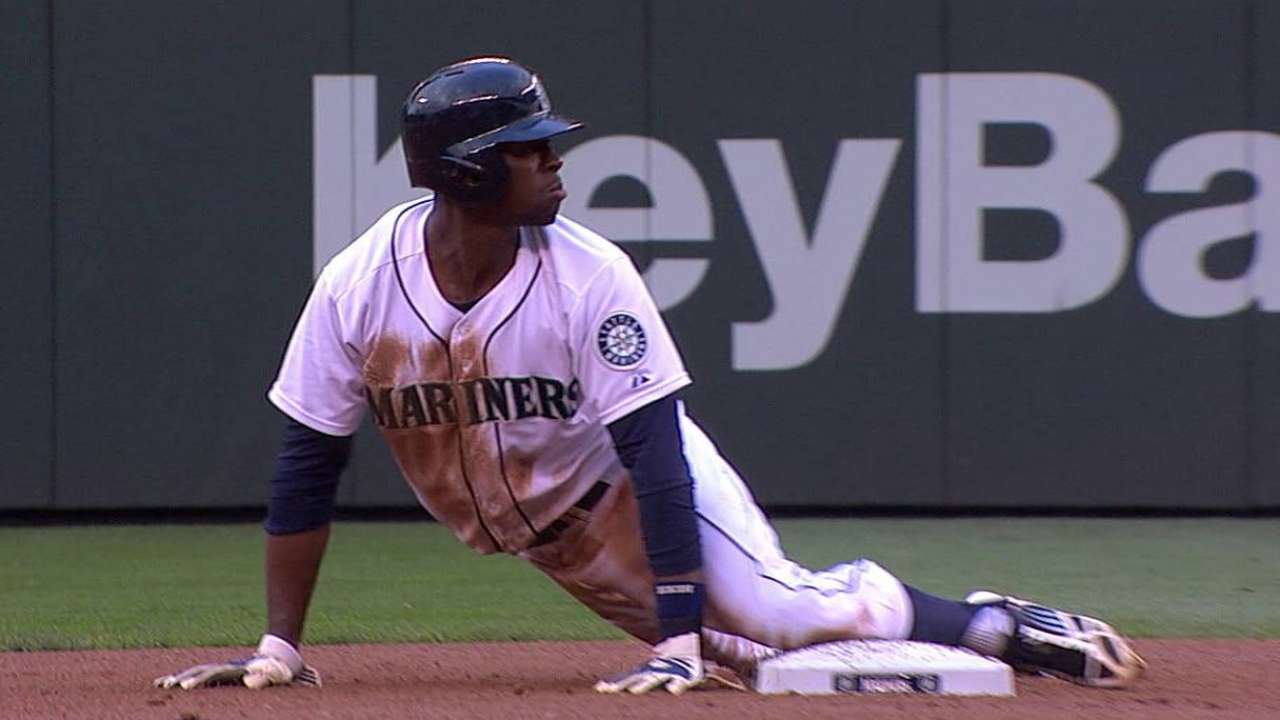 SEATTLE -- Rookie outfielder James Jones was recalled from Triple-A Tacoma on Monday by the Mariners, filling the opening created when right-hander Erasmo Ramirez was optioned to Tacoma after starting Sunday's 4-2 win over the White Sox.
Jones, 25, returns for his third stint with the Mariners this year. He's hit .258 with 38 runs and a team-leading 20 stolen bases, as well as eight doubles and four triples in 79 games.
Jones hit .257 with two doubles, two triples and four RBIs in eight games with Tacoma since being sent down. He's hit .296 in 28 total games with the Rainiers this year.
His return gives the Mariners five outfielders, joining Dustin Ackley, Austin Jackson, Endy Chavez and Chris Denorfia, with Michael Saunders still on a rehab stint with Tacoma as he returns from a strained oblique muscle.
With Jackson entrenched as the everyday center fielder since being acquired on July 31, manager Lloyd McClendon said Jones would play more in the corner-outfield spots now.
"James can do a lot of things," McClendon said. "He can play defense, steal a base. He can steal a base when they know he's stealing a base. I thought that's an important ingredient and it might help us win a ballgame."
That doesn't mean the youngster will be getting a lot of starting opportunities, however.
"I'm not going to rotate anybody. I'll play the guys that have played," McClendon said. "James will fit in on the defensive side of things and be able to steal some bases for us late in games. But I doubt if he'll get a lot of playing time, no."
Jones was in a 1-for-30 slump when he was sent down to Tacoma and says he used the time to get his confidence and approach squared away.
"It definitely gave me time to reset and draw things back," he said. "I felt like I was pressing, now I'm relaxed again. … They were just going out of the zone and I was chasing pitches. As a hitter, you've got to get a good pitch to hit, and it's just keeping it as simple as that. If I get a good pitch to swing at, I'm going to put it in play and probably drive it. But I'm not going to do well with balls bouncing and all out of the zone."
Ramirez threw 4 1/3 scoreless innings on Sunday against the White Sox, but was taken out before becoming eligible for the win. He's 1-5 with a 4.06 ERA in 13 starts for Seattle this year, including 0-1 with a 1.15 ERA in his last six outings.
Ramirez's demotion leaves the Mariners with only four starting pitchers on their 25-man roster, but with an off day coming up Thursday, they won't need a fifth starter until Tuesday, Aug. 19, in Philadelphia. He won't be eligible to return by that time, as players must stay in the Minors for a minimum of 10 days when they're optioned, but left-hander Roenis Elias -- who was optioned to Tacoma on Thursday after beating the White Sox for his ninth win of the season -- would be able to rejoin the club at that point.
Greg Johns is a reporter for MLB.com. Follow him on Twitter @GregJohnsMLB as well as his Mariners Musings blog. This story was not subject to the approval of Major League Baseball or its clubs.