LoMo seeing luck change on hitting streak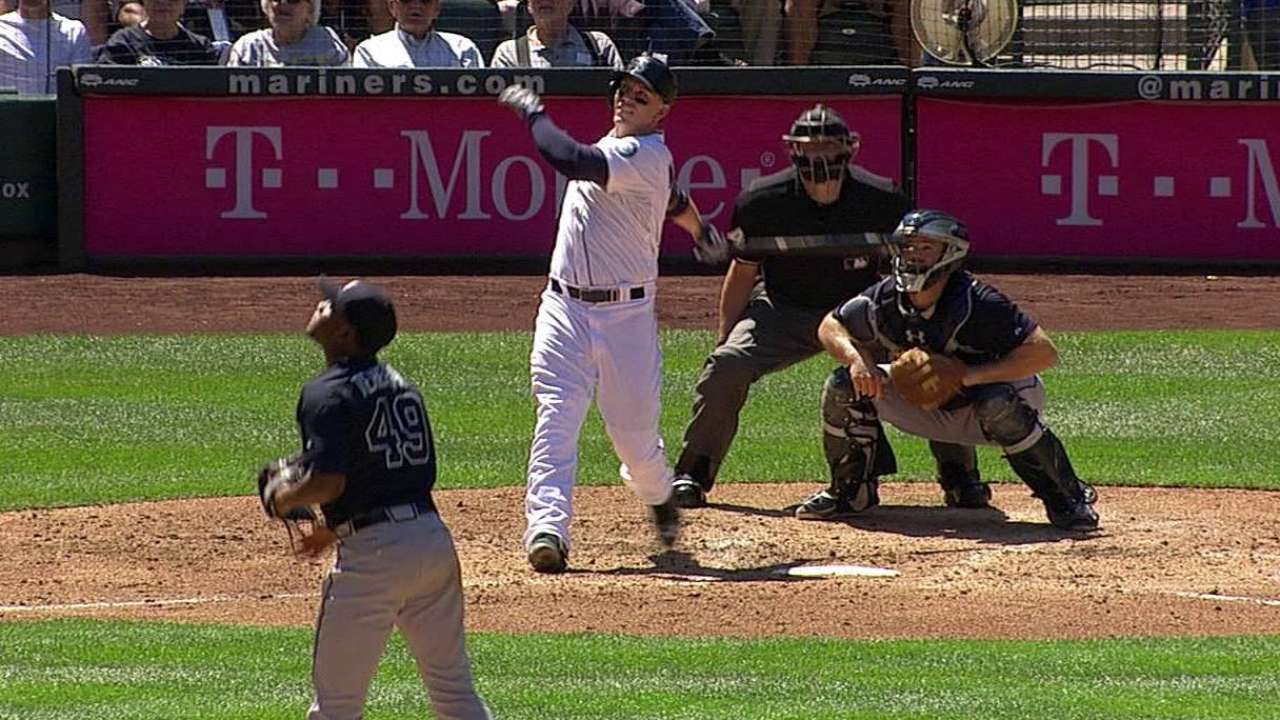 SEATTLE -- His swing isn't shorter. His approach isn't necessarily any different. And if you ask Logan Morrison, he isn't quite sure why he's finally started to produce more hits.
Morrison entered Sunday the owner of a 10-game hitting streak, the longest of any active player in the American League, then bashed a single off the right-field wall in his first at-bat to extend it to 11.
Asked about his recent success before Sunday's game, Morrison said he didn't think he was hitting the ball hard.
"I've just been getting lucky, really, been getting jammed and finding holes, " Morrison said, then laughed. "I think it's just one of those things where you go through stretches where you hit balls hard and they get caught, and you don't hit balls hard for a while and they don't get caught."
A left-handed hitter who on occasion peppers batting-practice home runs off Safeco Field's Hit It Here Cafe, Morrison has followed spurts of productivity with prolonged slumps in his first season with the Mariners.
But he became the club's starting first baseman when incumbent Justin Smoak was optioned to Triple-A Tacoma on July 21.
In 16 games since Smoak's demotion, Morrison began Sunday on a 12-for-55 (.218 batting average) stretch with one home run, seven RBIs and two doubles.
"When you figure it out, come tell me, because I have no idea. He's hot and cold," manager Lloyd McClendon said. "I don't have the answers for that one. You go talk to him and tell me because I can't figure it out."
The Mariners traded reliever Carter Capps to the Marlins in exchange for Morrison at the end of last December's Winter Meetings, with the hope the 26-year-old could put health issues behind him and provide thump in the Mariners' lineup hitting behind Robinson Cano.
After a slow start, Morrison strained his right hamstring in mid-April before a game against Texas and missed nearly two months of the season. His rehab assignment with Tacoma went the maximum 20 games. In 57 games with the Mariners, Morrison has six home runs and 23 RBIs.
Finding his stroke remains his biggest challenge.
"I probably overanalyze all the time, but I know when I feel good, I just try to let it ride and go," Morrison said. "When I don't feel good, I'm trying to find something to help me out."
Adam Lewis is an associate reporter for MLB.com. This story was not subject to the approval of Major League Baseball or its clubs.