Competitive Piniella leaves lasting impression
Peers, former players heap praise on Mariners Hall of Fame inductee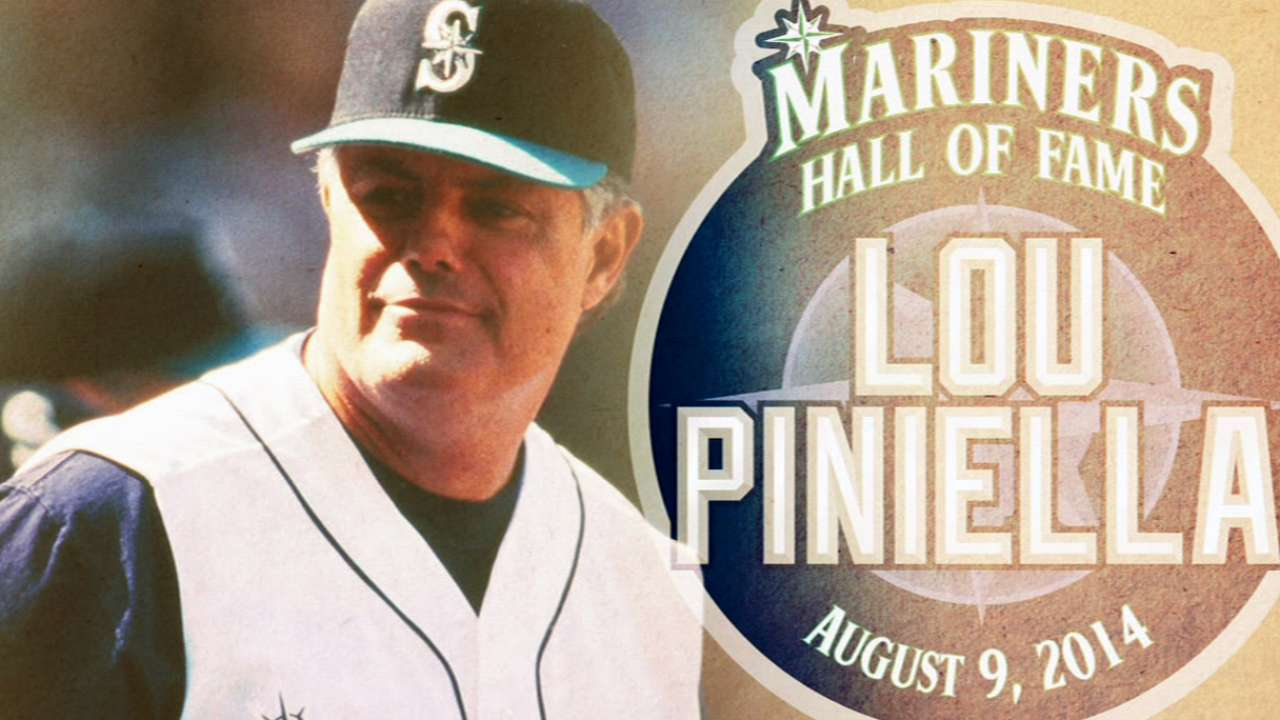 SEATTLE -- Lou Piniella will be inducted into the Mariners Hall of Fame on Saturday. Here's what others had to say about "Sweet Lou" as he heads into the Hall:
Current Mariners skipper Lloyd McClendon: "What he did here was just tremendous. Don't think I don't think about that every day that I put this uniform on. Because I don't want to embarrass him. I want to make him proud. He laid a tremendous foundation and hopefully we can get it back to where he had it. That would be pretty good."
Woody Woodward, Seattle's general manager who helped hire Piniella in 1993: "He was a winner. He played the game and managed with a passion to win. He was a teacher, a quality, proven manager. He was the perfect fit for these young players here in Seattle, the perfect man to teach them how to win in the big leagues. Simply put, Lou Piniella was the right man for the job and he didn't disappoint. He gave us 10 years of a Hall of Fame performance."
Angels manager Mike Scioscia: "The one word that comes to mind when you talk about Lou Piniella is 'competitor.' He wanted to win at anything he did and you could sense it on the baseball field. But as a manager, I don't think he expected anything outside of what he did as a player and how he competed."
Indians manager Terry Francona: "My first year in the Major Leagues as a coach was with Detroit in 1996. So I'm coaching third and Lou is making a trip to the mound. And as he walked by me, our paths kind of crossed. And as I moved out of the way, he said, 'Watch this.' And he aired out whoever was on the mound. He just undressed them. And as he came back, I was trying to kind of get out of the way and he said, 'What did you think of that?' So you see both sides of him. He's throwing stuff and yelling, but I also just think it was funny. I didn't want to laugh at the time, but I remember getting into the dugout and thinking, I just witnessed Lou Piniella. That's some of what is fun about baseball, the personalities that come out. And Lou's certainly did at times."
Broadcaster Brent Musburger: "What I always liked about Lou is he always played and managed with such determination. When you'd watch him, there was great emotion. Whenever he was in the dugout, we liked to have a lot of cameras on him, because he was simply good television."
Lee Elia, Piniella's long-time hitting coach: "He has an insatiable desire to win, almost to a fault if you can find a fault with trying to be successful. His whole personality was about winning in anything he did. If you went to the track or played a ballgame or a game of cards, he wanted to beat you. And the other thing that fascinated me over all the years with Lou was his presence that he brings to a ballclub. There's something about Lou where he could be in that parking lot in pouring rain at 1:30 in the afternoon and somehow the guys and coaches knew that Lou was here. Somehow we knew he was in the house. He was blessed with that."
Sam Perlozzo, former third-base coach: "My biggest wish that I've always had is that everyone can experience a World Series win and a year with Lou Piniella as a coach or player."
Matt Sinatro, former bullpen coach: "I've learned so much from him. I've been with Bobby Cox, Joe Torre, Tony La Russa, Sparky Anderson. But I've never been with someone like Lou Piniella and that's a pretty tough crowd. He demands a lot, but I've never been with someone who is so fair and honest to his players."
Former pitching coach and current Reds manager Bryan Price: "It always felt like I was with a living legend. As a young guy with a chance to get to the big leagues as a coach, it was such a huge honor just to be with him every day and being in that palpable environment of competition and intensity was a gift to me as a young coach."
Ken Griffey Jr. "I never had a manager who had the fire he had for winning, the caring he had for each one of his players and family members."
Mariners infielder Willie Bloomquist: "He's obviously a colorful human being and I think this city absolutely loves that guy. I know the short amount of time I got to play for him, he made some big shoes to fill for the [ensuing] managers. He's one of a kind. They broke the mold after him. He wanted the game done right and played right. If you couldn't do it, then get out of here and we'll get somebody else who can. That was kind of the mentality. It's a big boy's game, so if you don't like constructive criticism, then I'm sorry. Either your skin is going to thicken up or you're not going to last too long with him."
Ichiro Suzuki: "He wasn't afraid of anyone. You knew right away he was the boss in the house."
Former catcher Dan Wilson: "Vanilla doesn't fit, no chance. Sweet Lou, we're getting closer. But for me, the name that makes the most sense is his middle name, Louis Victor Piniella. Because it was the victories he accumulated throughout his career that puts him 14th all-time among mangers, and that's pretty good. It was those victories that took a .500 ballclub and took us to the playoffs four times in 10 years here in Seattle. It was those victories that brought this entire region of the country together. It was those victories that helped to build this beautiful stadium. And as players, it was those victories and compassion that brought all of us all together as a family."
Greg Johns is a reporter for MLB.com. Follow him on Twitter @GregJohnsMLB as well as his Mariners Musings blog. This story was not subject to the approval of Major League Baseball or its clubs.