MLB.com Columnist
Terence Moore
These Braves are doing un-Brave-like things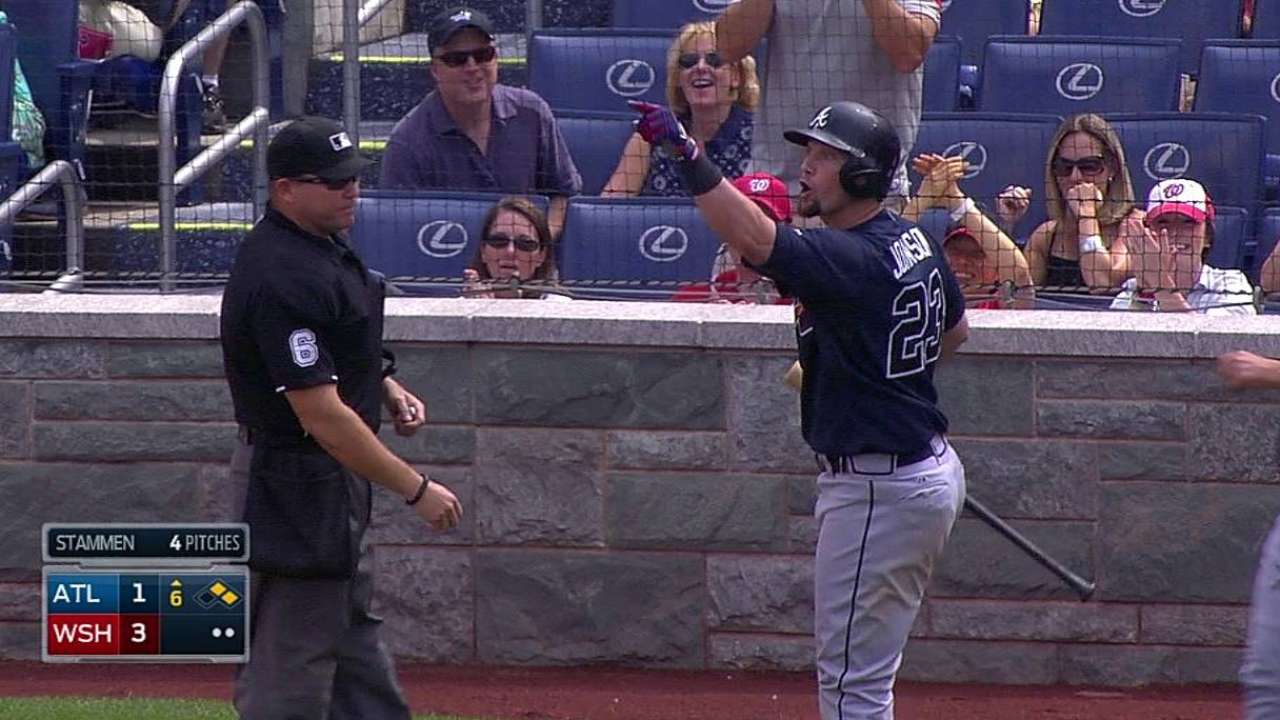 For nearly three decades, I've studied the Braves up close and personal as a professional sports journalist. They've been as impressive as any team in the Major Leagues during much of that stretch, largely because they've been allergic to controversies. That's why I've spent the last few weeks asking myself a question: Who are these guys?
They are doing a lot of un-Brave-like things.
They aren't winning with consistency, for one. Which means they aren't following the blueprint of their forefathers who set the foundation during the early 1990s for a record 14 division titles in a row, five National League pennants and a World Series Championship. That blueprint involved awesome pitching, splendid defense, timely hitting and few controversies.
Simply put, those Braves teams were pleasantly boring, with the stoic Tom Glavine serving as the face of the franchise. There also were a slew of veterans joining Glavine in the clubhouse. They ranged from Terry Pendleton and Sid Bream at the start of that wonderful run for the Braves to Greg Maddux and Marquis Grissom in the middle to Chipper Jones and Tim Hudson at the end. They policed themselves. When they couldn't, Hall of Fame manager Bobby Cox banged his stern yet respected fist in private.
Things have changed for the Braves, and it starts with this: Given the overwhelming youth on their roster, they lack leadership.
Thus those un-Brave-like things.
Entering Tuesday night's game in Seattle, the Braves owned a six-game losing streak. They trailed the Nationals by three games in the NL East, and much of their woes throughout the year have been attributable to an offense that isn't into timely hitting. They can't manufacture runs, because they are dreadful with men in scoring position. Then there is the pitching staff, which was great for much of the early season. Now it is only good, which isn't enough to overcome an offense that can't score.
Those are just some of the un-Brave-like things happening at the moment, but they aren't the big ones. In fact, if there is to be Tomahawk Chopping in October, somebody must raise up among the Braves youth to help make those un-Brave-like things remain yesterday's news instead of continuing as today's issue along the way to becoming tomorrow's horror.
For instance: The explosion. Actually, when it comes to Braves third baseman Chris Johnson, we should say the explosions.
During a game in May, the highly emotional Johnson became enraged after striking out, and he proceeded to sling his bat against a wall inside the tunnel leading from the home dugout at Turner Field. Fragments of the bat hit teammate Gerald Laird and manager Fredi Gonzalez, and Gonzalez was not amused. He yanked Johnson out of the game after benching the player a few weeks earlier for a similar explosion. If that wasn't enough, Braves coach Terry Pendleton grabbed Johnson last year in the dugout (and not in a friendly way) after the player threw his helmet in anger and nearly hit the coach.
Those things rarely happened with the old Braves. Not to say they never happened, and Pendleton would know. In 1993, while playing third base, he fumed in Cincinnati when reliever Marvin Freeman didn't throw at a Reds hitter in retaliation for a Braves hitter getting plucked during the previous inning. With everybody watching with wide eyes, Pendleton left the field in the middle of the inning and headed for the clubhouse. Cox followed Pendleton down the runway, delivered more than a few choice words beyond the ears of others and returned to manage the game.
End of story. That's opposed to this never-ending saga involving Johnson and his explosions, which means for the sake of the Braves' 2014 postseason hopes, his temper tantrums have to stop.
So does any hint of players not giving their all.
To say the least, Justin Upton didn't hustle to first base during a July game in Miami after hitting an infield grounder. Marlins second baseman Jordany Valdespin bobbled the ball, but he still nailed Upton. "I don't think (he would have been safe), but that's not the way we play the game," Gonzalez told reporters afterward, referring to the Braves of now and to the Braves of yore, especially since he was Cox's third base coach for a stretch.
No doubt, Gonzalez was having flashbacks to that time during the mid-1990s, when Cox yanked Andruw Jones in the middle of an inning after the manager thought his perennial Gold Glove center fielder was less than enthusiastic on a sinking line drive. Cox never had another issue with Jones. So Gonzalez may never have another hustle problem with Upton. And, along those lines, Gonzalez hopes he just had his first and last confrontation involving a disrespectful Braves pitcher during a game.
Let's return to Friday night in San Diego, where David Hale was hit by a shot back to the mound. When Braves trainer Jeff Porter and Gonzalez left the dugout to check on his health, Hale waved them away (twice) with his hand in a manner that nearly made Gonzalez's head explode.
Manager and pitcher quickly resolved their differences in private. The same went for Gonzalez's irritation with Andrelton Simmons after the slumping Braves shortstop decided during a game in San Diego to bunt in a crucial situation when nobody told him to do so. It helped kill a potential Braves rally, and Gonzalez explained to Simmons -- you know, strongly -- that you can't decide to do things on your own without affecting others.
We're talking about a simple concept.
Well, it was simple for that other generation of Braves.
Terence Moore is a columnist for MLB.com. This story was not subject to the approval of Major League Baseball or its clubs.