Iwakuma in control with mastery of command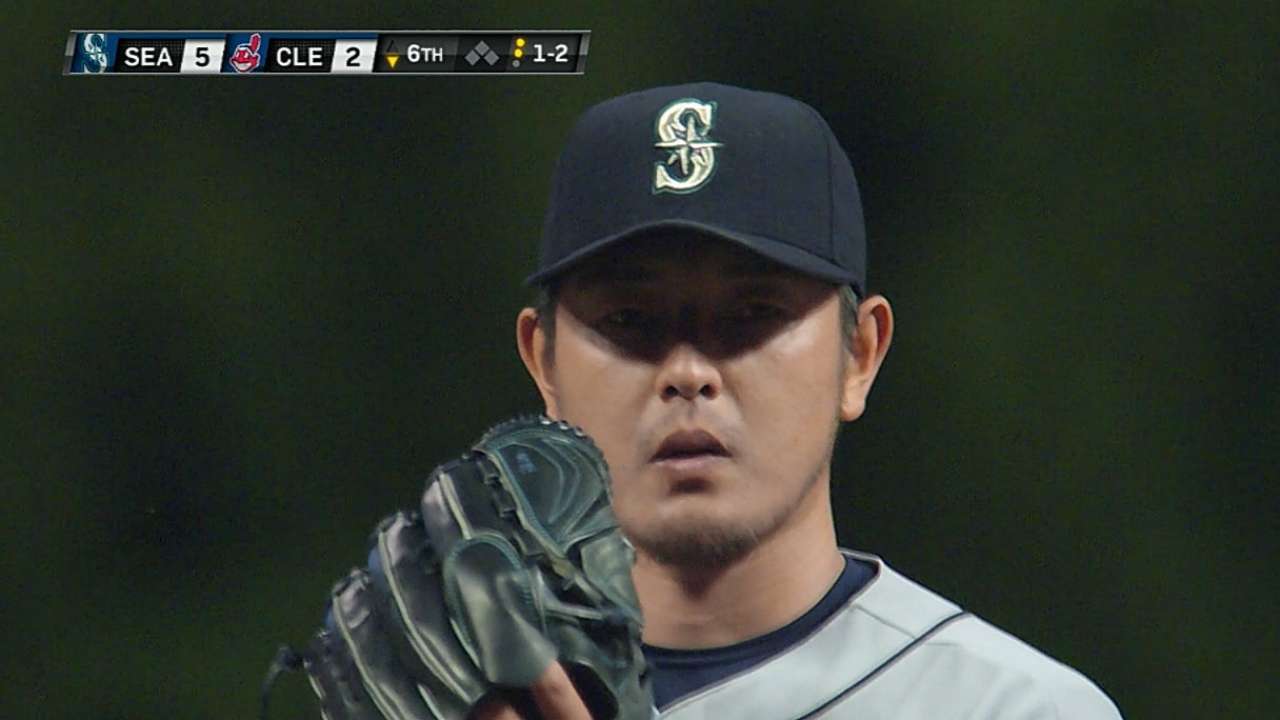 CLEVELAND -- When Hisashi Iwakuma walked Michael Brantley on four pitches in the first inning of Tuesday's 5-2 victory over the Indians, no one was more surprised than Mariners catcher Mike Zunino.
"That's what got me," Zunino said after Iwakuma issued his first walk in a month, stretching over 35 2/3 innings. "It was on four pitches. I was like, 'Man!' It's one of those things that happens, but it doesn't happen very often."
So Iwakuma is human after all?
"I didn't think so until then," Zunino said with a smile.
The 33-year-old right-hander has 94 strikeouts with just nine walks in his 17 starts this season. That strikeout-to-walk ratio of 10.44 is the best in the Majors among starting pitchers, and Iwakuma also has been the most efficient starter in baseball with just 13.5 pitches per inning, while ranking third in the American League in WHIP at 0.99.
All that is impressive. But what's even more impressive is that even though opposing hitters know Iwakuma is going to efficiently throw strikes, they aren't able to zero in on his offerings with any frequency.
"His splitter is exceptional," manager Lloyd McClendon said. "At the start of the season, he didn't have a real good command of the fastball or velocity. But now he can through that fastball to four different quadrants of the strike zone, he's got a little cutter to go with it and mix in his slider, curveball. He throws a lot of strikes, but he gives you a lot of different looks."
Zunino joked that Iwakuma's rare walk was designed to let hitters know he will indeed go outside the strike zone on occasion. But the young catcher also marvels at how well the veteran is able to keep people off balance even while throwing so many strikes.
"I think it's his ability to change speeds and keep the ball down in the zone," said Zunino. "Some guys will stay in the zone, but then one pitch will be a mistake up in the zone. He's just so good at keeping the ball down. He pitches to contact, but knows how to do it well. Keep it down or just under the zone so guys can only see the top of the ball and either chop it or slice under it and he gets a lot of weak pop flies."
Greg Johns is a reporter for MLB.com. Follow him on Twitter @GregJohnsMLB as well as his Mariners Musings blog. This story was not subject to the approval of Major League Baseball or its clubs.