Ackley feeling confident due to strong July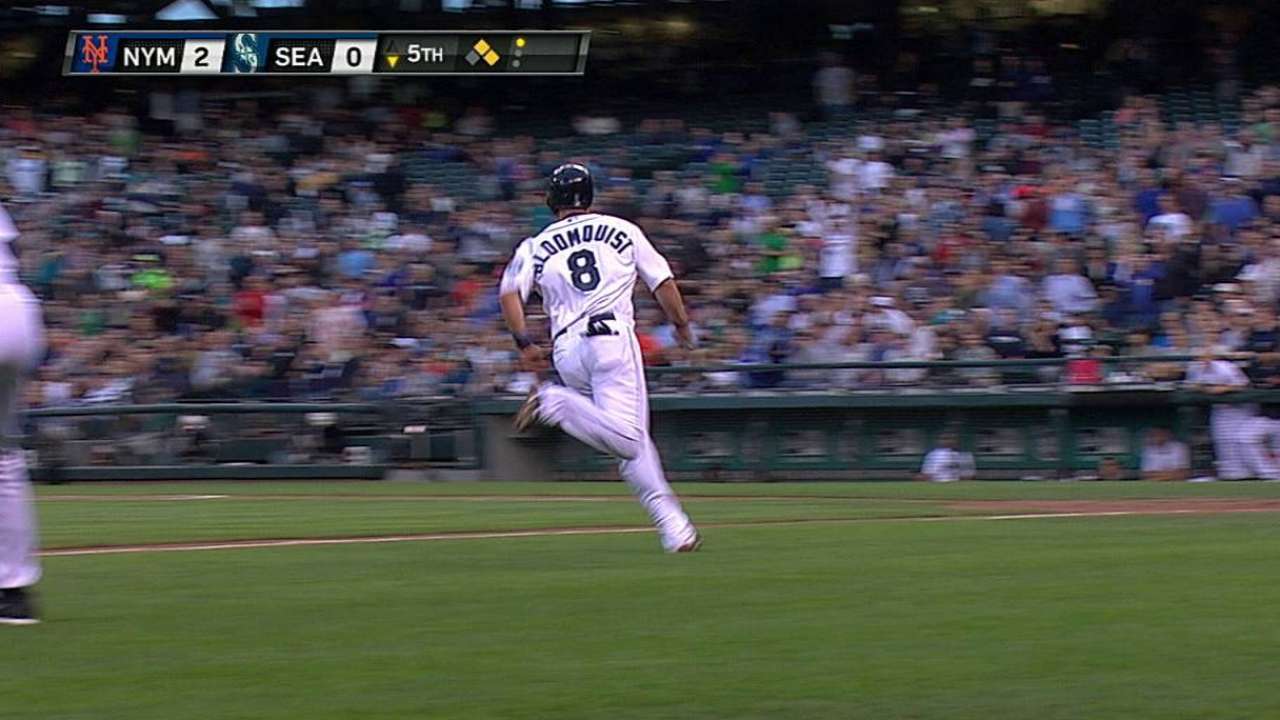 CLEVELAND -- Mariners left fielder Dustin Ackley seems to make a habit of heating up as the weather warms and the 26-year-old has continued that trend with a strong July.
Ackley led the Mariners in batting average in the second half last year and he's off to a similar stretch this season as he hit .375 (27-for-72) with eight doubles in his first 21 games of July heading into Tuesday's series opener against the Indians.
That's a welcome turnaround for the first-round pick in the 2009 First-Year Player Draft, whose season average dipped as low as .214 after batting just .165 in June. He took a .251 average and renewed confidence into Tuesday's game, where manager Lloyd McClendon had him hitting leadoff for the first time this year.
Ackley said he's finally relaxing at the plate and letting things flow instead of overthinking.
"It's been huge," he said of his recent run. "The way I felt the last two weeks, probably starting a day or two before the All-Star break, is way better than it's been all year. Early on this season I felt really great, then there was a month or two gap where it didn't feel right. But now it's feels about as good as it's felt in a long time.
"The goal the whole year has been to get my swing to the point where I don't have to think when I get up there, I can just go up and hit and do what I have to do. That's where it's been the last couple weeks. I haven't had any swing thoughts or anything like that. That's really the ultimate goal for me, just getting up there and clearing my head and that's it."
McClendon said he hopes Ackley can jumpstart an offense that has struggled to score runs and lost five one-run games in the previous 10 days.
"It's the same swing, he's just getting hits," McClendon said. "He's attacking the outside pitch, swinging at strikes and he's got some positive results. We can talk about getting in the box and relaxing and being patient, but until you get positive results, nobody relaxes."
Ackley has consistently driven the ball to the opposite field during his recent stretch, which seems a good indicator that his approach is working.
"That's been part of it. I'm not thinking about going that way. It's just if that's where it's pitched, that's it," he said. "Earlier I was trying to go that way, but when you're trying to do this or trying to do that, I think it just has to happen. And for me that's been the separator."
Greg Johns is a reporter for MLB.com. Follow him on Twitter @GregJohnsMLB as well as his Mariners Musings blog. This story was not subject to the approval of Major League Baseball or its clubs.