Saunders takes BP, nearing rehab assignment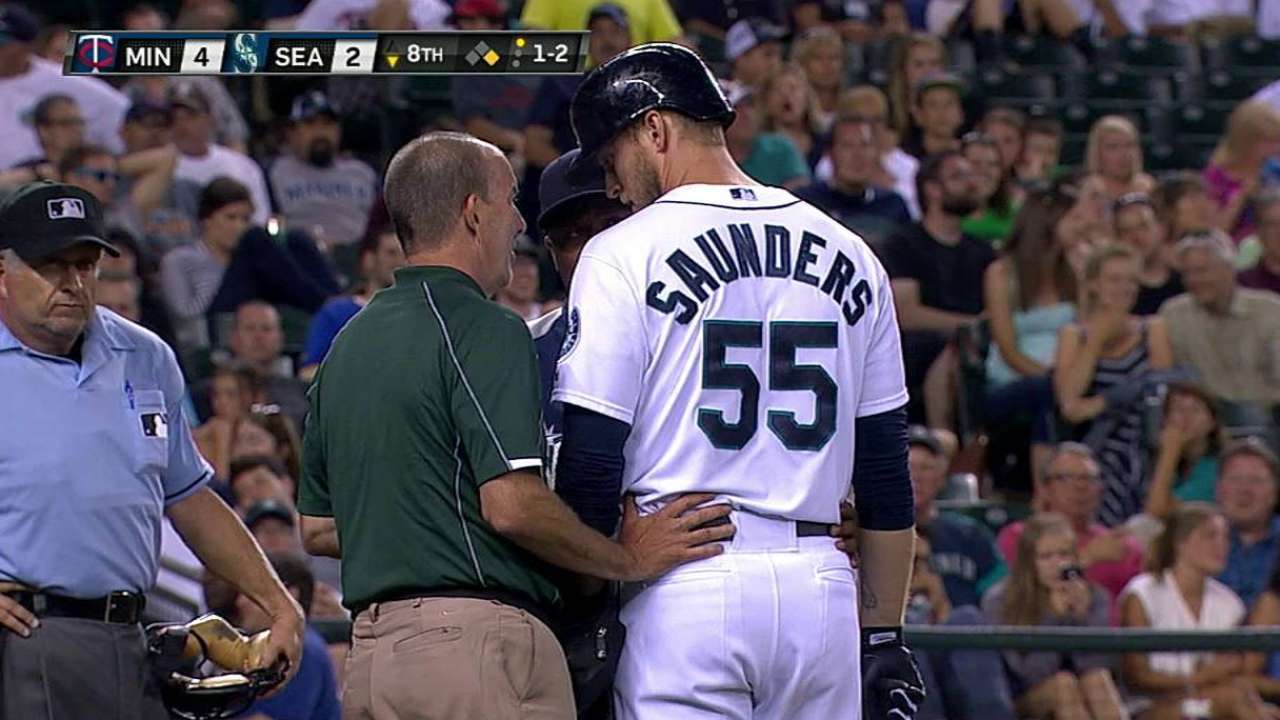 CLEVELAND -- Right fielder Michael Saunders took batting practice with the Mariners on Tuesday for the first time since straining his left oblique muscle on July 10 as he gets closer to going out on a Minor League rehab assignment.
Saunders is eligible to come off the 15-day disabled list as soon as he's healthy, but he is just now starting to swing the bat and throw, so his return figures to still be at least a couple weeks away.
"I'm going to take BP today on the field, run around and shag a little bit and start going through the motions," Saunders said. "Barring any setbacks, I feel like I'm getting close. Certainly I'm not going up there and swinging 100 percent right now. But that being said, I don't think I ever try to do that in a game either. I feel like I can put a good competitive swing on the ball right now and as the days go by here in Cleveland and actually taking BP, we'll know more."
Saunders hopes to take part either in a simulated game in the next few days or to stand in the batter's box while pitchers throw their between-start bullpens so he can begin seeing pitches and give himself a jump start. If all goes well, there's a chance he'll go out on a rehab assignment at some point while the Mariners are on their road trip this week.
"I've been out for 2 1/2 to three weeks now and the ball is going to look like it's coming in a little hard right now," he said. "It's something where if I can get any advantage before I actually go out on a rehab assignment, maybe that will lessen the time I have to be down there before I come back."
The Mariners could certainly use Saunders as he's hit .276 with six home runs and 28 RBIs in 65 games and is third on the club in slugging percentage at .434, trailing only Kyle Seager's .484 and Robinson Cano's .454.
The 27-year-old is also an excellent defensive outfielder. He said throwing is one of the last things to come around with the strained oblique, but he played catch at 90 feet on Sunday and will continue building up his arm in the next few days in Cleveland.
Greg Johns is a reporter for MLB.com. Follow him on Twitter @GregJohnsMLB as well as his Mariners Musings blog. This story was not subject to the approval of Major League Baseball or its clubs.