Rookie Jones in select Mariners group with 20th steal
Outfielder is team's fourth player to reach mark in rookie season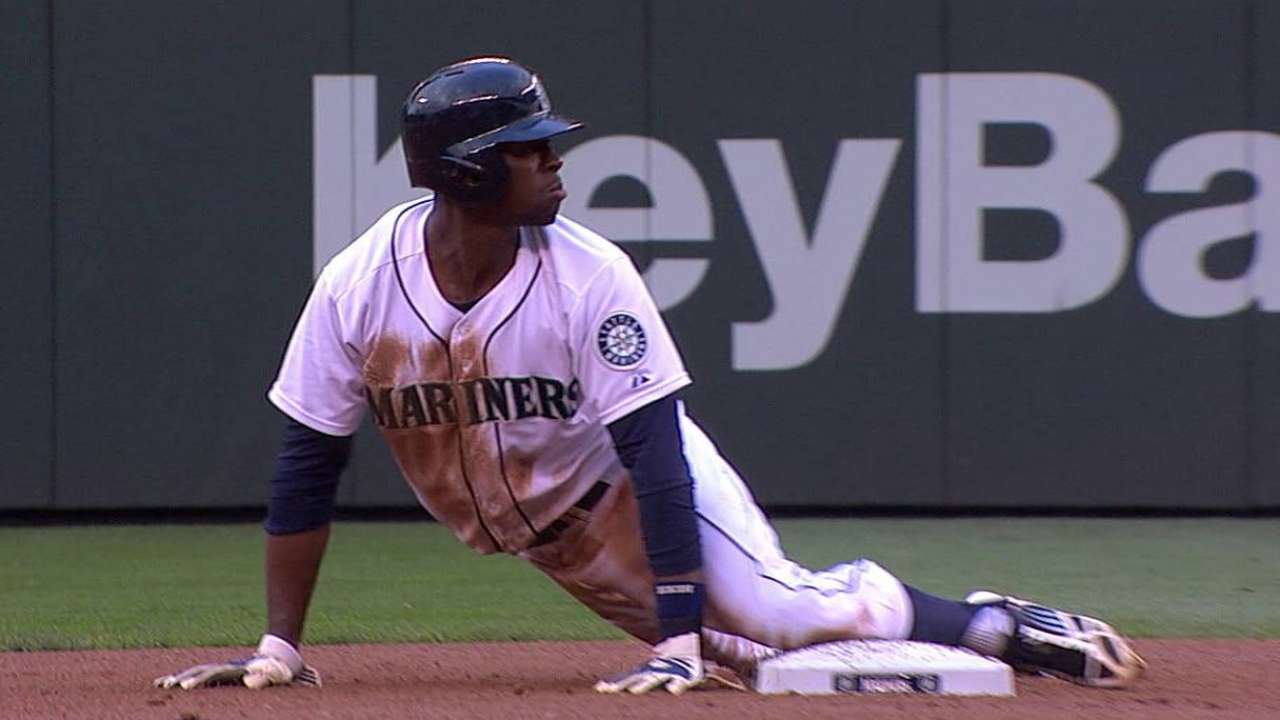 SEATTLE -- Mariners center fielder James Jones stole his 20th base of the season in Thursday's 4-0 loss to the Orioles, making him the fourth player in franchise history to rack up 20 steals in his rookie season.
Jones entered Friday's action tied for fifth in the American League with his 20 stolen bases and second in the league since he joined the team on a full-time basis on May 5, trailing only the Astros' Jose Altuve (30) in that span.
The only previous Mariners rookies with 20-plus steals were Ichiro Suzuki (56 in 2001), Phil Bradley (21 in 1984) and Donell Nixon (21 in '87).
Jones said getting 20 stolen bases means something as a benchmark, but he isn't getting caught up in it beyond that.
"It just means I'm contributing and doing what I'm supposed to be doing up here," he said. "There's definitely a lot more room to improve. I'm happy I'm at that point right now, but I'm focused on continuing with it."
The 25-year-old is learning on the job and said he's adding information constantly as he begins seeing teams more than once.
"In the Anaheim series, I felt familiar with some of the guys," he said. "The second time around there's a familiarity and I see if they're making adjustments to me, too."
One thing he's noticing is that opposing pitchers are paying more notice now when he gets on base.
"I'm definitely diving back more to first base," Jones said. "I feel like I've caught their attention, but I just want to keep doing that. That's what I want, to have them keep focusing on me and give the guys behind me better pitches.
"As much as they pick, I'm still trying to steal. I'm happy they're doing that. It actually helps me out to see how much of a lead I can get. I want them to pick over. If I get back easy, I'll take a little more of a lead. I want them to pick over so I can see their best move."
Manager Lloyd McClendon has been impressed with Jones' ability and desire to learn and said the payoff is going to come down the road.
"He's done a nice job on offense and there's still some things he's learning," McClendon said. "But every day is a new day for him. He'll make some mistakes from time to time, but he's going to get better. I think he's going to be an even bigger force next year."
Greg Johns is a reporter for MLB.com. Follow him on Twitter @GregJohnsMLB as well as his Mariners Musings blog. This story was not subject to the approval of Major League Baseball or its clubs.