Mariners option Walker after loss
Seattle's top prospect sent to Triple-A Wednesday following start vs. Mets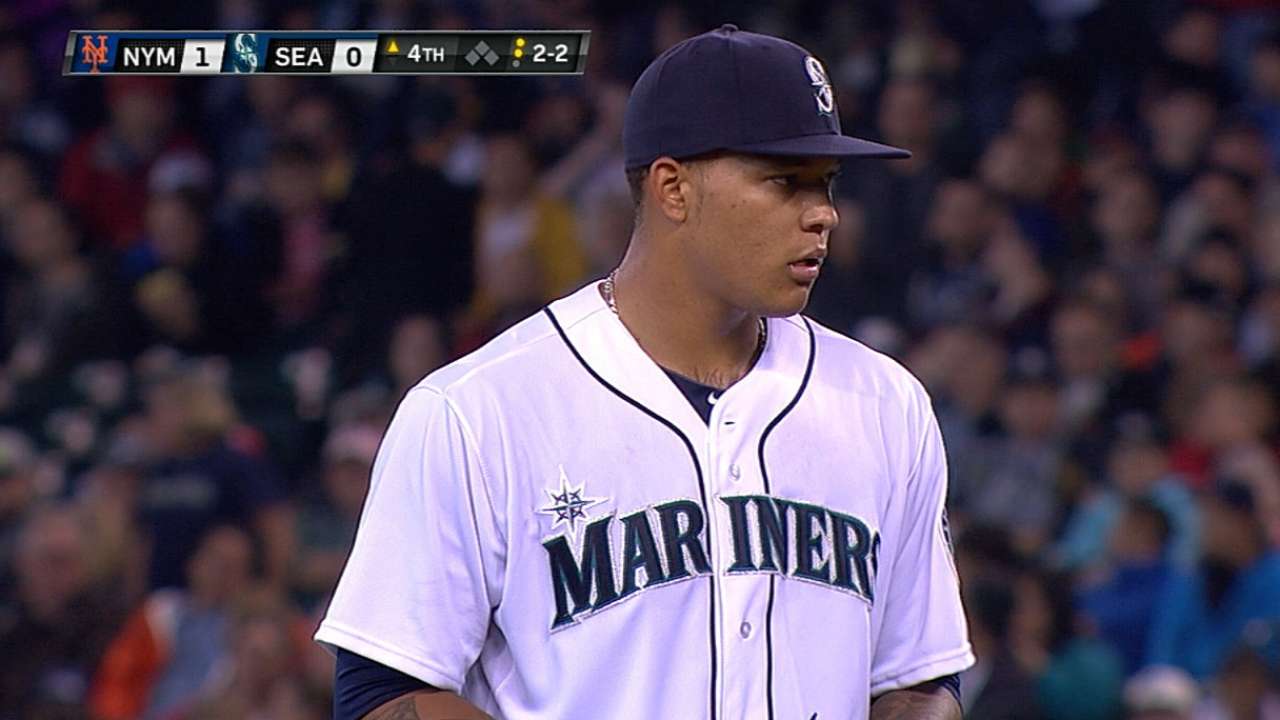 SEATTLE -- Rookie right-hander Taijuan Walker was optioned back to Triple-A Tacoma after Wednesday's 3-2 loss to the Mets as the Mariners continued juggling their roster and rotation.
The Mariners will add a player to their 25-man squad prior to Thursday's series opener with the Orioles to take Walker's place. The presumption is that a position player will be brought up from Tacoma to help fill out what has been a short-handed bench as Seattle continues operating with an eight-man bullpen.
Walker, 21, pitched five-plus innings and gave up two runs on two hits with six walks, then was told he was headed back to Tacoma since the club won't need a fifth starter until Aug. 2 due to an off-day on Monday.
The Mariners were planning to skip Walker's next start and pitch Hisashi Iwakuma on Tuesday in Cleveland to start the upcoming road trip on normal four days' rest, then follow with Felix Hernandez, Chris Young and Roenis Elias on schedule. Those four are slated to start against the Orioles the next four days to close out the homestand, then stay in rotation following the off-day.
With James Paxton slated to make his third rehab start for Tacoma on Sunday, he could be ready to rejoin the rotation by the time the Mariners need another starter. Erasmo Ramirez would also be eligible to return on Aug. 2 after being sent down following his own start on Tuesday.
Players must remain in the Minors for 10 days after being sent down, unless they're needed as injury replacements, which means Walker won't be eligible to return now until Aug. 3.
Walker made two starts with Seattle just prior to the All-Star break, then was sent back to Tacoma for a pair of starts in a move he acknowledged was difficult at the time. But the youngster sounded as if he's starting to better understand the business of baseball as he heads back to Triple-A again.
"Better now," Walker said of his reaction to the club's decision. "At first, it was tough. But I know there are things I need to work on, and I'd rather come up here at my best so I can come up here and stay."
Walker is 1-2 with a 3.60 ERA in three starts this season with Seattle and 2-2 with a 3.60 ERA in six games over the past two years.
"There's more in there," said manager Lloyd McClendon. "Pitching at this level is hard enough, but when you're starting to think about mechanical things, it's not just a good combination. He's got to get to the point where everything's happening naturally for him. He's a very talented individual, and he's going to be alright, and he's going to be alright in the very near future."
Greg Johns is a reporter for MLB.com. Follow him on Twitter @GregJohnsMLB as well as his Mariners Musings blog. This story was not subject to the approval of Major League Baseball or its clubs.