Zunino providing value with little experience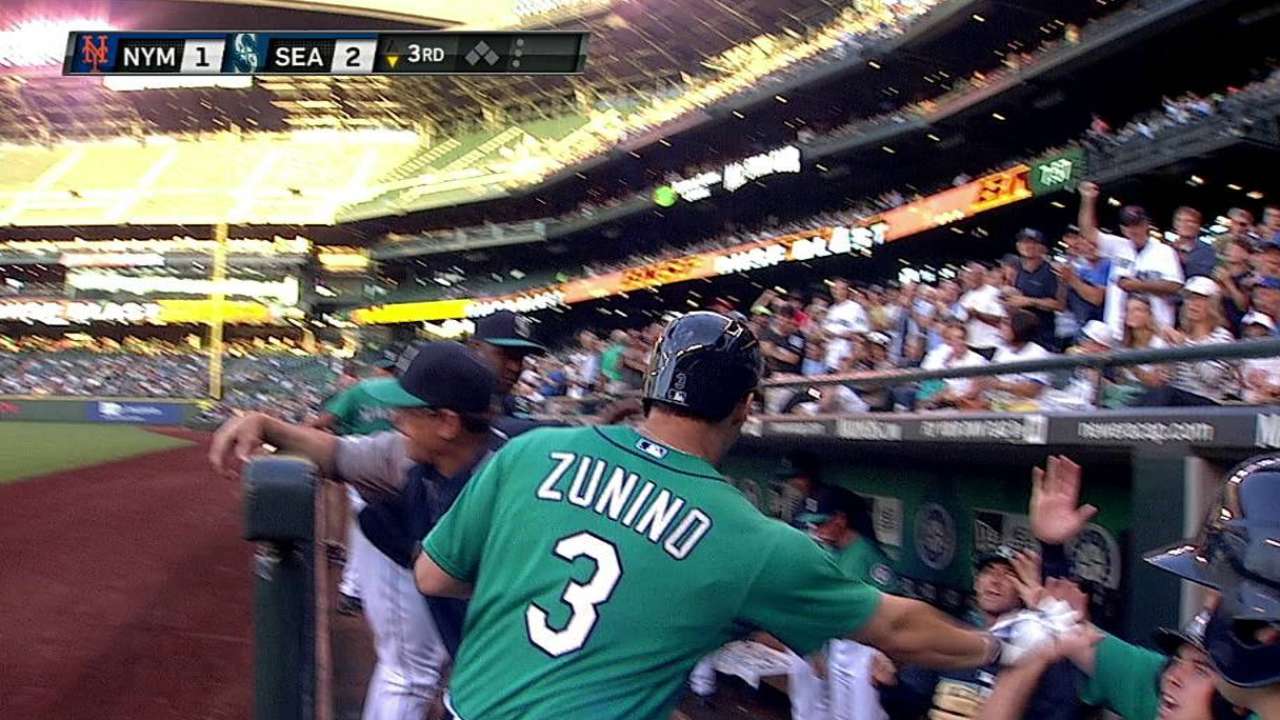 SEATTLE -- Though Mike Zunino is hitting only .204 this season, the young catcher is the least of Mariners manager Lloyd McClendon's concerns as the club heads toward the final two months of the season.
The 23-year-old backstop has solidified the Mariners' defense behind the plate, worked extremely well with a pitching staff that ranks among the best in baseball and has done damage -- 30 of his 58 hits entering Wednesday have gone for extra bases -- when he's made contact.
The rest of Zunino's offensive game will come with time, McClendon says, pointing out that the youngster played only one year in the Minors -- with 364 at-bats -- before his midseason promotion last year.
"I keep reminding everybody of this: Zunino is just a puppy," McClendon said. "He's got a total of about 600 at-bats in his professional career. I remember having a conversation with Magglio Ordonez one day in Detroit and I said, 'You came right into the big leagues and hit well.' And he said, 'I had 5,000 at-bats before I got to the big leagues.' Zunino has 600. We all forget that."
McClendon was asked about Zunino's approach on a fifth inning at-bat in Tuesday's 3-1 loss to the Mets when he popped out to shallow left with a runner on third and one out.
"Everybody thinks it's easy," McClendon said. "It's not that easy to drive in runs. This guy is learning on the job. He'll get better at that stuff. The only way you get better is to fail, and unfortunately it hurts sometimes when you fail. But he's fine.
"He just has to keep going out there and experiencing it. He doesn't have any choice. He's in the big leagues. That's no fault of his. He had to come to the big leagues because they didn't have anybody else and he's pretty good at his craft. He just has to go out and get the experience. And sometimes it's going to look ugly. But I've seen veteran guys that can't get a runner in from third with no outs or one out. He'll be OK."
The Mariners only had a runner in scoring position one other time in Tuesday's game, with Robinson Cano and Kyle Seager both striking out in the first inning with James Jones on second base.
Greg Johns is a reporter for MLB.com. Follow him on Twitter @GregJohnsMLB as well as his Mariners Musings blog. This story was not subject to the approval of Major League Baseball or its clubs.