Ackley's amazing heist a product of determination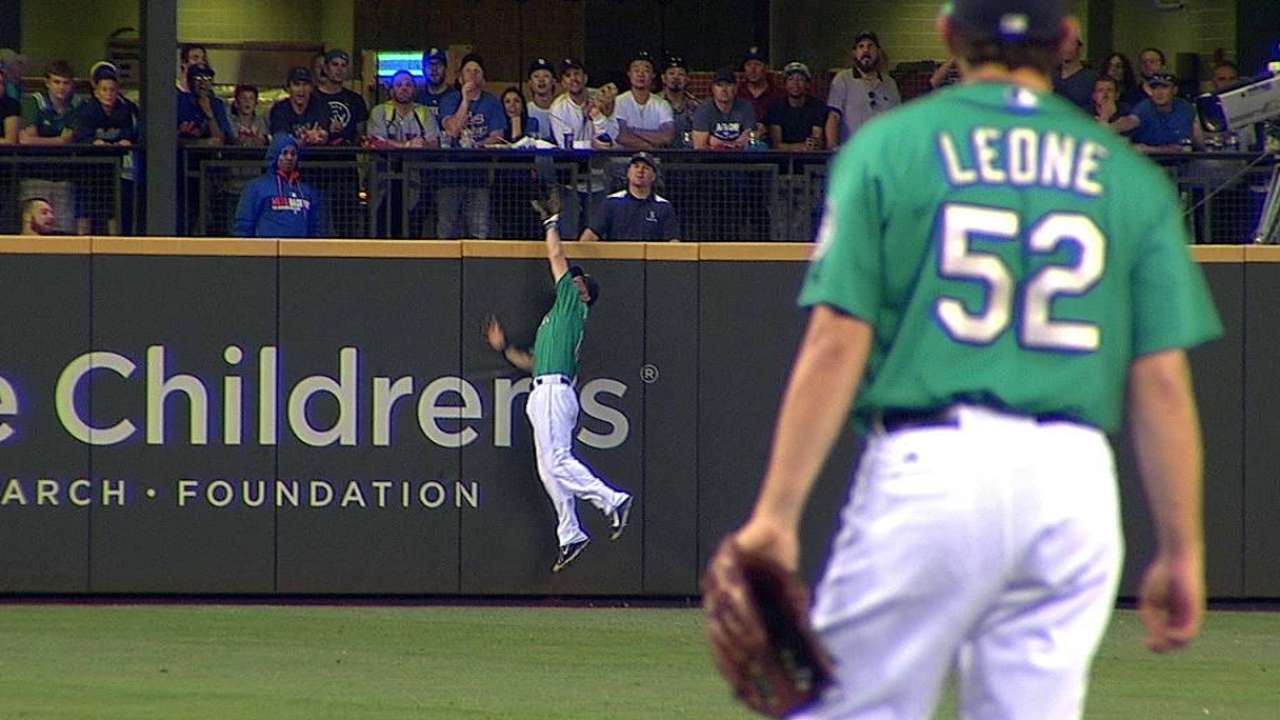 SEATTLE -- Dustin Ackley has only been playing the outfield since midseason of last year, but the former second baseman looked like a natural on Monday as he went over the left-field wall at Safeco Field to rob Mets catcher Travis d'Arnaud of a home run in the sixth inning of the Mariners' 5-2 win.
"I felt something, but I didn't know if it hit off my glove or went in the web," Ackley said. "But when I came down, that's when I knew I had it in my glove. I knew something was in there."
Best catch of his outfield career? Ackley said it was at least on par with a long run and diving grab he made at the base of the wall in Houston last year on a drive to the right-center-field gap shortly after he'd converted from second base.
"For sure, it's got to be one of them," he said. "The catch I made last year in Houston, probably that one and the catch I made tonight are probably in the same ballpark."
Manager Lloyd McClendon moved Ackley from center to left field when he took over the club this year and has been pleased with the 26-year-old's progress while working with outfield coach Andy Van Slyke.
"How about that catch?" McClendon said. "I think it really goes back to the work he put in Spring Training with Andy. He really, really worked hard to improve his outfield play and he continues to work hard during the 4 o'clock hour and it's starting to show in games and that's nice to see."
The Mets came away impressed as well.
"That's pretty impressive, especially for an infielder to make that play," said Mets manager Terry Collins. "That's a real good catch. That's a tough play for a lot of guys, then you get a guy who's a second baseman, isn't he? If that ball goes out of the ballpark, that may change a lot. That may change the momentum completely. It was a great catch."
Greg Johns is a reporter for MLB.com. Follow him on Twitter @GregJohnsMLB as well as his Mariners Musings blog. This story was not subject to the approval of Major League Baseball or its clubs.