McClendon shoots down arrow controversy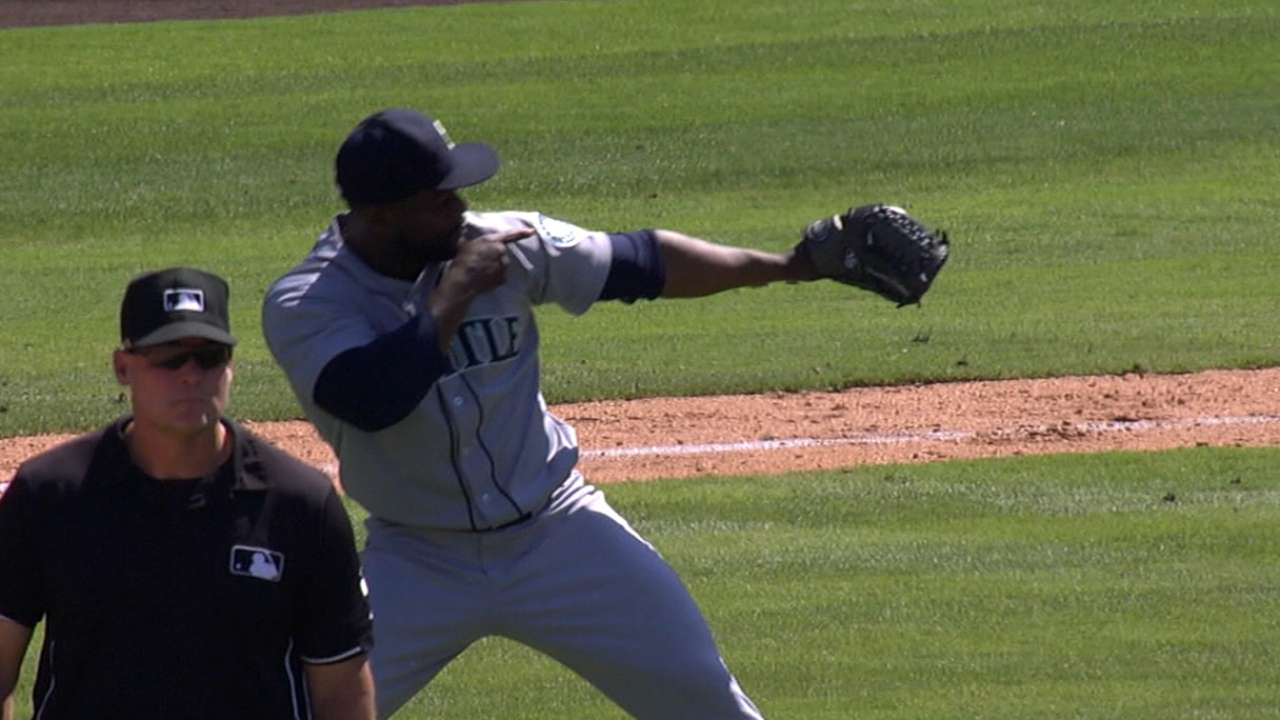 SEATTLE -- Mariners manager Lloyd McClendon said All-Star closer Fernando Rodney won't pitch in Monday's series opener against the Mets, but that decision had nothing to do with the finish of Sunday's 6-5 setback in Anaheim when Rodney took the loss in the ninth inning after shooting an imaginary arrow toward the Angels' dugout after getting out of a tough jam in the eighth.
Rodney had pitched an inning in Saturday's 12-inning win before Sunday's attempt at a five-out save, so McClendon gave him Monday off and indicated Danny Farquhar would serve as the closer if needed.
As for the "arrow situation," McClendon said the Angels' winning rally had a lot more to do with Rodney having to face Mike Trout and Albert Pujols leading off the ninth than any perceived slight from his arrow routine.
"I heard somebody say that fired the Angels up and gave them incentive to win the game," McClendon said prior to Monday's series opener with the Mets. "That's a bunch of baloney. They understand the importance of these games as well as we do. The fact is, they had the best all-around player in the game leading off and a Hall of Famer hitting behind him. That had a lot to do with them winning the game, not Rodney's arrow shooting."
What did McClendon think of the imaginary arrow, which Rodney normally shoots into the air after he finishes off a save?
"This is a business of entertainment," McClendon said. "Players hit doubles and I don't know all the signs they do and all that [standing on second base], but everybody has celebrations in the dugout. Rodney shooting the arrow is no different. In the old days, if you didn't like it, go out and fight. They don't do that anymore."
McClendon said the loss was about baseball, not arrows.
"We lost the game. That's all that matters," he said. "We hit a line drive that was snagged for a double play. They hit two ground balls back up the middle that found a hole and they won two out of three."
You want a controversy from McClendon? The Mariners' skipper preferred to point out a checked swing by Howie Kendrick that didn't get called a strike in the seventh inning against Yoervis Medina, after which Kendrick laced a run-scoring single. He thinks the new replay system should be expanded to include checked swings.
"If you really want to talk about replays and what should be replayed, if you really think about it, that has a lot more impact than a lot of things, particularly with the game on the line," McClendon said. "We had two checked swings earlier in that series, one on [Kyle] Seager where he barely took the bat off his shoulder and it was strike three. They just need to be consistent with it and I think it cost us a ballgame yesterday."
Greg Johns is a reporter for MLB.com. Follow him on Twitter @GregJohnsMLB as well as his Mariners Musings blog. This story was not subject to the approval of Major League Baseball or its clubs.