Wilhelmsen ready for whatever role is needed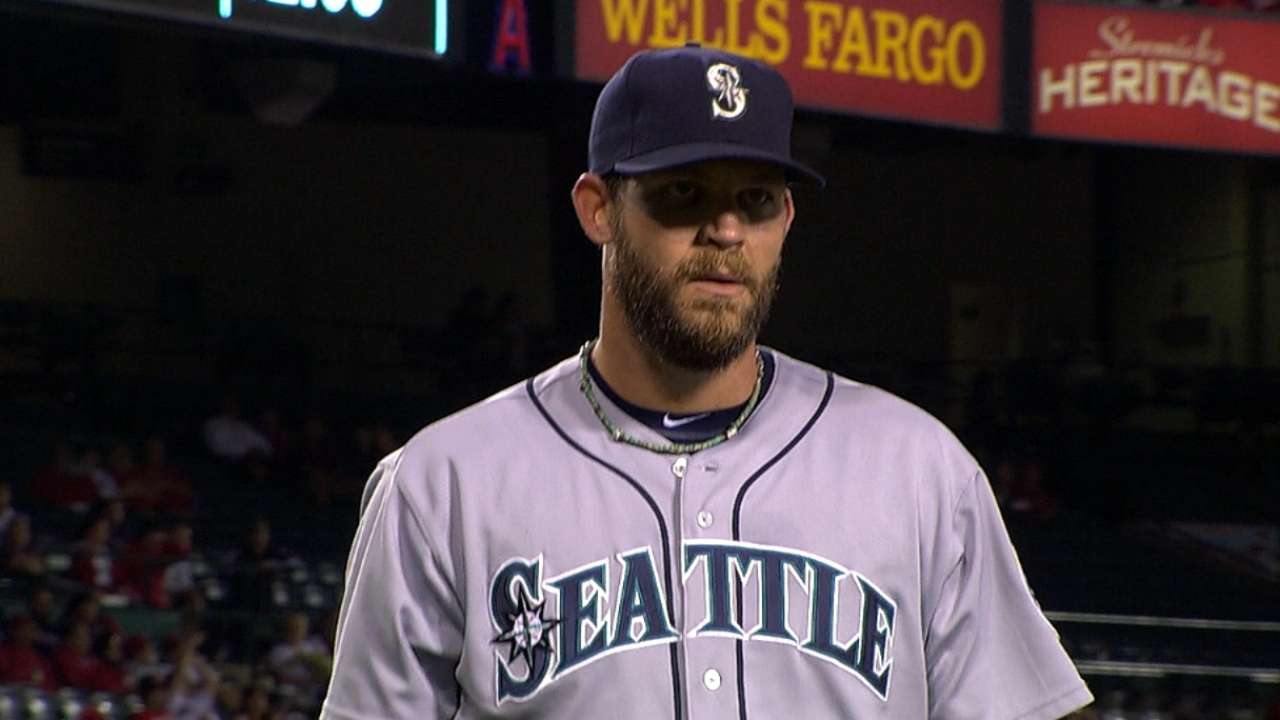 SEATTLE -- With Mariners manager Lloyd McClendon pondering another potential Tom Wilhelmsen start this week, the 30-year-old reliever said he's only worried about continuing to help his team in whatever role is needed as it hits the stretch run.
Wilhelmsen made the first start of his Major League career against the Twins on June 10, pitching 2 2/3 innings, then threw a career-high four scoreless innings of relief in Friday's 3-2, 16-inning loss to the Angels in Anaheim.
McClendon has said several times he's intrigued by Wilhelmsen's potential as a starter, though he figured that experiment wouldn't go into effect until next spring at the earliest. But with the 6-foot-6 right-hander throwing 51 pitches while allowing just one hit with four strikeouts against the Angels, he's already getting close to what the Mariners might need to stretch him into a starting role.
McClendon hasn't ruled out the idea of starting Wilhelmsen on Wednesday against the Mets in a game the Mariners have yet to announce a starter, though he's waiting to see if Wilhelmsen is needed in relief on Monday or Tuesday.
"I'll take all things into consideration," McClendon said. "He's certainly built. I've told you guys my fascination with him possibly starting. He's probably built to go five [innings] and 65-70 [pitches] now. Certainly that's a possibility, yes."
Wilhelmsen, who has posted a 2.35 ERA in 35 games this season, says he's taking everything as it comes at this point.
"I just try to keep the same routine every day," he said. "I'm a long guy that had a spot start. I don't know if that's really uncommon. This is a new position for me, but I'm just doing what I can to help my team when it's my turn to do it. If that means throwing another inning, then I'm throwing another inning."
Wilhelmsen appreciates McClendon's interest in him as a potential starter, but isn't spending a lot of time pondering that right now.
"It means the skipper is intrigued by the idea of me starting," he said. "I'm a bullpen guy right now, and we've got the best bullpen in the league, and that's what I'm trying to focus on this year. Whatever happens in the future will happen in the future. I'll cross that bridge when it comes. But it's definitely a compliment and I'm happy to do whatever I can."
Does the idea of being a starter intrigue him?
"Sure, the start the other day was a lot of fun," Wilhelmsen said. "I had a lot of fun doing that. And I do enjoy throwing multiple innings. But that being said, I also enjoy being in the bullpen and throwing one inning and shutting a team down in a crucial situation. I'm happy with both. Until something happens, I'm still part of the best bullpen in the league."
Greg Johns is a reporter for MLB.com. Follow him on Twitter @GregJohnsMLB as well as his Mariners Musings blog. This story was not subject to the approval of Major League Baseball or its clubs.