Sucre called up from Triple-A to replace Buck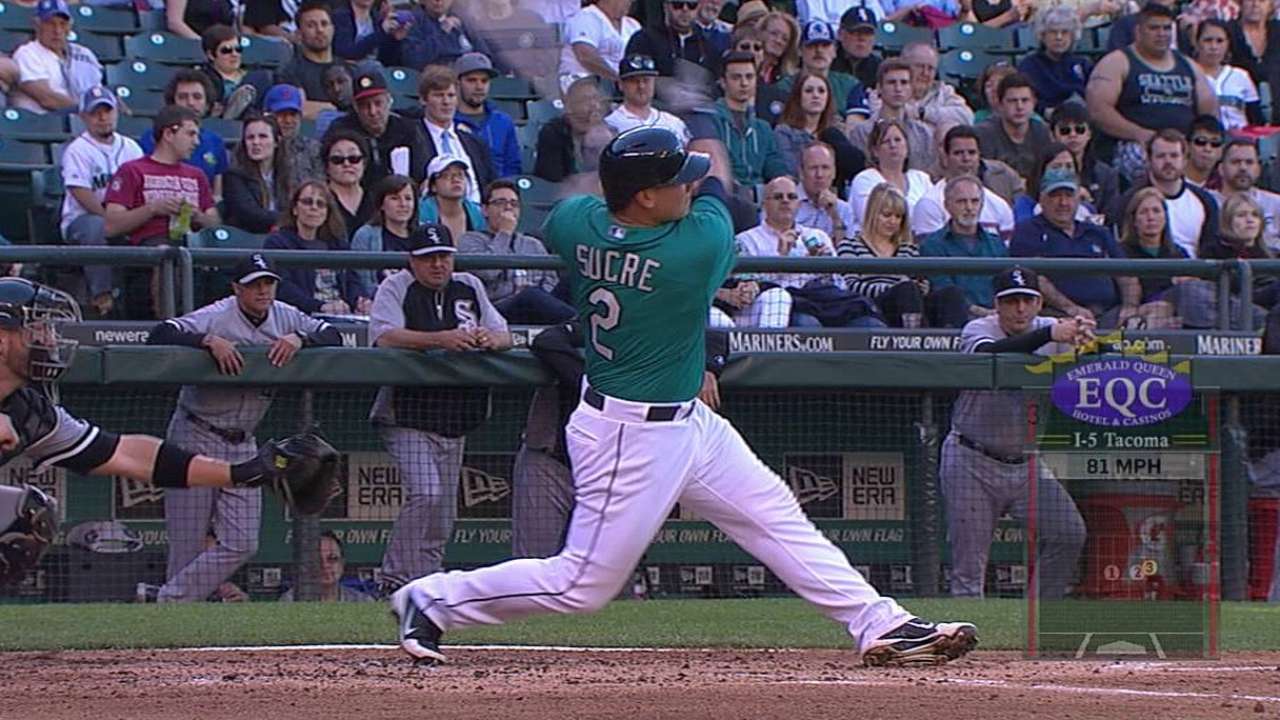 SEATTLE -- Jesus Sucre, a 26-year-old catcher who had a brief stint with the Mariners last season, was recalled from Triple-A Tacoma by the club on Tuesday to fill the roster opening created after veteran backup John Buck was designated for assignment Monday night.
Manager Lloyd McClendon said the move gives Seattle a better defensive backup and allows starter Mike Zunino to get some needed days off without worrying about matching up the right catcher with Seattle's pitchers.
"That's one thing I'm very conscious of and we have to be careful with his innings moving forward and give him proper rest," McClendon said of the 23-year-old Zunino, who has played in 71 of Seattle's first 89 games. "Four days in a row is just not good. Moving forward, with the type of defensive catcher we think we have with Sucre, we don't have to worry about who is pitching that day as far as getting him rest."
Sucre played eight games for Seattle between May 24-June 4 last season before he fractured a bone in his left hand. He hit .192 with three RBIs in 26 at-bats with the Mariners, then finished the season with Tacoma when he finally got healthy again.
"I'm really happy to be here because I know this team is doing really good right now," Sucre said after flying in from Salt Lake City on Tuesday morning. "I'll try to do the best I can to help them win."
The Venezuela native is regarded by the Mariners as their best defensive catcher in the organization and he was also batting .274 with two home runs and 16 RBIs in 48 games this season for Tacoma. Sucre has thrown out 21 of 41 attempted basestealers this year and 43 percent in his Minor League career, which began with the Braves as a free agent in 2006.
"He's proven he's a solid, solid backup catcher that really receives the ball well, blocks the ball well and pretty much just shuts down the running game," said McClendon. "He's swinging the bat a lot better this year. That was always a point of concern for him coming up through the Minor Leagues, but talking to the people at the Triple-A level, he's swung the bat extremely well this year. I think he's going to be a plus in that department."
Zunino, the Mariners' 2012 first-round Draft pick, is also an excellent defender and has hit 13 home runs, the most of any backstop in the American League.
Buck was signed as a mentor to Zunino and also a solid right-handed bat off the bench, but he's not regarded as a strong defender and hit just .226 with one home run and six RBIs in 84 at-bats in 27 games after signing a one-year, $1 million deal with the Mariners.
Buck was a popular veteran in the clubhouse and making such a move while the team is winning raised some eyebrows. But McClendon said he's only worried about winning games.
"When you lose friends, you're never happy," he said of the Mariners' somber reaction to the news after Monday's game. "But when it's all said and done, you're glad it's not you. I was one of those guys, trust me. You talk about team chemistry and stuff. You win games and chemistry is just fine. You lose games, you've got bad chemistry.
"And that's not to take anything away from John Buck. I like John Buck," McClendon said. "He's a nice young man and I wish him well and hopefully he catches on with somebody. But as far as the Seattle Mariners were concerned in moving forward and trying to make this club better, Sucre makes us better."
McClendon said he's also not worried about Zunino needing a veteran mentor at his side.
"I certainly think he's battle tested," McClendon said. "He's crossed the river and I think is ready to take the next step. From that standpoint, he's just fine. And he's got three catchers on this staff that have over 100 years in the game of baseball, so I think he'll be just fine."
Greg Johns is a reporter for MLB.com. Follow him on Twitter @GregJohnsMLB as well as his Mariners Musings blog. This story was not subject to the approval of Major League Baseball or its clubs.