Cano's at-bat has observers doing double-take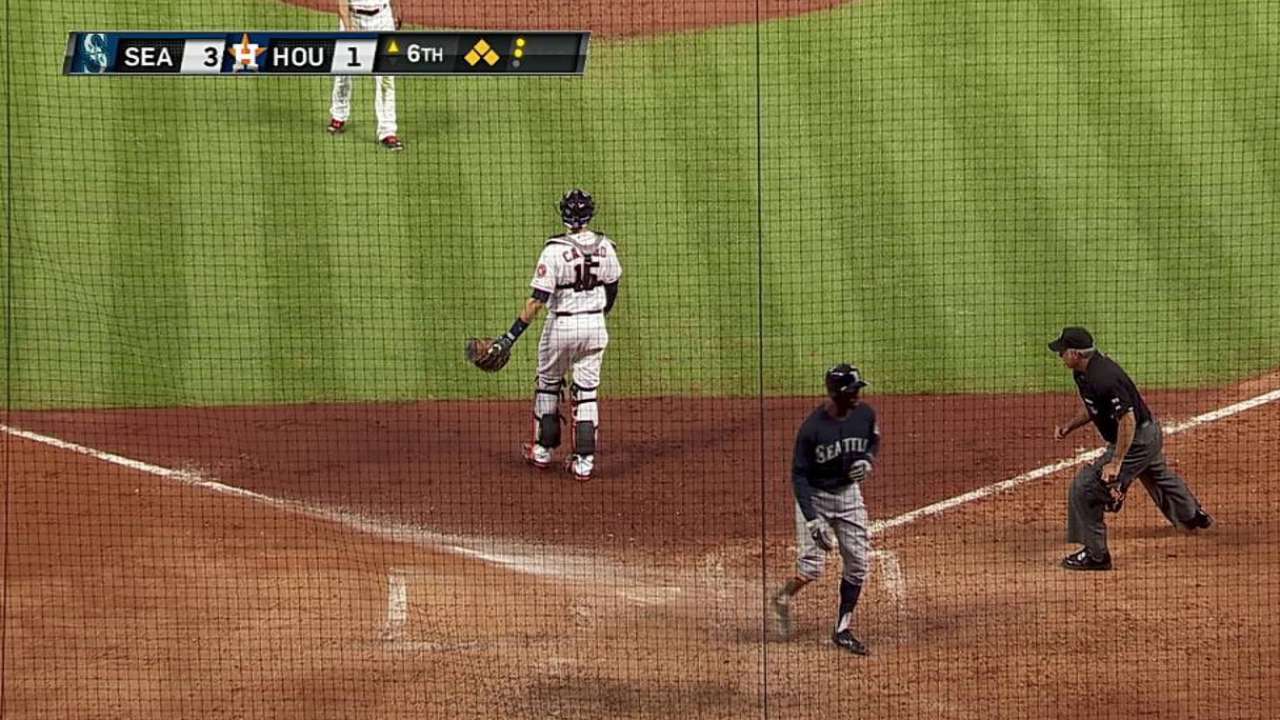 HOUSTON -- Standing in the on-deck circle when Robinson Cano bats gives Kyle Seager an excellent view of one of the premier left-handed hitters in the game. And Seager came away amazed again Tuesday after Cano drove a high and outside pitch down the left-field line for a two-run double that ignited Seattle's seven-run sixth inning in a 13-2 victory over the Astros.
"I don't know how he does that," Seager said. "I wish I did. He's special. That's his swing. He stays on the ball, he keeps it down to left. That's a really hard thing to do. It's hard to get the ball out of the air to left field for a left-handed hitter, but he does it so well. He keeps his posture, he's special."
Astros pitcher Jarred Cosart was left shaking his head as well. The right-hander had two outs with runners on first and second in the sixth inning, trailing 3-1, when he threw the full-count fastball to Cano.
"I was one pitch away from a quality start," Cosart said. "I didn't want to give him anything good. The pitch he hit was at his head."
Given a pitch that he couldn't pull, Cano instead just drove it hard to left field. Though the five-time All-Star has hit just six home runs in 80 games, he's hitting .323 with a .379 on-base percentage and has racked up 18 doubles and 51 RBIs.
"I think that's what makes him so good," manager Lloyd McClendon said of Cano's ability to stay within himself, no matter how he's pitched. "People talk about the lack of home run power. I don't think Robbie is panicking at all. When it's all said and done, his home run numbers will be right there. He'll probably finish the first half with 10 home runs and end up with 20 something.
"I certainly think he adjusts to the situation and identifies what guys are trying to do to him in an at-bat. That comes with experience. And talent. He's got the combination of both."
Seager says he's benefited greatly from hitting behind Cano, in part from observing how he doesn't try to do more than is possible with the pitches he's getting.
"You look at the lineup, you look at Cano and he's obviously the focal point," Seager said. "For him to just take what's given, that passes along to everybody else. That's the right approach. That's why he's a superstar."
Greg Johns is a reporter for MLB.com. Follow him on Twitter @GregJohnsMLB as well as his Mariners Musings blog. This story was not subject to the approval of Major League Baseball or its clubs.