Big game puts Jones in rare company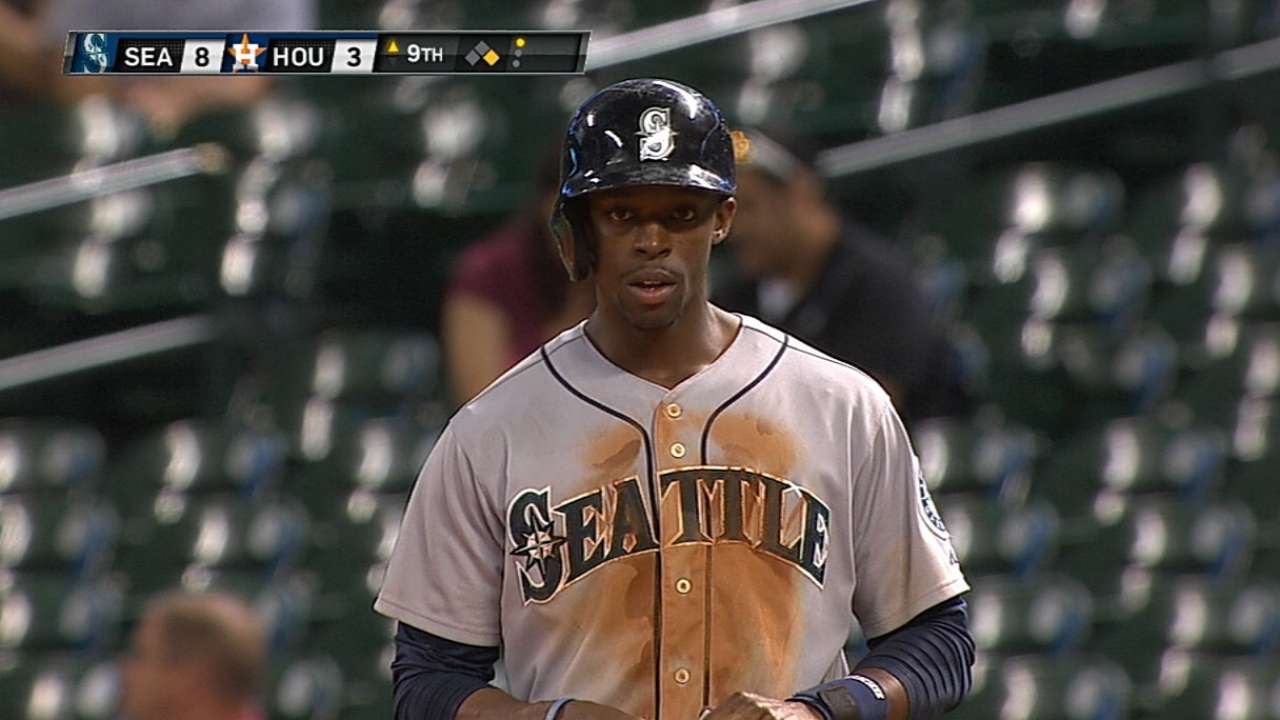 HOUSTON -- James Jones set a career high with a four-hit night in Monday's 10-4 victory over the Astros and tied his best for stolen bases in a game with three as the young center fielder continued his strong rookie campaign for the Mariners.
Jones became just the second player in Mariners history with four or more hits and three or more stolen bases in the same game, joining Ichiro Suzuki, who had four of each on July 20, 2004 against the Red Sox.
The only other player in the Majors to accomplish that feat this year is Dodgers infielder Dee Gordon, who had five hits and three stolen bases in an 11-inning game on May 3 at Miami.
Manager Lloyd McClendon said it's just another step forward for the 25-year-old from Brooklyn, who has hit .289 with 17 stolen bases in 18 attempts since being called up on May 5. Jones was third in the Majors with 12 stolen bases in June.
"He's doing great," McClendon said before Tuesday's game with the Astros. "He came in yesterday and knocked on the door and said, 'Can I talk to you?' and I thought something was wrong, a family problem or something. He said, 'What can I do to get better?' I told him after the game, 'Keep getting four hits and three stolen bases. You'll be good and I'll be real smart.'
"This kid is special in that respect. He wants to be the best he can be and I don't think he's motivated by the dollar figures, he's motivated to be the best player he can be."
Jones has been a sponge since his arrival and McClendon said he's been shadowing Robinson Cano and other veterans, picking their brains as well.
"I always feel like there's something I can improve on," Jones said. "Just being on the same page as the manager, I know I have some things, personally, I can improve. But getting his perspective, that's a lot of experience. He's seen everything. I just wanted to get his insight."
As for Cano? Jones said he and others have been teaching him the value of studying film to pick up opposing player's tendencies, and not just at the plate.
"I really didn't know anything about looking at video," Jones said. "I just looked at movement. But I realize now, being that I'm a basestealer, I could do times off how quick guys are to the plate and any trends they have when they're going home or picking off, just studying and trying to pick up patterns."
McClendon feels Jones could become a force on the basepaths as he learns more about opposing pitchers. For now, the coaching staff is supplying much of his knowledge and taking some of the decision-making out of his hands, though he's usually on his own when it comes to stealing third.
"It's more like a team effort, to be honest," Jones said. [First-base coach Andy Van Slyke] helps me a lot over there. He usually points out keys to me before I even notice it, then I realize it after the fact. The coaching staff definitely helps with me adjusting to pitchers."
Greg Johns is a reporter for MLB.com. Follow him on Twitter @GregJohnsMLB as well as his Mariners Musings blog. This story was not subject to the approval of Major League Baseball or its clubs.