Endy relishing shot to provide veteran presence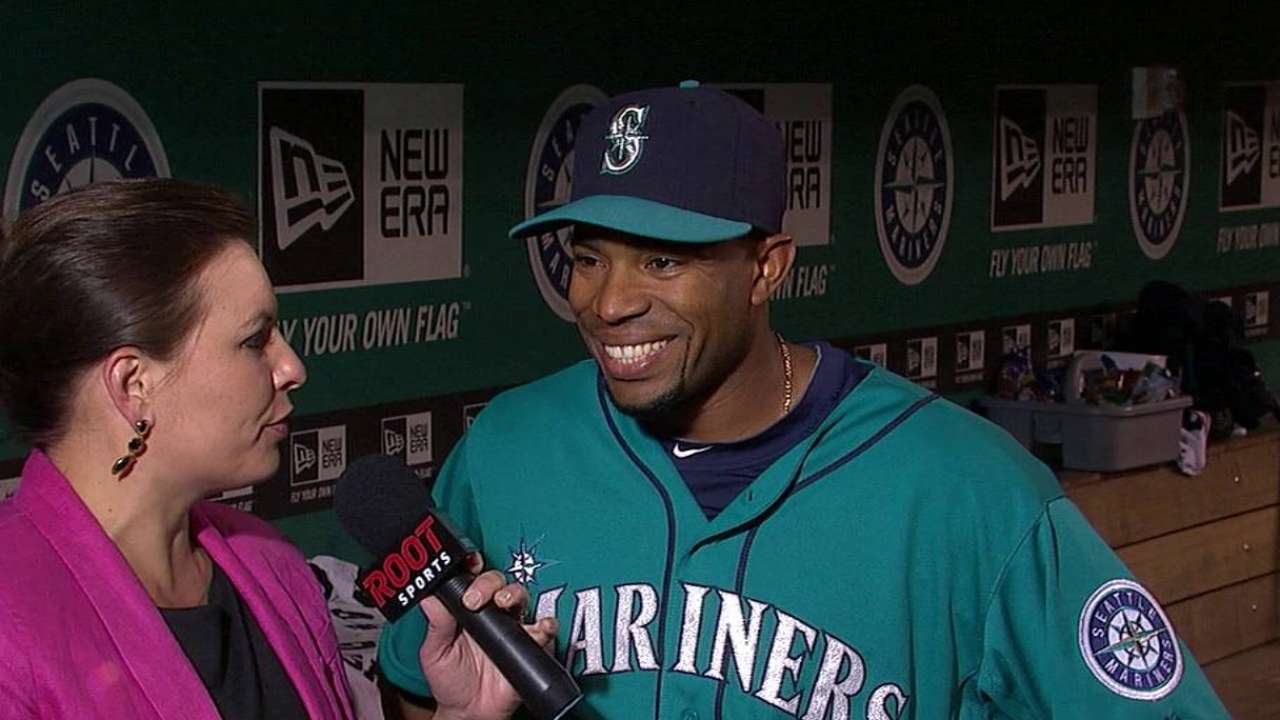 SEATTLE -- Endy Chavez won't wow anyone with his offensive numbers, but the veteran outfielder has played a valuable role in the Mariners' recent surge since being recalled from Triple-A Tacoma on May 30.
Chavez, 36, was hitting .277 with a .291 on-base percentage and eight runs and seven RBIs in 25 games heading into Saturday's contest with the Indians. Though much notice was paid to his rare seventh-inning home run in Friday's 3-2 victory over Cleveland, of equal value was his run in the first after he singled, stole second and scored on a Kyle Seager base hit.
Chavez is 8-for-10 the last 10 games in his first at-bat as the Mariners' leadoff man. He's been setting the table well for a club that is now scoring runs at a much better clip, even without a lot of big-name hitters beyond Robinson Cano.
The Mariners are 13-6 with Chavez in the lineup, and he's slid into the leadoff role in most games against right-handed starters. Chavez re-signed with Seattle this year on a Minor League deal and was brought up in late May even though he'd only posted a .272 average with two doubles in 37 Triple-A games.
"He brings a lot of intangibles to the table and I thought that in Spring Training," manager Lloyd McClendon said. "He's a veteran presence, and these are things you don't measure with sabermetrics and those type of things. There's a calming effect to the locker room and what he can do for other players with his experience in the game. He's won and knows what it takes to win. His success from an offensive standpoint is OK, but I thought his intangibles were just as important."
And if Chavez seems to have found some renewed life in his 13th Major League season since being promoted from Tacoma, there's a reason.
"It's totally different," Chavez said of being back in the big leagues. "Down there I didn't have that desire or intensity. That's why I was thinking even to go home because I didn't feel I was competing. At this level, every day you have to compete and that's the difference here."
Chavez is relishing his role on a team that has one of the best records in the Majors in June.
"Oh definitely," he said. "I enjoy when things are going well. I enjoy the game. Right now we're pulling together. The combination between hitting and pitching, we're doing pretty good. When your pitching stops their offense, it gives us a chance to win a lot of games."
And Chavez has been a big part of that recently, appearing to be feeling as young as ever.
"Not young," Chavez said with a smile, "but I am feeling good. I'm glad to be part of it, making things happen for the team."
Greg Johns is a reporter for MLB.com. Follow him on Twitter @GregJohnsMLB as well as his Mariners Musings blog. This story was not subject to the approval of Major League Baseball or its clubs.