Morrison starting to hit his stride at plate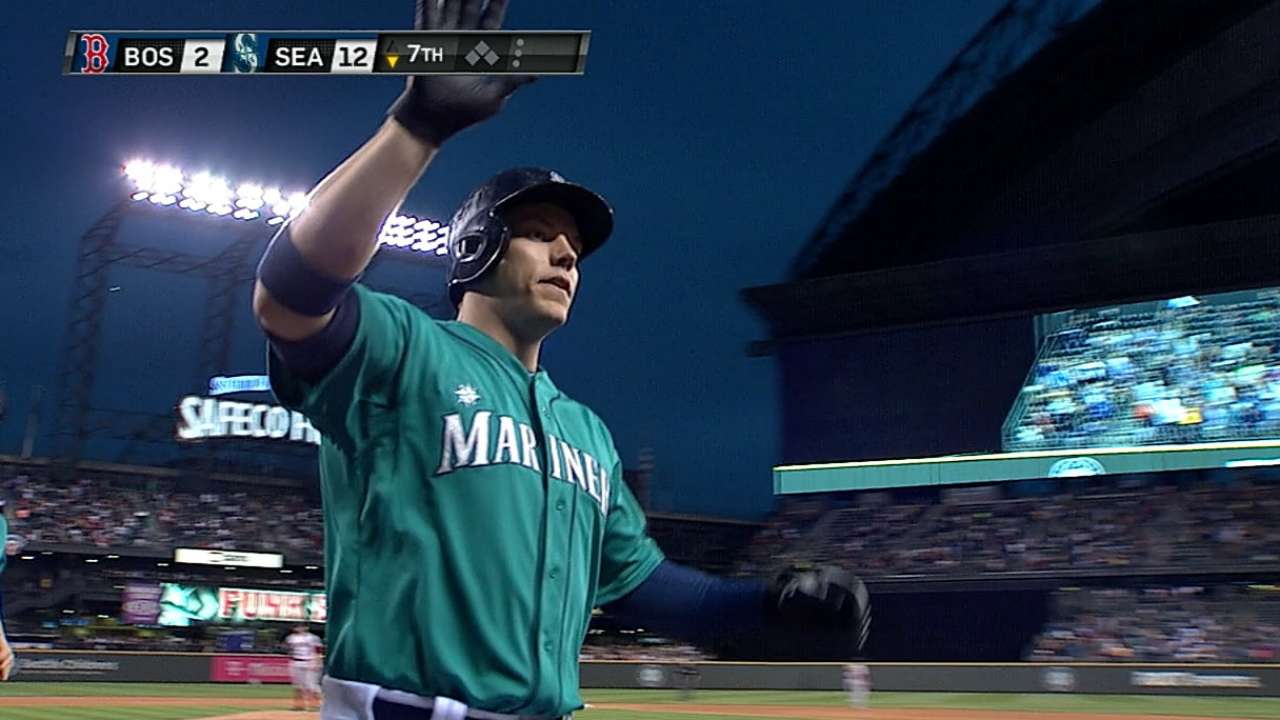 SEATTLE -- After a rough beginning to his first season with the Mariners and then nearly two months on the disabled list with a strained right hamstring, first baseman Logan Morrison has begun contributing offensively after moving into the starting lineup two weeks ago in place of the injured Justin Smoak.
Morrison was in the starting lineup Tuesday against the Red Sox for the 13th time in the past 14 games and he's hit .244 in that span, helped by a 4-for-4 night with a walk and two home runs in Monday's 12-3 win, to raise his batting average to .215.
The 26-year-old became just the ninth player in Mariners history on Monday to reach base safely five times in a game while hitting two or more home runs and recording at least four RBIs. The last Mariner to achieve those totals was Mike Cameron in his four-homer game in 2002.
"I got good pitches and didn't try to do too much," Morrison said. "I barreled 'em up and they went out. The singles, I beat the shift on one, which I haven't been doing much lately. I've been finding gloves. And with the infield drawn in because [Kyle] Seager was on third, that helps out a lot. That opens up more holes and you always want those situations when you're at the plate."
Morrison had never had a two home-run game in the Majors, even when he hit 23 as a rookie for the Marlins in 2011. But he said he's felt better at the plate of late.
"I would say maybe at the end of the Texas series or in San Diego, I started feeling like I could stay behind the ball better, put better swings on pitches," he said. "You stick to the process, stick to the process, keep grinding out at-bats and the next thing you know you look up at the end of the year and you've got pretty good numbers. Hopefully that's what happens here. I have to stay healthy, obviously, but that's a personal level. I'm just trying to get wins."
Smoak is eligible to come off the 15-day disabled list on Wednesday and manager Lloyd McClendon said he'd likely talk to general manager Jack Zduriencik about that situation after Tuesday's game.
But the Mariners need help at designated hitter as well, so it shouldn't be hard to find a place for Morrison if he continues swinging the bat better. McClendon feels things have been looking up there since Morrison spent 18 games on a Triple-A rehab assignment with Tacoma and hit .308 in 65 at-bats.
"He has better timing," McClendon said. "He's played every day. I think the 20 games at Tacoma helped quite a bit. He got his timing down. I thought his at-bats on the road helped. He was very focused and had good at-bats. Even when he didn't get hits, he had good at-bats and I think it's carried over."
Greg Johns is a reporter for MLB.com. Follow him on Twitter @GregJohnsMLB as well as his Mariners Musings blog. This story was not subject to the approval of Major League Baseball or its clubs.