Miller responds at plate since May benching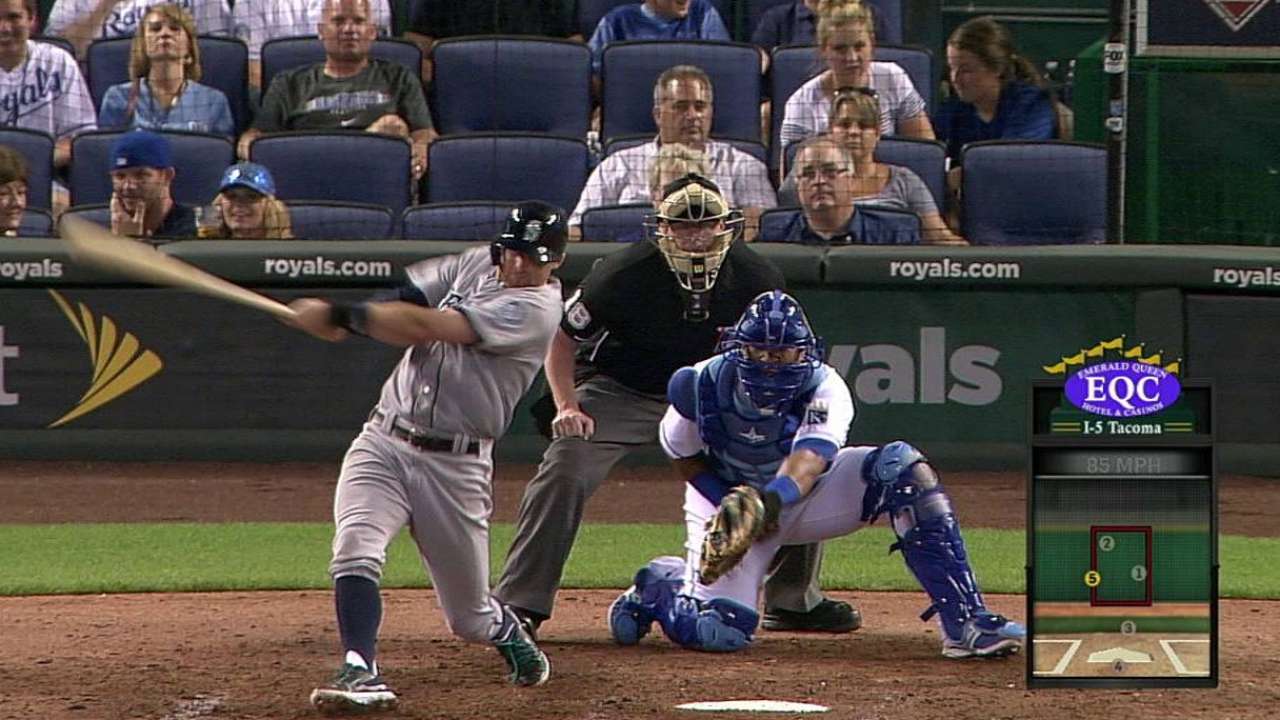 KANSAS CITY -- On May 22, Mariners manager Lloyd McClendon decided enough was enough and sat starting shortstop Brad Miller, then the owner of a .156 batting average, for the series opener against the Astros.
It was more than just a routine day off, as McClendon allowed Miller to reflect on the bench for the next three games.
"Sometimes getting away from the game helps, where you just sit back and watch and analyze, and figure out what's going on," McClendon said. "I don't know if that helps, but nothing else worked."
The ensuing 22 games have been a revelation for Miller. After two hits in a 2-1 win over the Royals on Saturday, and belting a go-ahead homer in the ninth on Friday, Miller's batting average climbed above the Mendoza line (.202) for the first time since April 18.
"At the time, I obviously wanted to play. I was confident in myself, and wanted to help, but he gave me that time and I used it to kind of slow down," Miller said.
Since May 25, Miller is hitting .275/.346/.449.
"The one thing we forget, particularly with young players, it's hard to play the game of baseball, it's really hard," McClendon said. "When you start to get a few hits, your confidence goes up and all of a sudden you relax in the field."
Throughout Miller's struggles early in the season, McClendon reminded himself of the reason Miller was anointed as the starting shortstop: his Minor League numbers.
Miller sported a .334 average in 2012 between Class A Advanced High Desert and Double-A Jackson, and a .920 on-base plus slugging percentage at Jackson and Triple-A Tacoma in 2013. Elite figures for a shortstop.
"You look at the Minor League numbers and what he's done, they're off the charts, you don't see those kind of numbers in the Minor Leagues, not even from a [Robinson] Cano," McClendon said. "It's pretty impressive."
Miller looks to extend his hitting streak to seven games on Sunday in the series finale against Kansas City.
Jackson Alexander is an associate reporter for MLB.com. This story was not subject to the approval of Major League Baseball or its clubs.