Jones remains in lineup after hit to head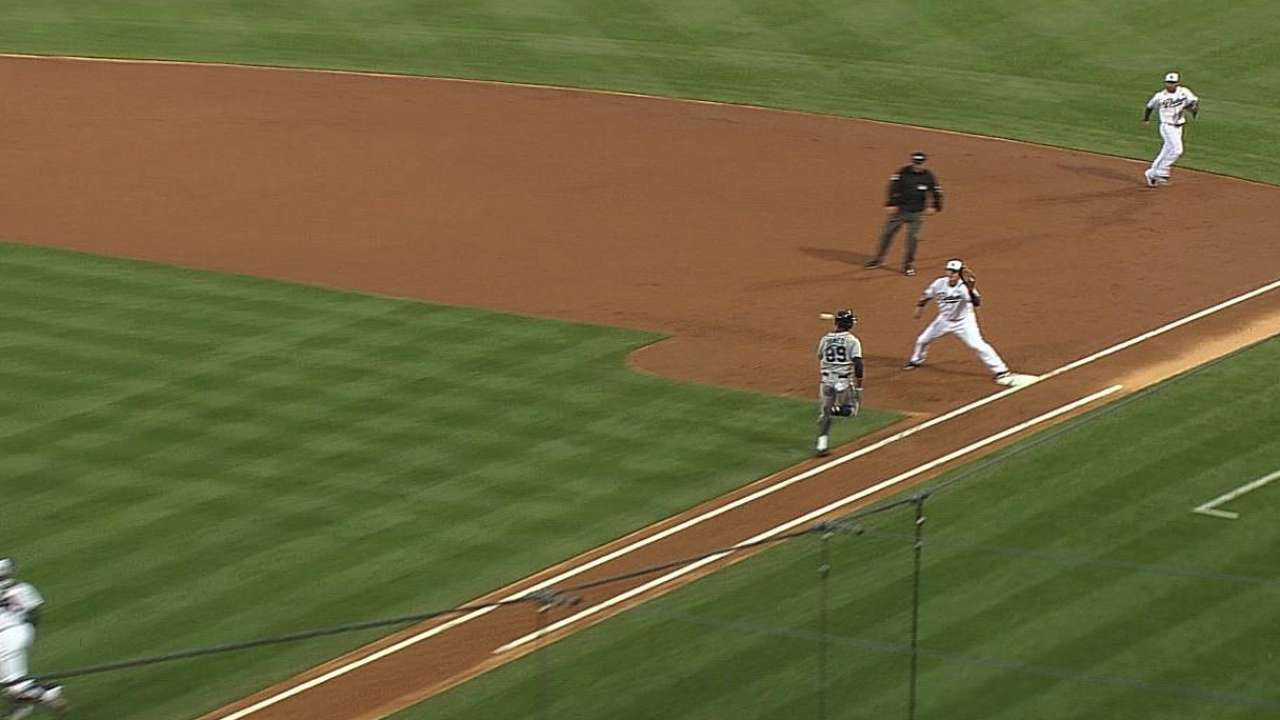 SAN DIEGO -- Mariners center fielder James Jones said his head was fine on Thursday after taking a hard throw off the back of his batting helmet as he sprinted to first base on a close play in Wednesday's 2-1 loss to the Padres.
Jones was knocked off-balance and had to be helped off the field by trainer Rick Griffin after being hit by catcher Rene Rivera's throw on a ball that he'd hit just in front of the plate in the third inning.
"I knew something was wrong, because the first baseman threw his target down and I had a feeling the ball was coming down the line, but I was hoping it would hit me in the back or something," Jones said prior to Thursday's finale with the Padres.
Jones stayed in the game and finished 0-for-4, but said he was just glad he was able to continue playing as the trainers checked him after each inning for concussion symptoms.
"I was afraid because I wasn't answering the questions like they wanted when we were walking off, but I got it back together," Jones said. "They kept following up, asking if I had any stiffness or headaches, but that didn't come up."
Jones was called out on the play when home-plate umpire Tripp Gibson ruled he was out of the baseline when the ball hit him, though that interpretation didn't sit well with manager Lloyd McClendon, who noted Jones was almost right at the bag.
What is a runner supposed to do in that situation, given first base sits on the inside of the line?
"That's what I asked," McClendon said. "I'm baffled by a lot of things. He was right on the line. What's he supposed to do? When you get to the bag, you have to touch the bag. What are you supposed to do, stop and reach out?"
The rookie Jones wasn't going to argue the call, but said replays showed it was extremely close.
"They said I was a few inches off, like I wasn't on the line exactly and I can't interfere with the line right there," Jones said. "One of the coaches saw a video and said my foot was like two inches over or it would have been all right. They said my foot was on the chalk."
Greg Johns is a reporter for MLB.com. Follow him on Twitter @GregJohnsMLB as well as his Mariners Musings blog. This story was not subject to the approval of Major League Baseball or its clubs.