Miller's patience paying off at plate in June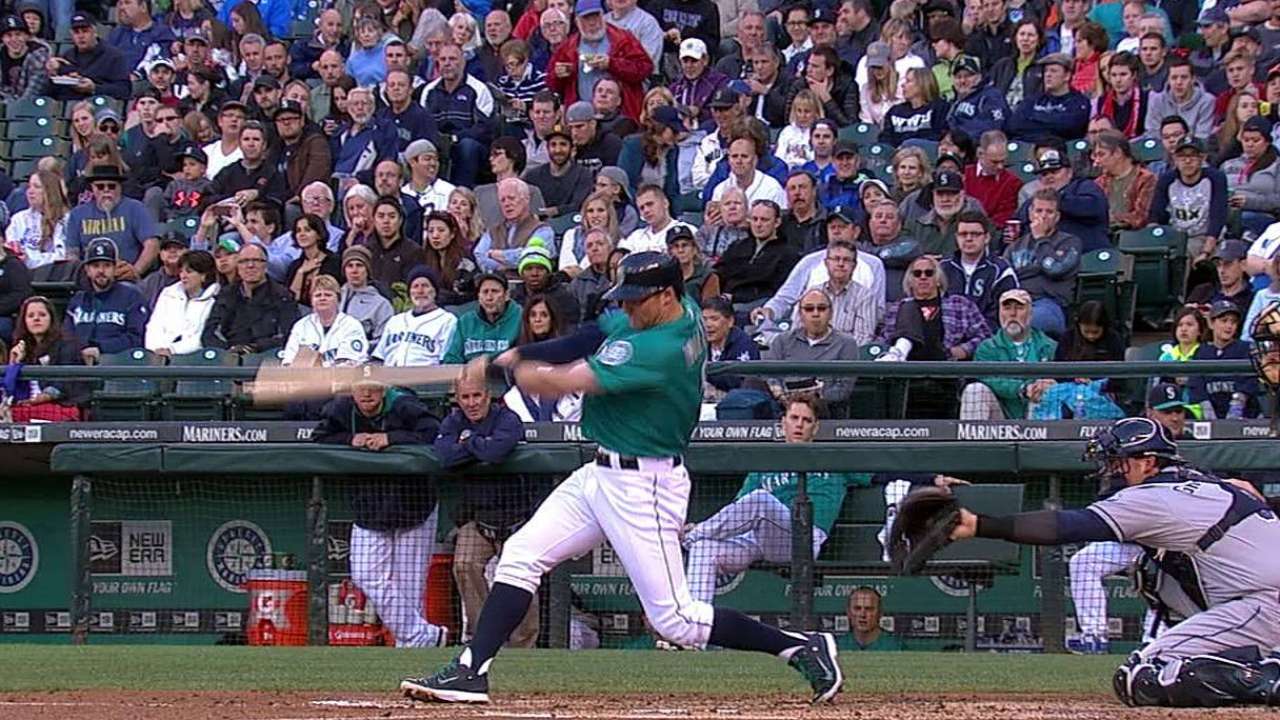 SEATTLE -- Mariners shortstop Brad Miller is an aggressive hitter, which helped him rise quickly through the Minors and have a strong rookie season last year. But opposing pitchers took advantage of that aggressive approach early this year and kept feeding him pitches out of the strike zone, as the youngster struggled to find his groove.
But in the past 23 games, Miller has drawn 10 walks, compared to seven in his first 36 games. And not coincidentally, as he has started to make pitchers come to him a little more, Miller has begun hitting better, as he's batted .260 with two home runs and six RBIs since May 29 to slowly raise his average from .151 to .179.
"Not getting off to the start I wanted and chasing ... people are smart," Miller said. "Pitchers are smart. They know, 'OK, I can nibble a little and this guy will get himself out.' Now I'm taking some of the borderline pitches and pitches out of the zone and getting better pitches to hit, and [I'm] willing to take that walk, for sure."
Manager Lloyd McClendon worked with Miller to narrow down his strike zone, and he said the results are beginning to show as "he needs to change the scouting report a little" on how opponents pitch to him.
"I think it's a part of seeing the ball a little better, relaxing a little more, trusting what you're doing," McClendon said. "He's starting to get better."
Miller doesn't want to overhaul his approach, just make it work to his advantage instead of against him.
"You don't turn down the aggression, but it's aggressive on a certain something in the zone," said the 24-year-old Miller. "That's better for everything. I've found lately, I find myself hitting in better hitter's counts, and if I happen to miss it and they don't come back in there, that's fine. Take the walk instead of missing it and expanding and chasing a little. It's not necessarily me saying I want to walk, but I do want to swing at better pitches, and I want to be conscious of that."
With Miller's recent success, his confidence has begun to return as well. Baseball can be a humbling game, but the youngster from Clemson feels he'll be better for his struggles in the long run.
"I felt like the beginning was an aberration, and this is more along the lines of how I think I am," Miller said. "It's hard, because when you have a tough game in the midst of it, you're like, 'Shoot, I had a tough game and everything was going so well.' But that's going to happen.
"You have to embrace it, because it'll get overwhelming. And that's how it was for a little bit. It was a little overwhelming, just because I wanted to do so well right now. But I feel a lot better."
Greg Johns is a reporter for MLB.com. Follow him on Twitter @GregJohnsMLB as well as his Mariners Musings blog. This story was not subject to the approval of Major League Baseball or its clubs.