Injury roundup: Smoak close to rehab outing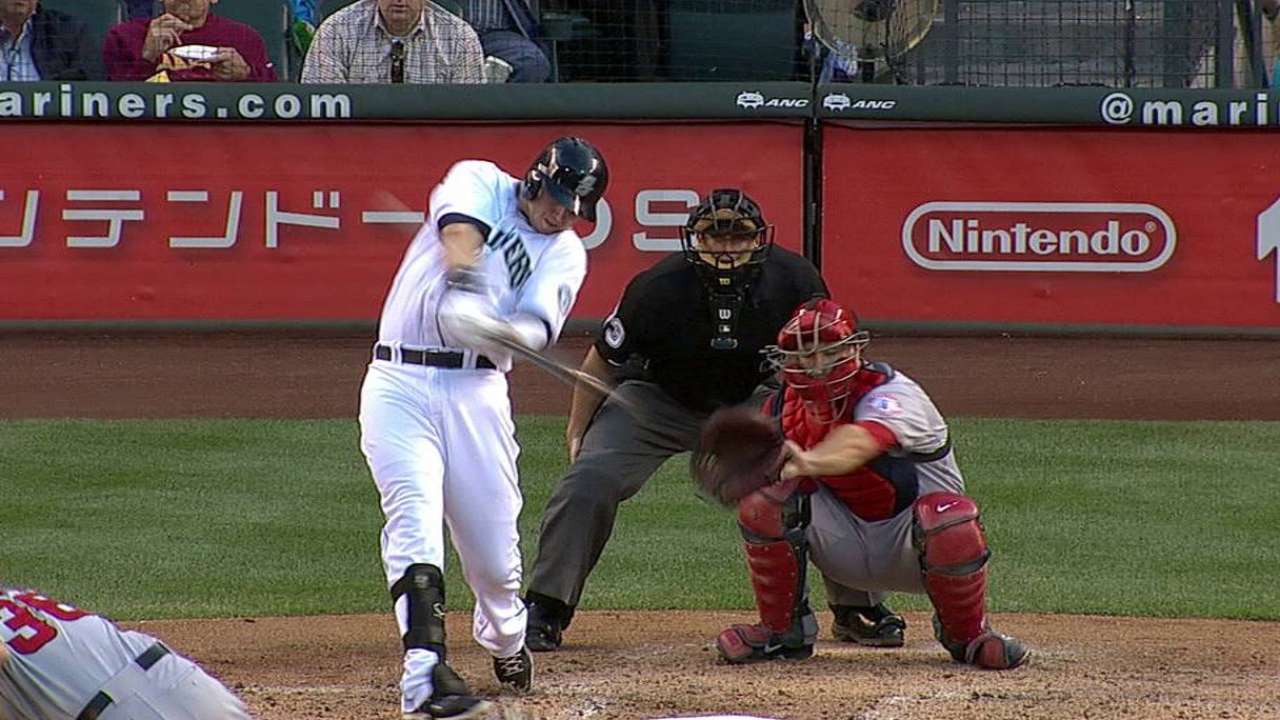 SEATTLE -- Justin Smoak ran the bases at near full speed prior to Monday's game at Safeco Field under the watchful eye of Mariners trainer Rick Griffin, as the injured first baseman continued working his way back from a left quadriceps strain that has him on the 15-day disabled list until June 25.
Smoak, who has missed the past six games, will likely start his Minor League rehab stint on Wednesday with Triple-A Tacoma, barring any setbacks, manager Lloyd McClendon said.
"It felt pretty good," Smoak said after undergoing a lengthy workout. "I hope to go out in a couple days and we'll see what we've got. Today was as close to 100 percent as I've felt."
Designated hitter Corey Hart also did some agility drills with Griffin and then ran twice from home to first as he continues his comeback from a hamstring strain that sent him to the DL on May 18. Hart is a little behind Smoak and will likely need a longer Minor League stint because he's been out a full month.
But McClendon said both Hart and right fielder Michael Saunders, sidelined by a right shoulder injury, could be headed to Tacoma later in the week.
"[Saunders] hit off the tee yesterday," McClendon said. "We'll how he does today. We'll eventually get him some live BP and get him out and ready to go.
"Hart is swinging pretty good. I've been impressed with his BP, but you still have to have game speed. You have to see breaking balls, sinkers. It's going to take a little time with him. How much, I don't know. Obviously the quicker the better, but he's got to be hitting when he comes back."
McClendon said left-hander James Paxton has not begun throwing off the mound yet but continues to rehab his shoulder issues, and "I've been told anywhere from 3-4 weeks he could be full bore again. So we'll see."
One injured player who didn't miss any time was first baseman Logan Morrison, who was back in the lineup Monday after being taken out midgame Sunday after needing five stitches above his eye after shattering his bat in the dugout and being hit by the shrapnel.
Morrison apologized to his teammates and McClendon.
"He was very stand-up about it. He certainly took accountability for it," McClendon said. "But the fact is it's something that shouldn't happen. It's something you don't ever want to see happen. But for all the young kids out there, it's a good lesson learned because you can get hurt throwing those type of tantrums. Nobody should do that and you could endanger your teammates in the process."
Greg Johns is a reporter for MLB.com. Follow him on Twitter @GregJohnsMLB as well as his Mariners Musings blog. This story was not subject to the approval of Major League Baseball or its clubs.