Smoak to DL; Morrison recalled from Triple-A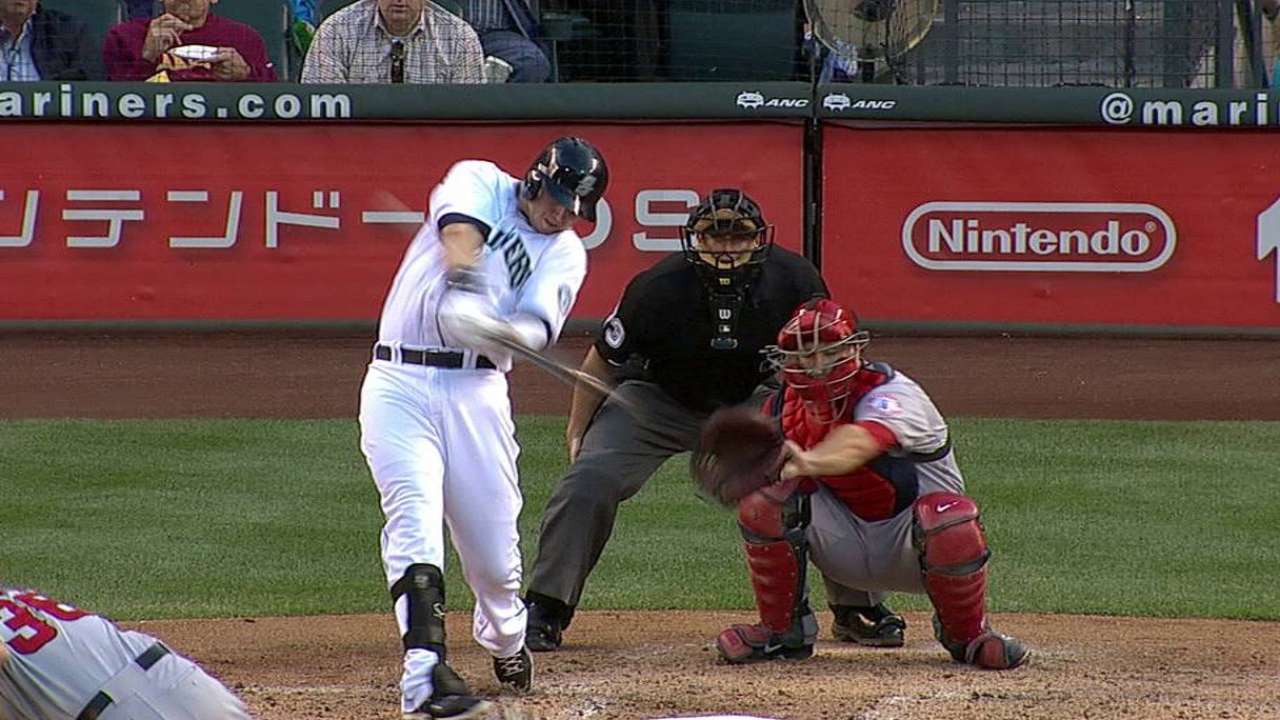 SEATTLE -- The Mariners placed first baseman Justin Smoak on the 15-day disabled list with a strained left quad and recalled outfielder Logan Morrison from Triple-A Tacoma on Wednesday.
Smoak's DL stint is retroactive to June 10, meaning he'll be eligible to return June 25.
For the past week, the struggling power hitter (.208/.282/.361 slash line) was used as a defensive replacement late in games. On Tuesday, he took batting practice and did some light running drills, though manager Lloyd McClendon expressed disappointment with the way he was progressing physically, saying Smoak was "70 to 75 percent."
When McClendon was asked Wednesday how Smoak was healing, he reiterated his point.
"At a snail's pace," he said. "It's going to get better, but he's been out for five days, and he's probably going to be out another four or five days. That's [at least] nine days without playing. It just didn't make any sense [to keep him active]."
Smoak said he can take batting practice and field, but running is the problem. He will continue to work his way back with the hope he can return to the lineup after the Mariners return from their next road trip, McClendon said.
"He's going to rehab here," McClendon said. "Hopefully, sometime next week, we'll get him out and get him some at-bats [on a rehab assignment]."
Smoak's absence opens the door for Morrison, who hit fifth and played first base Wednesday against the Yankees.
Last December, the Mariners traded reliever Carter Capps to the Marlins in exchange for Morrison after he posted a .249/.337/.427 slash line in four seasons with Miami.
Morrison got off to a slow start to 2014, netting just three hits in 20 at-bats before going on the 15-day disabled list with a strained right hamstring in mid-April.
"Rehab stint was long, swing is not. The swing feels good," Morrison said. "The at-bats feel better. All that stuff feels great. [I'm] ready to go and help the team win any way I can. Any other clichés you need?"
Though he suffered a setback while rehabbing, Morrison eventually recovered and played 18 games with the Rainiers, hitting .308 (20-for-65) with two doubles, three home runs and 13 runs.
"I guess he swung OK. To be honest with you, I don't care about Tacoma," McClendon said. "I'm worried about what he does here. We'll see."
Adam Lewis is an associate reporter for MLB.com. This story was not subject to the approval of Major League Baseball or its clubs.