Mariners honor Jeter with pregame ceremony, gifts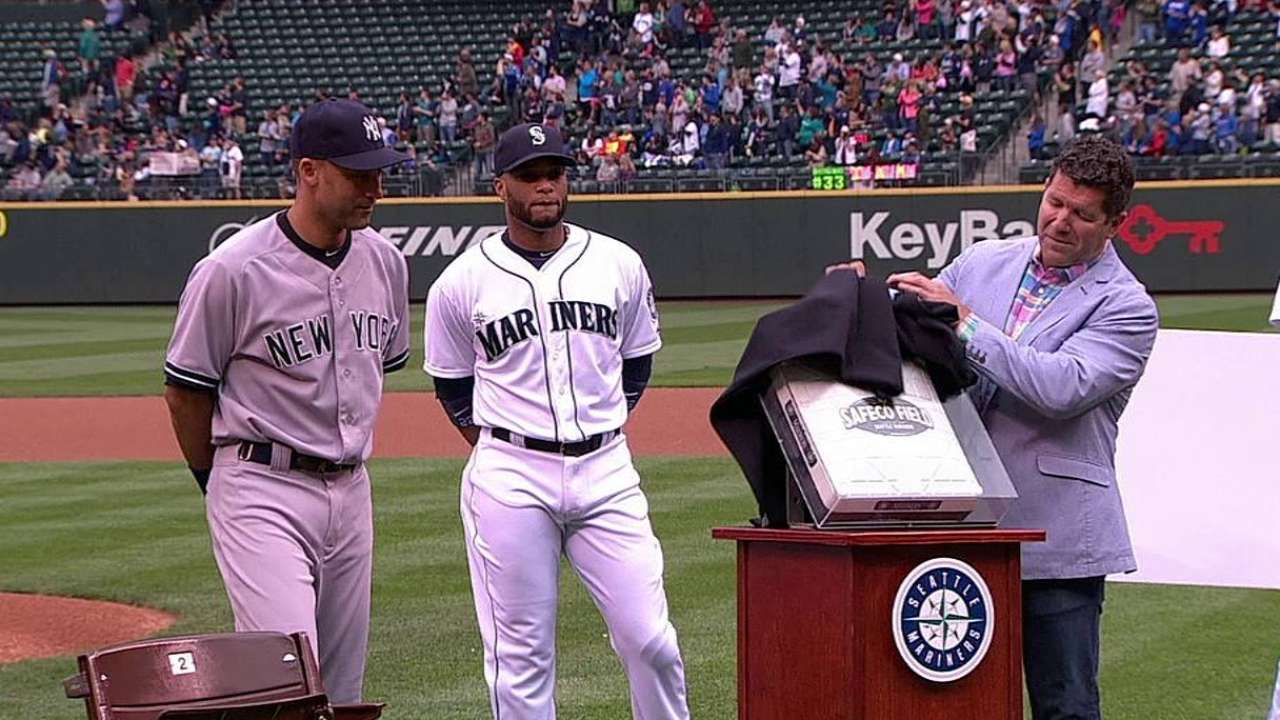 SEATTLE -- Media members wiggled and pushed their way into Safeco Field's visitors' dugout a few hours before Tuesday's first pitch to hear Yankees shortstop Derek Jeter talk about his favorite Seattle memories. He was then honored in a special pregame ceremony attended by Jay Buhner, Edgar Martinez, Robinson Cano and Felix Hernandez.
The Mariners presented Jeter with a chair from the Kingdome, a base, a watch with a personal inscription from Cano and a $5,000 donation to the Turn 2 Foundation.
Jeter is one of 12 active players to have played in both the Kingdome and Safeco Field. At the age of 20, he made his Major League debut in the Kingdome on May 29, 1995, going 0-for-5 in an 8-7 Mariners victory over the Yankees.
What does Jeter remember from his debut? Two things.
"I was 0-for-5, and after the game my dad was in town and we tried to get something to eat, and everything was closed," Jeter said. "We ended up walking into a McDonald's."
The next night was better. He went 2-for-3 with two runs scored and got his first hit off Mariners pitcher Tim Belcher.
A few months later, Jeter wasn't active for the 1995 American League Division Series, but he remembers watching from the bench as the Mariners stormed back from an 0-2 series deficit, taking Game 5 in extra innings on Martinez's famous double down the left-field line.
"That team had a lot to do with this new stadium being built," Jeter said. "These fans have always been great. I just remember how loud it was in that stadium. I had good seats but I wasn't playing."
In all, Jeter has played five postseason games in Seattle ('00, '01). Entering Tuesday, he was a .299 career hitter vs. the Mariners in the regular season.
"This is the last time I'm going to see Derek Jeter play live," Seattle manager Lloyd McClendon said. "It's going to be an emotional three days. I'm honored. What a career. I'm sure everybody's said everything you can possibly say about Derek Jeter, but for me, for the last 20 years, Derek Jeter has been everything that's right about the game of baseball."
Adam Lewis is an associate reporter for MLB.com. This story was not subject to the approval of Major League Baseball or its clubs.