Bloomquist's versatility an asset to Mariners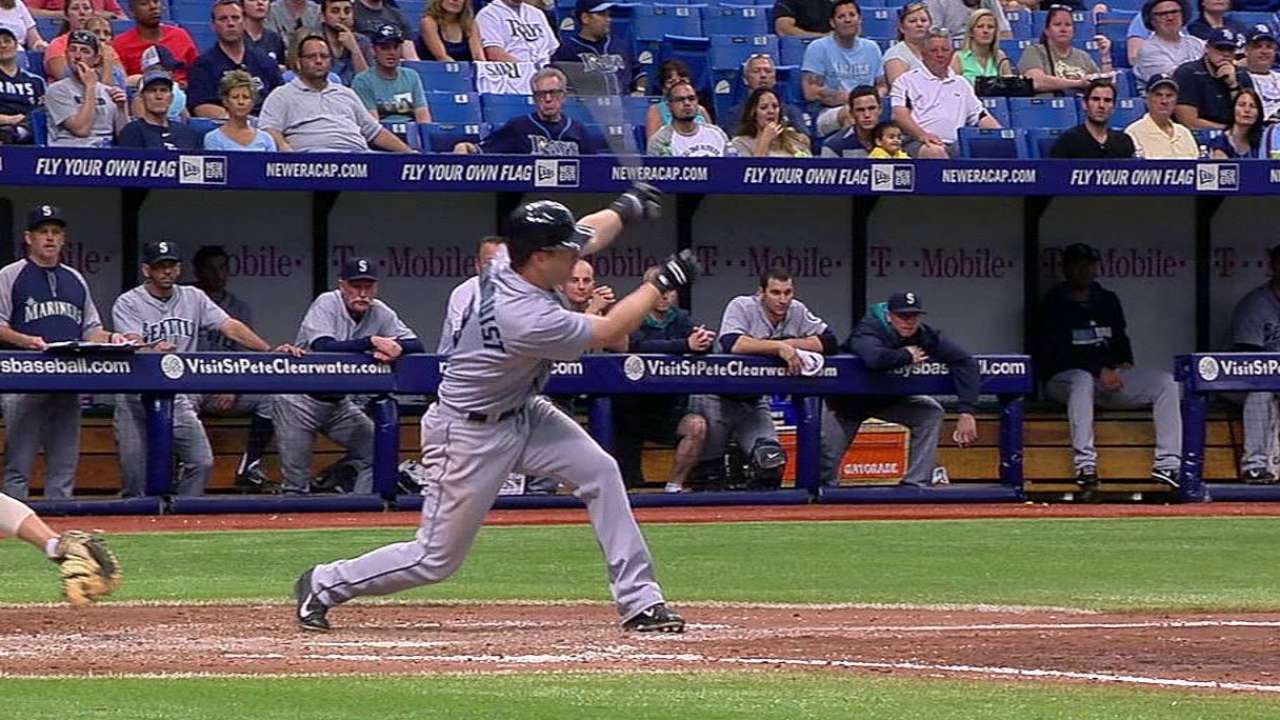 ST. PETERSBURG -- Willie Bloomquist prides himself on versatility. Heck, he's made a career out of it now as a 36-year-old utility player who can handle any position on the field.
But even Bloomquist acknowledges that playing first base is something of a "work in progress" as he found his name in the lineup at that position in place of a sore-legged Justin Smoak for the third time in Seattle's past four games on Sunday.
The 13-year Major League veteran had only started 11 games at first base before getting the call there Wednesday in Atlanta and all 11 of those games were in 2004 during his first tour with Seattle, when he filled in late in the year after John Olerud was released. He's now played 38 games at that spot out of his 925 career games, but 26 of those were late-inning relief stints when he'd get an inning or two after pinch-running for the starting first baseman or something of that sort.
Yet Bloomquist had a hunch he might get called on to man the position more at some point this year, and that intuition is paying off, as he's performed flawlessly in his first two games there and went 2-for-4 with a double and two RBIs while filling in for Smoak in Saturday's 7-4 victory over the Rays.
"I do have my own [first baseman's] glove, believe it or not," Bloomquist said with a chuckle. "I haven't even sniffed playing first the last three years. But this year, right before I left for Spring Training, I decided to throw that in the bag just in case. You never know. It's the same one I had from '04. It's got a few cobwebs on it, but it still works, that's the main thing."
Bloomquist has made it work, which is what he's done throughout his career and why managers love having him on their teams. He's the baseball version of a gym rat, a guy who loves playing the game and will do whatever is needed to help a team win. And if that means playing first base now, he'll figure that out on the fly.
"Every position I play seems to be a work in progress, but that one, I don't have a lot of games logged over there," he said. "It's what we need right now, and that's what they've asked me to do, so I'll go out and do the best I can and keep learning and doing some things that hopefully help the other guys in the infield. The more time I spend over there, the more comfortable I get."
The biggest adjustment, for a guy who has played mostly second, short, third and the outfield in his career?
"Remembering you've got to cover the bag on a ground ball," he said. "Remembering you're a cutoff man on a guy in scoring position. The bunt things, the in-between plays. Obviously, I don't have a whole lot of reps with that. That's the trickiest part.
"But I'm trying not to out-think myself and just keep it simple, catch the ball, get it to the bag and if somebody else catches it, make sure I catch it at first when they throw it to me. I'm just trying to keep it simple. I'm not expected to be a Gold Glover over there. I just go over there and get it done and do what I can. It's the same game, just a different position."
Greg Johns is a reporter for MLB.com. Follow him on Twitter @GregJohnsMLB as well as his Mariners Musings blog. This story was not subject to the approval of Major League Baseball or its clubs.