Seattle trainer Griffin reaches 5,000-game milestone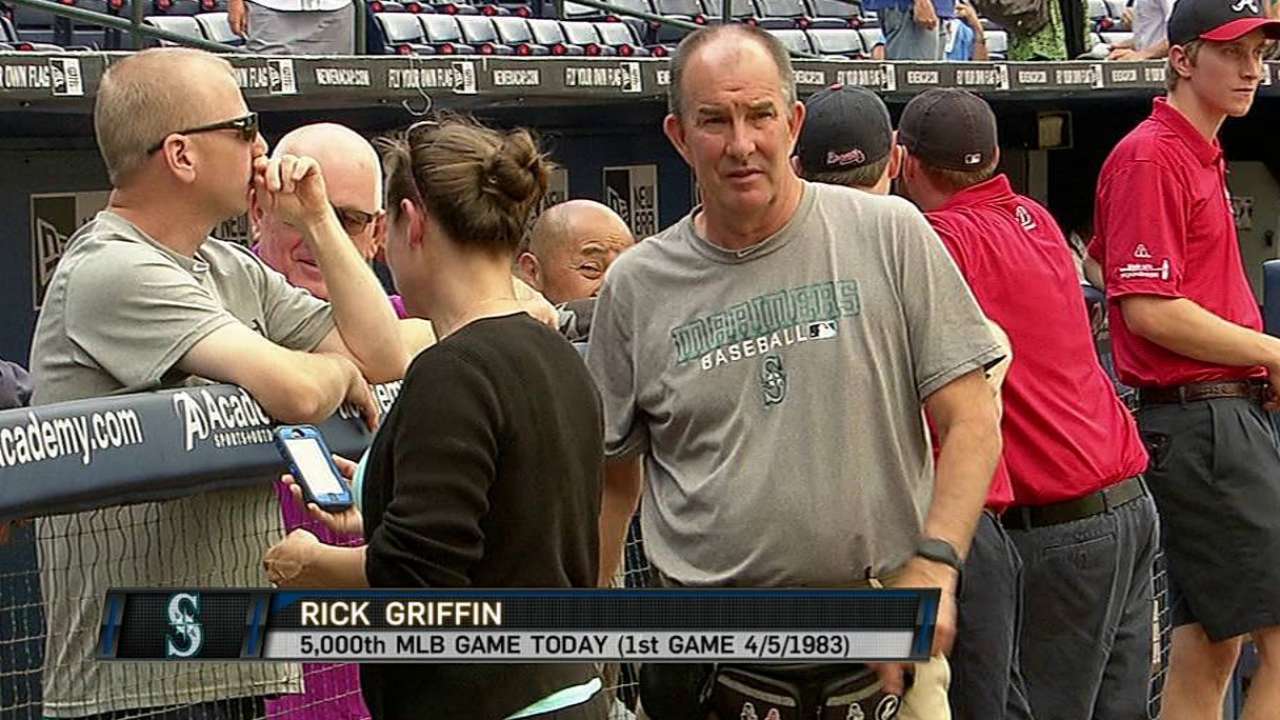 ATLANTA -- For Mariners trainer Rick Griffin, the goal is always to keep players on the field for as many games as possible. And Griffin has done his job so well that he worked his own 5,000th game on Wednesday, a span covering 32 of the franchise's 38 seasons.
Griffin, 58, started with the Mariners on April 5, 1983, and he remains just the second head trainer in team history. His 5,000th game came Wednesday against the Braves at Turner Field. In that span, he's worked with exactly 700 different Mariners players.
"I've been blessed to be able to have this job," Griffin said, sitting in the Mariners' dugout. "I love what I do and I've been blessed to be able to stay in the same place and work with the same management group pretty much the whole time. It's something I'll look back on when I get older and realize how special it was."
When Griffin started, he was the Mariners' lone trainer for his first seven years. Now he works with three assistant trainers and says he's as busy as ever in the growing field of sports medicine.
"It's completely changed," Griffin said. "I look back now and wonder, 'How did I ever do that and how did the players put up with only one trainer?' Because now players get a lot of individual attention and quality treatment when they need it. The biggest change is the players understand their bodies now, they're educated and they understand nutrition and conditioning and weightlifting.
"When I started, people were afraid to go in the training room, and that's probably why you only needed one trainer. When they went in there, they thought management would find out and they'd get traded or released or sent to the Minor Leagues. Now players come into the training room because they understand that's part of keeping them on the field."
Griffin said the most important part of his job is earning players' trust so they communicate freely about injuries. He said he still gets calls from Ken Griffey Jr. and other former players asking advice on injuries and aches and pains.
And, yeah, one of his favorites remains Jay Buhner, who spent more time in the training room than anybody because of his hard-charging style of play.
"He should have had his locker in the training room, because he lived in there for 14 years," said Griffin. "But I admired and respected that, because he did whatever he needed to do to get out on the field. He'd show up at 1 in the afternoon for a 7 o'clock game and do six hours of therapy and treatment so he could play that night. He wasn't afraid to do that, and he did it for years and years."
And Buhner did it with Griffin's help, along with every other player to don a Mariners uniform in the past 32 years.
Greg Johns is a reporter for MLB.com. Follow him on Twitter @GregJohnsMLB as well as his Mariners Musings blog. This story was not subject to the approval of Major League Baseball or its clubs.