Cano makes return to lineup at Yankee Stadium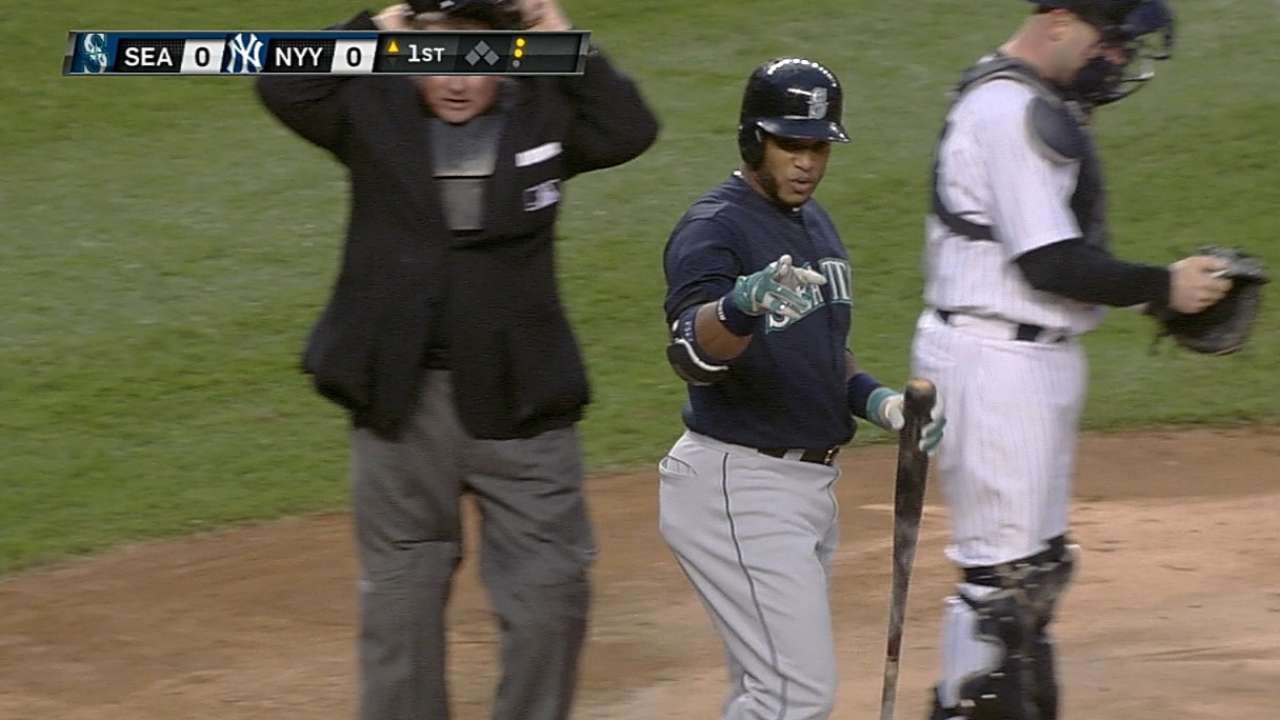 NEW YORK -- Mariners manager Lloyd McClendon inserted Robinson Cano back into the three spot in the lineup against the Yankees at Yankee Stadium on Monday after the lefty slugger had missed four games due to a hand bruise. Cano never mentioned a specific instance for the injury, but he indicated he was in pain during his final swings against the Angels last week.
"He felt a lot better today," said McClendon. "I'm not sure if he's going to wear a little thumb guard or not, that's what most guys do."
"I'm feeling much better," said Cano. "I've been feeling good the whole year, and the team was going the right way, but like I say, it's part of the game. So I'm just going to put my head down and continue to play."
When Cano's hitting isn't the focal point, his durability is. This minor stint on the bench was his first time sitting out for more than three games in a season since 2006, when a hamstring bugged him with the Yankees. He played in 122 games that year. Every year after, he played in at least 159.
"It's been terrible. I hate to watch the game," he said. "I don't want to aggravate it and make it worse trying to just force it. It's really hard to just sit down for a game and just watch the game."
Monday's makeup game marked a second return to the Bronx for Cano, who faced his fair share of boos from the crowd in the first series. Returning to the lineup for another reunion, though, wasn't Cano's biggest priority.
"Here or anywhere is the same thing," he said. "We want to win. It doesn't matter if it's here or anywhere else. I always want to play."
Cano went 1-for-3 with a run scored and a pair of walks in the Mariners' 10-2 win Monday. He was also caught stealing second base, when Yankees starter David Phelps picked him off.
Cano's 53 games with the Mariners haven't provided the same home run numbers he had in pinstripes, which most people expected would dwindle in spacious Safeco Field. After five straight seasons of at least 25 homers in New York since 2009, he has slugged only two for Seattle.
Still, Cano's run production remains on par, with 31 RBIs, and he is currently carrying a batting average of .327.
"I'm not a home run guy. You play here, you take advantage of the short porch," said Cano of Yankee Stadium. "It's nothing that I worry about, I just go up there and do my job."
Jake Kring-Schreifels is an associate reporter for MLB.com.& This story was not subject to the approval of Major League Baseball or its clubs.