Seager working to beat the shift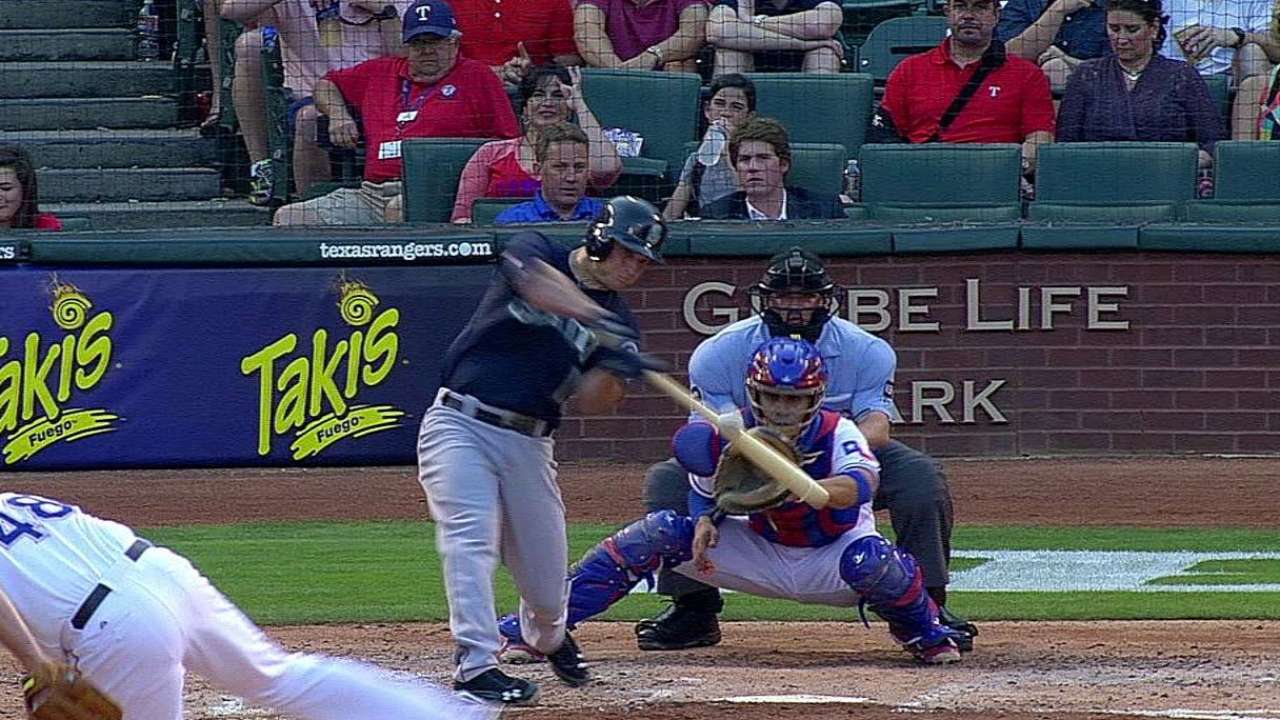 ARLINGTON -- Kyle Seager knows the way to beat a shift is to show opposing teams he can hit the ball down the left-field line when he wants, so the Mariners third baseman took a couple shots that direction in his first two at-bats in Tuesday's 6-2 victory over the Rangers.
On Seager's first time to the plate in the second inning, he drove a line drive deep down the left-field line that just landed foul by a few feet. With Texas third baseman Adrian Beltre still shifted all the way over to the shortstop hole, Seager then squared a bunt down the third-base line and sprinted to first, thinking he'd dropped in a well-placed single.
Instead, the four-time Gold Glover raced over, barehanded the ball and fired to first to nick a stunned Seager.
"There's nobody [else] that can make that play," said Seager. "That was unbelievable, going as far across his body as he did. I had to come in here and actually watch it [on video] because I'm sitting there running and I get thrown out and I'm trying to figure out how in the world that happened with him being shifted over like that.
"I bunted it hard and didn't put it right down the line. But still, I don't think any other third baseman would have even tried to throw it. I think they'd just go over there and pick it up. He's pretty special."
Manager Lloyd McClendon said Seager and Justin Smoak have both begun working the ball better to the opposite field in batting practice as well as games and believes that will pay off in the long run. But McClendon, too, was shaking his head at Beltre's effort against Seager's bunt.
"I don't know any other player in baseball that makes that play," McClendon said. "Maybe [Evan] Longoria. It was just phenomenal. I don't know if people appreciate just how good that play was."
Told that Seager appreciated it, McClendon laughed.
"I don't know if he appreciated it, from the words coming out of his mouth in the dugout," McClendon said.
But Seager won Round 2 when he came to the plate with the bases loaded in the third inning and blooped a two-run single over Beltre's head into shallow left. Even then, the play was closer than he expected.
"I thought I hit it better than that and it was going to bloop in there pretty easily," said Seager. "He made a really, really nice play on the first one, so I figured I can't go in front of him, I need to bloop it over him."
With more and more teams shifting their infield against left-handed hitters, Seager knows he needs to prove he can consistently go the other way in order to make defenses pay for that strategy. It's a chess game that will play out over time and continues to be a topic between McClendon, hitting coach Howard Johnson and Mariners batters.
"That's something I've talked a lot about with McClendon and HoJo and those guys," said Seager, who wound up going 3-for-5 on the night. "It's something we've worked on in BP. If you're going to continue to progress as a hitter, you've got to be able to hit it to all fields. Kind of knowing the scouting report, especially with them shifting, I wasn't just trying to hit a little ground ball over there. I was trying to drive it.
"You don't just want to be one-dimensional. You open the field up, then you can get ground balls to the right side and you start having those holes. But if you're just pulling it non-stop, then those holes aren't there anymore."
Greg Johns is a reporter for MLB.com. Follow him on Twitter @GregJohnsMLB as well as his Mariners Musings blog. This story was not subject to the approval of Major League Baseball or its clubs.