Jones gets a shot at leadoff spot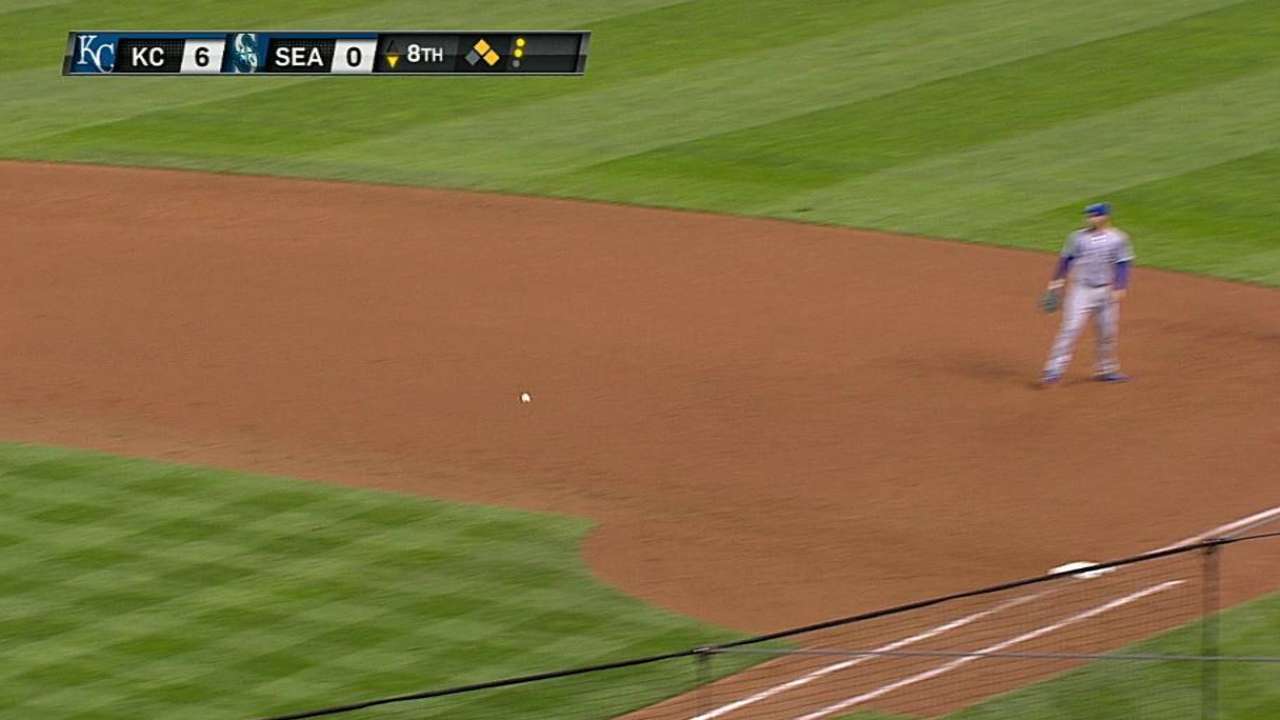 SEATTLE -- Looking to spark a lineup that produced just one earned run over its previous three games, Mariners manager Lloyd McClendon moved rookie center fielder James Jones into the leadoff spot for the first time for Saturday night's game with the Royals.
Jones, who was recalled from Triple-A Tacoma on Monday, has gone 5-for-11 (.455) in his first seven games in the Majors. He'd started two games prior to Saturday, batting second behind Michael Saunders during the previous series in Oakland.
But with Saunders going 0-for-10 in the last three games, during which the Mariners totaled just 10 hits and two runs (one earned), McClendon moved the 25-year-old into the top spot against hard-throwing Royals right-hander Yordano Ventura.
"He's a prototypical-type leadoff guy," McClendon said. "We'll give him his chance and see what he can do."
Jones has hit .306 with 83 runs, 24 doubles, 11 triples and nine home runs in 360 at-bats hitting in the leadoff role in the Minors. He doubled and scored Seattle's lone run as a pinch-hitter in the eighth inning in Friday's 6-1 loss and has already shown an element of speed that the Mariners can use in front of Robinson Cano and Corey Hart.
But McClendon said it takes more than that to be a successful leadoff man.
"Obviously if you've got guys on, particularly in front of Robbie and Corey, that helps with the type of pitches they should see," he said. "But the important thing is to get guys on base. Speed is secondary at this point.
"I like what I've seen," said McClendon. "I don't think he's overmatched at the plate. He has the ability to put the bat on the ball and gets great jumps in the outfield. I've been impressed."
Jones, a fourth-round Draft pick out of Long Island University in 2009, hit .313 with 15 runs scored in 20 games for Triple-A Tacoma this year. He's eager to show what he can with any opportunity that arises now that he's in the Majors.
"Leading off gives you the opportunity as a table-setter. I know my role with that," he said. "But I'm not going to try to change anything from what I've been doing. I'm still going to stay aggressive and when it comes to being patient, the game will dictate what my approach should be."
A week into his Major League career, the Brooklyn native is still soaking everything in.
"I'd say it's more surreal when the game is not going on," Jones said. "Once the game starts, everything else shuts off and I go into compete mode. I don't have time to really be thinking about, 'Wow, this is the big leagues.' But beforehand and after the fact, it sinks in a lot.
"But I'm comfortable here," he said. "It's not the same thing, but when I first got drafted I was in Everett. So I'm pretty used to the area. And Safeco as a home field, I feel like it's an honor. It's a great home field and I love the fans and stuff. I'm happy here."
Greg Johns is a reporter for MLB.com. Follow him on Twitter @GregJohnsMLB as well as his Mariners Musings blog. This story was not subject to the approval of Major League Baseball or its clubs.