Young arms making their way back from injuries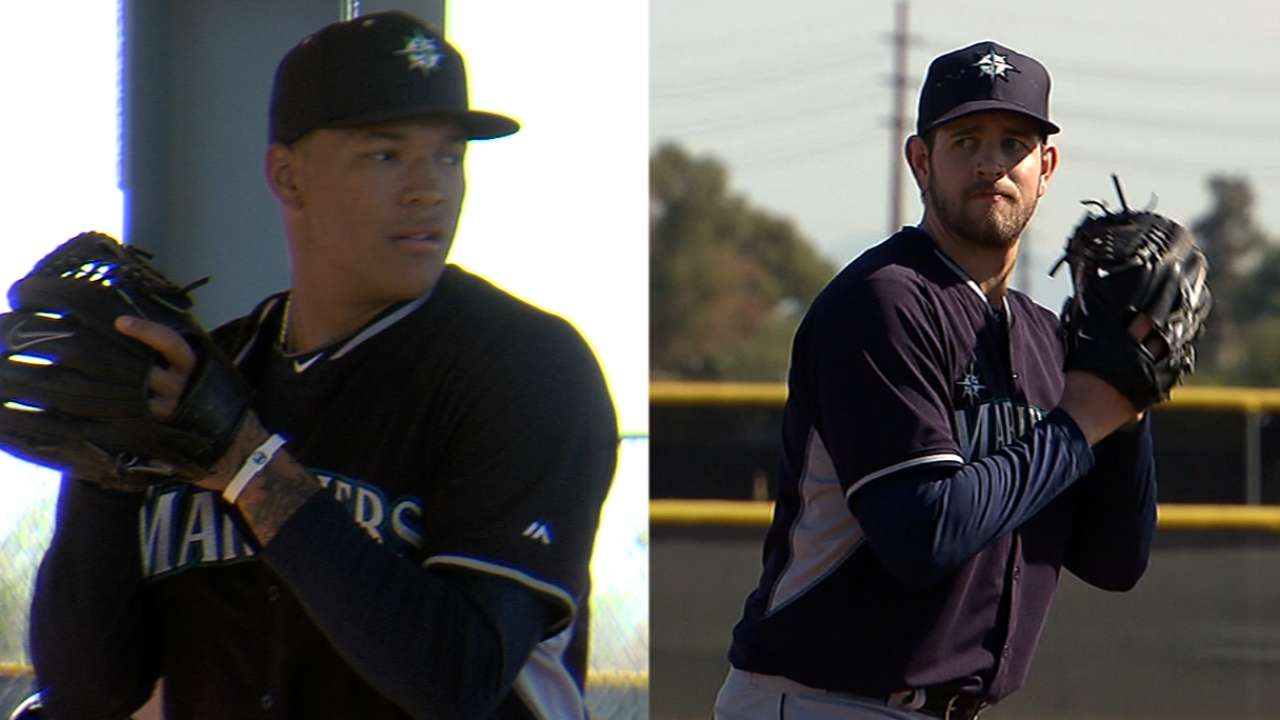 SEATTLE -- Injured Mariners pitchers James Paxton and Taijuan Walker have continued progressing as they work their way back from arm injuries, with both youngsters scheduled to begin throwing bullpen sessions in the next few days.
Both pitchers played catch nearly every day while the team was on the road the previous nine days and again Thursday as the club returned for the start of a week-long homestand.
Paxton, sidelined since straining his left lat muscle in his second start of the season on April 8, threw at 120 feet on Thursday and will get back on the mound for the first time on Friday in the Safeco Field bullpen.
Walker, who dealt with a sore shoulder early in camp and then was shut down again after feeling some stiffness during his Triple-A rehab stint in Tacoma in mid-April, threw at 90 feet Thursday and is scheduled to take the mound on Sunday.
"I'm excited for that," said Walker, a 21-year-old right-hander who is ranked the No. 6 prospect in baseball by MLB.com. "This time it feels different, because everything has been going smooth. So I think this time it'll be the right one."
Walker said he felt some irritation in the shoulder at times during his previous return, but has been free and easy while playing catch the past two weeks.
Paxton also is pleased that he's felt no pain behind his shoulder while working back from the injury that halted his season after going 2-0 with a 2.25 ERA.
"Everything is feeling great," said the 25-year-old southpaw. "No pain back there, I'm feeling strong. So I'm going to be getting on the mound and throwing pitches."
There's no firm timetable for either pitcher's return, but the typical schedule would be to throw several bullpens and then begin a Minor League rehab stint to build up the arm strength before eventually joining the big league club, which would likely mean returning sometime in June if all goes well.
The hard part for both youngsters now is sitting and watching, as both stayed behind in Seattle while the team went 7-2 on the road without them.
"Watching sucks, I definitely want to be there pitching and helping them," Walker said. "But I just want to get ready, don't rush it, but I'm throwing well so hopefully I can speed it up now and get back out there."
"It's fun right now, the guys are doing great," Paxton said. "So I'm watching the games and fist-pumping on my couch. I'd like to be doing it in the dugout, but that's coming. So it's good."
Greg Johns is a reporter for MLB.com. Follow him on Twitter @GregJohnsMLB as well as his Mariners Musings blog. This story was not subject to the approval of Major League Baseball or its clubs.