Cano maintains perspective during NY visit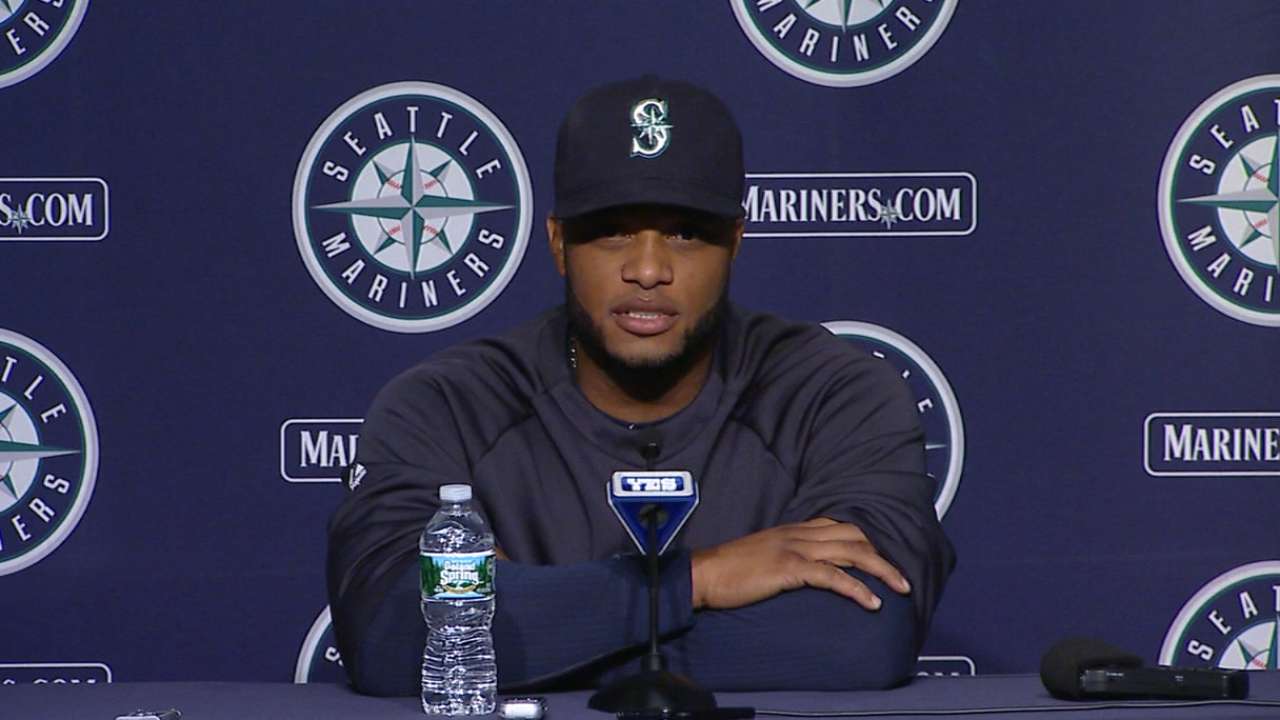 NEW YORK -- Robinson Cano returned to Yankee Stadium on Tuesday for the first time since signing with Seattle in December, and the five-time All-Star said he was just looking forward to seeing his former teammates and playing baseball in front of the fans that watched him grow up in the game.
But Cano steered clear of any questions about the contract decision he made to leave New York, despite being asked several times about his "lack of respect" comment, which the second baseman made when he initially rejected the Yankees' seven-year, $175 million offer and signed with Seattle for $10 years at $240 million.
"One thing to understand, this is a business," Cano said. "I can't control the Yankees. I can control myself. They made that decision, and we're both happy. I'm happy where I am now. I'm happy to be a Mariner. And good luck to them."
Cano had a whirlwind day in New York on Monday's off-day, when he taped the MTV2 show "Off the Bat" and made an appearance on The Tonight Show with Jimmy Fallon, taping a funny bit in which he came out from behind a big cardboard cutout of himself that Yankees fans were booing before realizing Cano was there in person.
"That was a lot of fun -- I had a great experience," Cano said. "I know I'm not a Yankee anymore. I have to understand the fans. They're not going to cheer for you here. They're going to boo you because you're on the opposite team. The last thing they want is for you to come here and do well."
Mariners manager Lloyd McClendon said he wasn't concerned at all about Cano handling the New York scene, which also included a pregame press gathering on Tuesday in front of a throng of reporters and cameras in a large interview room normally reserved for the Yankees.
"Robbie is a nine-year veteran, and he grew up in New York. Need I say more?" McClendon said. "I'm sure he knows how to handle himself. You guys need to keep an eye out for me."
Cano entered play on Tuesday hitting .301 with one home run and 11 RBIs over his first 24 games with the Mariners. He acknowledged it's a new situation in a new city after growing up in the Yankees organization, but he said he's pleased with how things are going.
"It's different," Cano said. "The Yankees are a team that has won a lot of championships, they have fans all over the place. It's always crowded. In Seattle, I can't tell you that much yet. We've had two homestands. But right now, I can tell you one thing: I'm happy there, the way they've embraced me, the fans, the organization, my teammates. That's one thing I can tell you right now."
Greg Johns is a reporter for MLB.com. Follow him on Twitter @GregJohnsMLB as well as his Mariners Musings blog. This story was not subject to the approval of Major League Baseball or its clubs.