Saunders slides into leadoff spot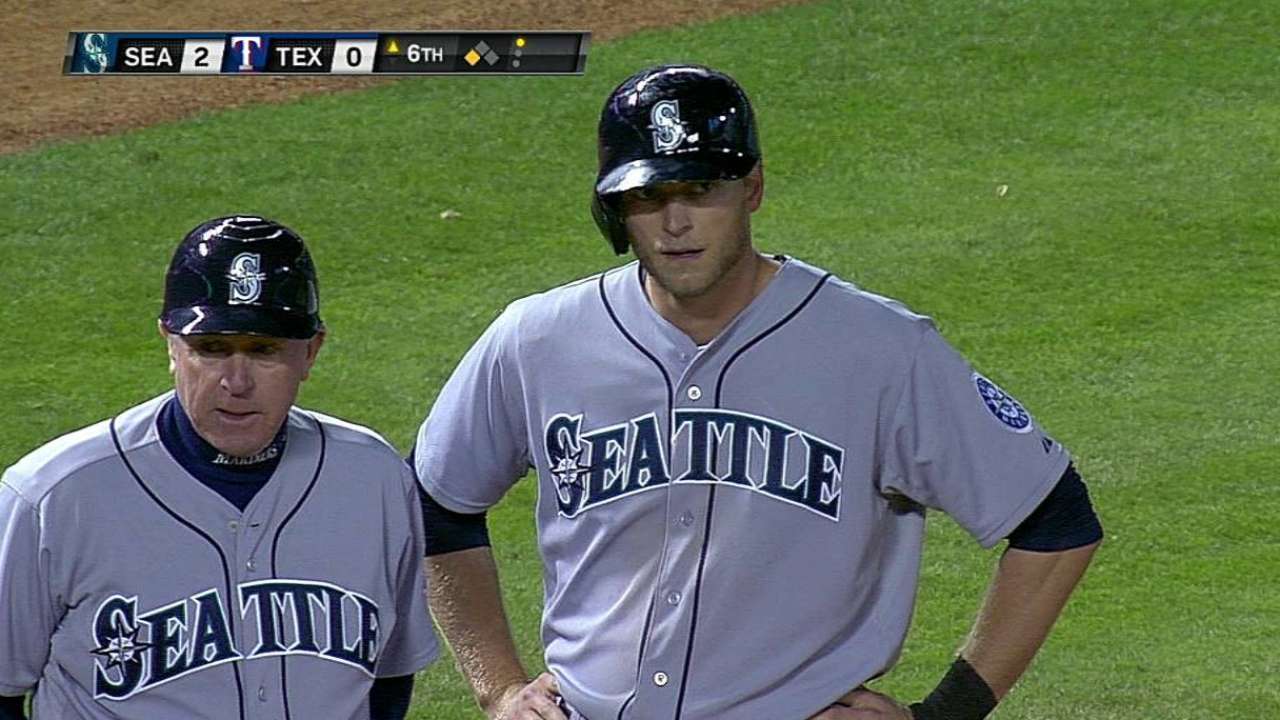 SEATTLE -- Mariners manager Lloyd McClendon shook up the lineup Saturday night against Rangers right-hander Colby Lewis by moving leadoff hitter Abraham Almonte down to the No. 2 spot and putting reserve outfielder Michael Saunders at leadoff.
Why the change?
"Look, I don't have any magic answers. I'm just searching. I'm just trying to spark the offense," McClendon said. "Ask me again tonight at about 10 o'clock and I'll tell you what I like about [Saunders]."
Saunders responded by hitting his first home run of the season to lead off the bottom of the first. He finished the game 1-for-3 with a strikeout.
Saunders has been the team's fourth outfielder in 2014, primarily serving as a defensive replacement or pinch runner late in games. Almonte has started all 22 games in center field and hit leadoff but entered Saturday with a .215 batting average and a .263 OBP, including five walks and a team-high 33 strikeouts.
McClendon said he wasn't sure if Saunders would remain in the leadoff spot if he turns around his slow offensive start, though he did reiterate the lineup will ultimately be determined by who is performing. Entering Saturday, the Mariners ranked 13th in the American League in runs (3.7 per game) and 14th in batting average (.226).
"I'm just tinkering, trying to get better, that's all … I don't know about tomorrow. We're about today. Tomorrow, he might be hitting fourth. Then you'll really say I'm crazy."
In limited playing time, Saunders is just 6-for-34 (.176) with no home runs, two RBIs and eight strikeouts. But he has experience in a leadoff role.
"I'm just going to try to put up a professional at-bat. Depending on the situation, you usually only lead off the game once and that's your first at-bat," he said. "We've seen Lewis before. I'm not necessarily going to go up there and take pitches. I'm going to be selectively aggressive, and that was my mindset when I was leading off last year. My main goal is to get on base."
Since Almonte and first baseman Justin Smoak are switch hitters, Seattle's lineup will include seven lefties when they try to win their first series since sweeping the Angels to begin the season.
How did McClendon think up the new lineup?
"I'm not sure," he said. "I think it was the third scotch."
Adam Lewis is an associate reporter for MLB.com. This story was not subject to the approval of Major League Baseball or its clubs.