McClendon excited to get back in manager's seat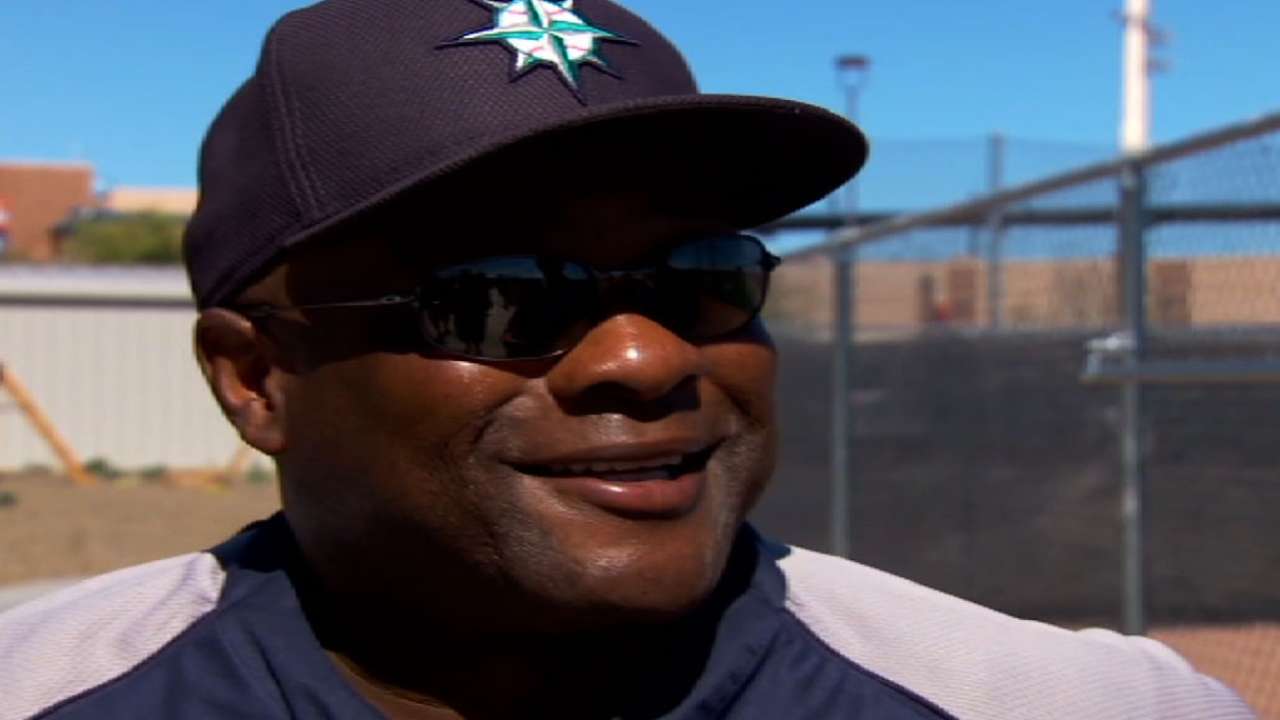 ANAHEIM, Calif. -- It's been eight years since Lloyd McClendon drew up his own starting lineup, eight years since he was the man calling all the shots for the Pirates.
So after serving as a coach on Jim Leyland's Tigers teams the past eight years, the 55-year-old acknowledges there's something special about getting another chance in the manager's seat as the Mariners prepare to embark on their new campaign Monday night against the Angels.
"I'm excited," McClendon said Sunday. "I'm happy to be back in the saddle, so to speak. I got a text from Jim yesterday and I told somebody, I know he's on the other end crying because it was a very emotional text. That's why he didn't call, he texted.
"I shed a tear and texted him back," McClendon said with a chuckle. "I didn't call him either. I didn't want to cry either. So, yeah, I'm excited. I've been waiting for it a long time. I'm proud of the team we have and I'm proud to be a Seattle Mariner."
McClendon will lead a young squad projected by most to finish fourth in the American League West after going 71-91 a year ago. But he's been a positive force since his arrival, saying that being young isn't an excuse and that he believes there's considerable talent on a team that added Robinson Cano over the offseason.
Losing All-Star right-hander Hisashi Iwakuma and top prospect Taijuan Walker to injuries at the start of camp increased the early degree of difficulty, but both are expected back toward the end of April or early May and the long-time hitting instructor has seen good things from his young offensive players.
"I like where we are from a mental standpoint," McClendon said. "Obviously, we have to pitch well and we have to hold the fort until we can get a couple guys healthy. But I like the attitude and the preparation, I like the walk. And they're playing good baseball."
McClendon has told his young players to relax and "unleash their talents." He feels the club is more athletic and has more speed than last year's roster and should be better defensively in the outfield as well.
McClendon said the Mariners are still pushing to balance their lineup and don't have the pieces to platoon in any particular spots on a regular basis, but he'll do whatever possible to create the best opportunities.
"I'll make the moves I think give me the best chance to win the game that day," he said. "It's really simple. There's no magic. I've said this from the start, I'm no smarter than anybody else. I'm no dumber either. I know when to bunt, I know when to hit-and-run, I know when to bring in the right pitcher for the right situation. Once they're in there, it's up to them to get the job done. My job is to make sure to put my personnel in the best possible position to be successful. The rest is up to them.
"I've said all along, I don't know how many games we're going to win, but I do know this," he said. "We'll be prepared every day to win. And that's real important."
Greg Johns is a reporter for MLB.com. Follow him on Twitter @GregJohnsMLB as well as his Mariners Musings blog. This story was not subject to the approval of Major League Baseball or its clubs.