Young pleased with his solid first impression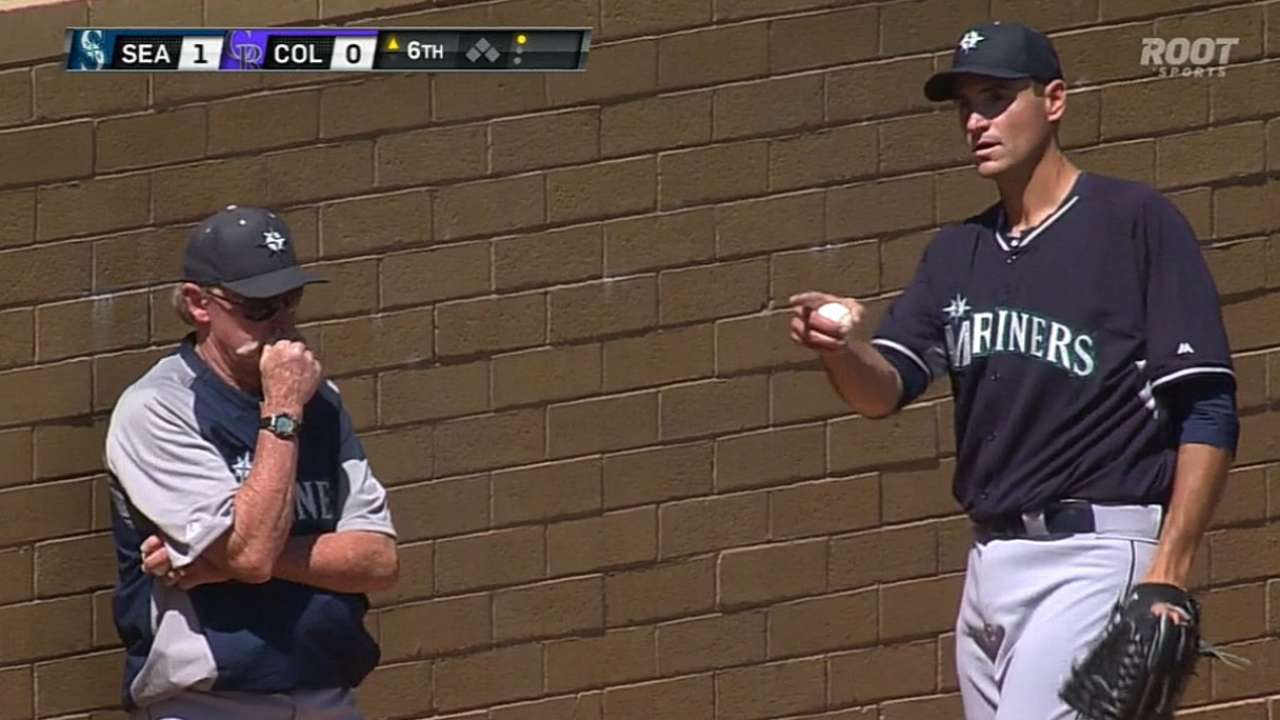 SCOTTSDALE, Ariz. -- While the rest of the Mariners were putting the finishing touches on their spring in Saturday's 2-1 loss to the Rockies, big right-hander Chris Young was introducing himself to his new club and gearing up as quickly as possible for his first Major League start since 2012.
Young threw 4 2/3 scoreless innings in his Mariners debut, allowing four hits with no walks and two strikeouts just two days after signing as a free agent following his release from the Nationals.
The 6-foot-10 veteran will slide into Seattle's rotation as the fifth starter, facing the A's on Friday in Oakland. So Saturday's outing was big for him on several fronts as he made his longest start of the spring after never going more than four innings for the Nationals before his release.
"You always want to make a good first impression, for sure," said Young, a 2007 National League All-Star with the Padres. "But today was also about getting my work in and getting the pitch count built up a little.
"I got into some situations where I had to make pitches and tried to treat it like a regular-season game because that's where I'm going to be next week. I did some things well and have some things I need to work on. But overall I feel confident with where I am, stuff-wise, performance-wise and health-wise. I'm excited for the season."
Young believes he's healthy for the first time in about five years after having surgery to relieve thoracic outlet syndrome, a nerve problem that was causing shoulder problems. Mariners manager Lloyd McClendon was pleased with his first outing.
"I thought he tired a little bit at the end, but I was pleased with what I saw," McClendon said. "He was the guy I remembered. He threw the ball extremely well."
Young got out of two second-and-third situations, striking out Carlos Gonzalez in the third and getting Corey Dickerson to line into a double play in the fourth.
"Obviously you don't want to be in those situations, but you're going to have to pitch through them," he said. "It's just realistic preparation for the season."
Young threw 63 pitches, then went to the bullpen and threw 15-20 more before heading to a workout room to ride a stationary bicycle for nearly a half hour.
"The preparation for my next start begins now," he said.
Greg Johns is a reporter for MLB.com. Follow him on Twitter @GregJohnsMLB as well as his Mariners Musings blog. This story was not subject to the approval of Major League Baseball or its clubs.