Making the roster an emotional moment for Romero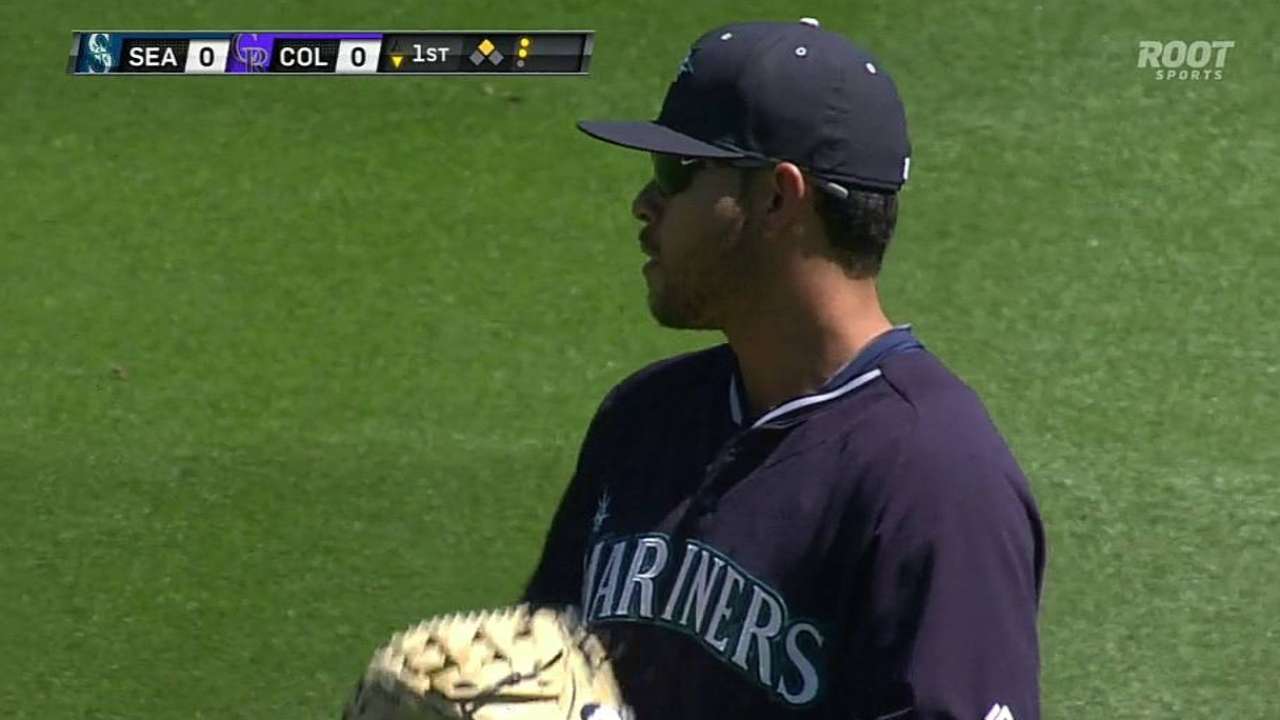 PEORIA, Ariz. -- For Stefen Romero, the words from Lloyd McClendon will forever be etched in his memory.
Called into the skipper's office Friday afternoon, Romero learned that he was part of the Mariners' 25-man roster heading into Monday's regular-season opener in Anaheim. And the 25-year-old outfielder suddenly felt a flood of emotions as one of his lifelong goals was realized.
"Speechless. Just goosebumps," Romero said. "He just said, 'Hey, I'm happy to say that I'll be your first big league manager.' When he said that, I got the chills and immediately my mind went back to my grandfather, who passed away two years ago in 2011.
"He's been my biggest influence playing baseball," said Romero. "He's been my No. 1 supporter and went to every single one of my games growing up. I got a little bit emotional, just thinking back and wishing he could have seen me play now. I know he's looking down and it's really an emotional time for me and my family. At the same time, I'm ecstatic."
The former Oregon State standout was the Mariners' Minor League Player of the Year in 2012 after putting up big numbers at Class A Advanced High Desert and Double-A Jackson, then hit .277 with 11 home runs and 74 RBIs in 93 games in 2013 after overcoming a strained oblique that delayed the start of his season.
McClendon likes Romero's right-handed bat and offensive potential and has played him both in the outfield and a little at first base the past week, looking for ways to get him opportunities as a backup candidate.
It remains to be seen how much Romero plays, but he knows this is a start to what he's been pursuing since his days growing up in Tucson, Ariz.
"It's awesome," he said. "It's every little kid's dream, getting to where you want to be. ... I want to keep going further in my career, but this is a really huge step and I'm just proud it's with the Mariners, the team that drafted me and gave me the opportunity."
As teammates went about the business of clearing out their lockers and preparing for the first road trip to Anaheim and Oakland, Romero was just soaking up the experience.
"It really hasn't hit me yet," he said. "I know when we stand out there for the opening ceremonies and seeing the fans standing up for the National Anthem, that's probably when it'll finally hit me, just awe. But right now, it's kind of hectic still playing spring games, trying to get everything packed up, trying to figure out all this travel and stuff.
"I'm new to everything. Guys are just packing like it's nothing. They know what to expect. I'm just going in there blind, pretty much. But this is an awesome experience."
Romero got off to an 0-for-16 start at the plate this spring, but hit .425 the rest of the way to finish at .304 (17-for-56) with three doubles, two triples, four home runs and 13 RBIs. He went 1-for-1 with two walks in Saturday's Cactus League finale against the Rockies.
Greg Johns is a reporter for MLB.com. Follow him on Twitter @GregJohnsMLB as well as his Mariners Musings blog. This story was not subject to the approval of Major League Baseball or its clubs.