Ramirez tabbed as Mariners' No. 2 starter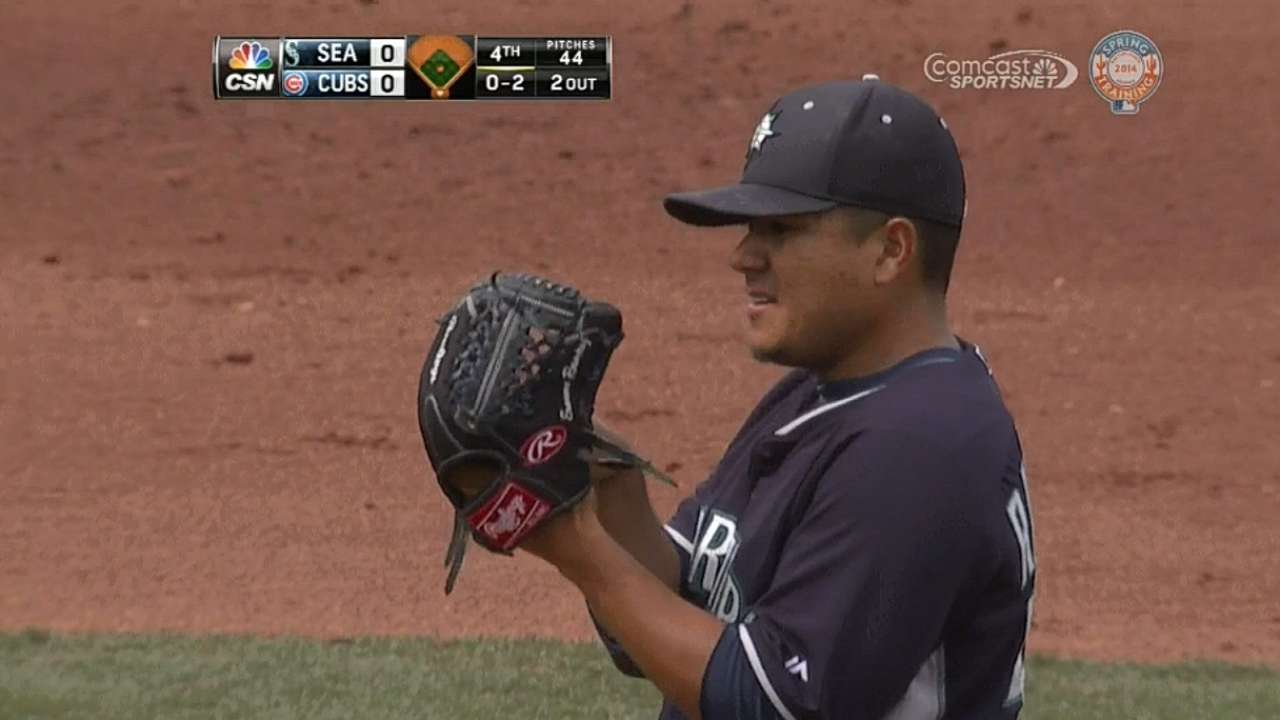 SURPRISE, Ariz. -- Mariners manager Lloyd McClendon said Erasmo Ramirez will start the season's second game in Anaheim on Tuesday after the young right-hander wrapped up a strong spring with five-plus innings of one-run ball in Seattle's 5-3 loss to the Rangers on Wednesday.
The 23-year-old from Nicaragua has put up the best numbers of any Mariners starter this spring, going 3-0 with a 1.14 ERA in 23 2/3 innings over his six Cactus League outings.
While Felix Hernandez will start Monday's opener and Ramirez is slated for Game 2, McClendon declined to name his Nos. 3, 4 and 5 starters yet.
James Paxton is pitching in a Minor League game Thursday - an off day for the Mariners - and seems to be lining up for the No. 3 spot. Roenis Elias will throw Friday against the Rockies, which would line him up to be the No. 4 starter against the A's next Thursday.
But the Mariners haven't named a starter for their final Cactus League game on Saturday, which would presumably go to the No. 5 starter.
McClendon was critical of Ramirez after his previous start, saying he'd gotten away with several pitches when he was ahead in counts that would have been hammered by quality big-league hitters.
"He's a strike thrower," McClendon said. "It's never been an issue of whether he could throw strikes, it's been an issue of whether or not he could throw quality strikes and throw the ball outside the zone when he needed to throw it outside the zone. Today he did a good job with that."
Ramirez threw five scoreless innings against Texas before allowing a leadoff single in the sixth to Adam Rosales. McClendon replaced the youngster with Charlie Furbush at that point and he allowed Rosales to come around to score for the lone run on Ramirez's tally.
He allowed just three hits with no walks and six strikeouts in a 70-pitch outing.
"Today everything was working," Ramirez said. "I got talked to the last time about missing too close to the strike zone on 0-2, 1-2 pitches. I missed a couple strikes in the strike zone and they got a base hit, but most of the time I got ground ball, foul ball or strikeout.
"And that's what I'm looking for, just to be more consistent in that. If I get ahead, just go and finish it. I have to just continue working on that every day. I'm happy with this Spring Training. Now I just have to continue doing my best."
Ramirez was 5-3 with a 4.98 ERA in 14 games (13 starts) last year for Seattle after missing the first few months of the season with soreness in his right triceps. Though he's not always listed among the big-name Mariners pitching prospects, the 5-foot-11 right-hander has risen through the system since signing as an international free agent in 2007 and could be critical to the team's fortunes this season.
"Now I just have to work and keep healthy," he said. "That's my goal for this year, keep healthy and help out the team as much as I can. The last spring I was a little lost and didn't know what to do. But this year, the pitching coach, the trainers, just everyone is putting some ideas in me and helping me find out what I need to do.
"If I feel tired for a day, don't miss that day, just do something for your body to keep it strong. That's what's happened this Spring Training and I want to bring it to the season."
Greg Johns is a reporter for MLB.com. Follow him on Twitter @GregJohnsMLB as well as his Mariners Musings blog. This story was not subject to the approval of Major League Baseball or its clubs.