Almonte still expected to lead off for Mariners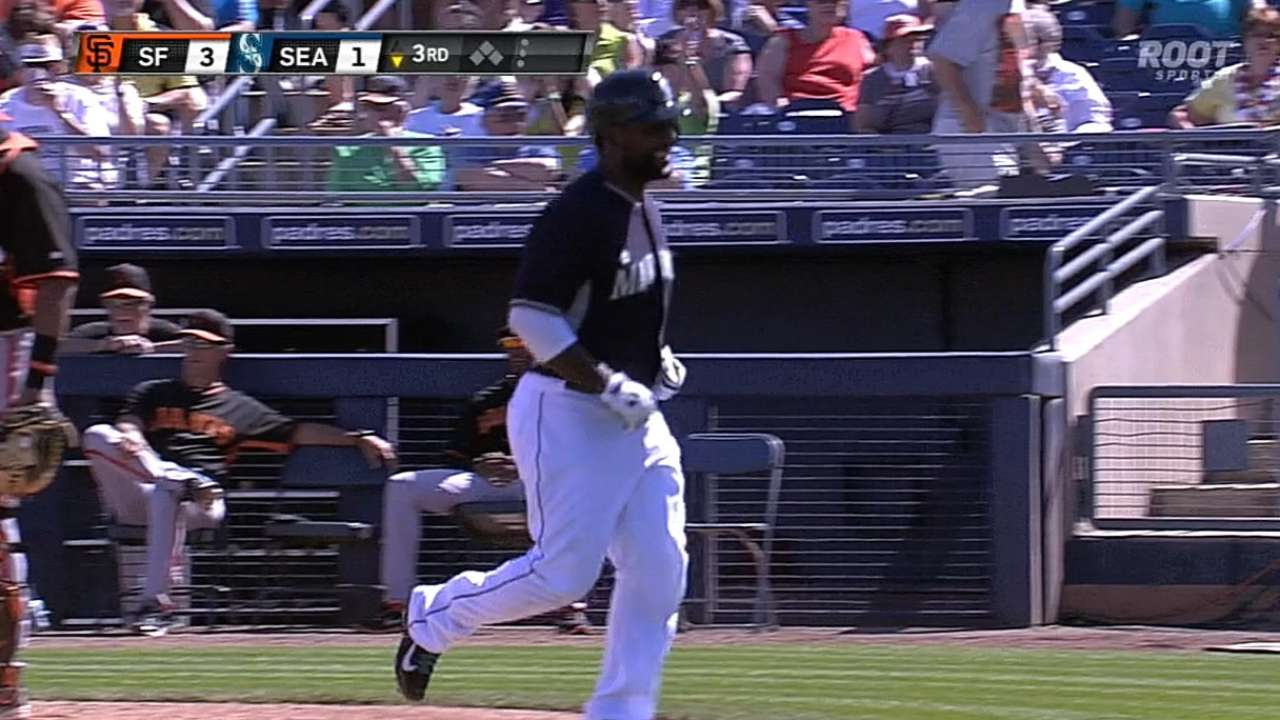 PEORIA, Ariz. -- Abraham Almonte wasn't in the leadoff spot on Wednesday with a rare day off this spring for the Mariners outfielder, but it's pretty clear that manager Lloyd McClendon has targeted the youngster to fill that role when the regular season opens Monday.
McClendon still isn't committing to lineup positions beyond Robinson Cano being his permanent No. 3 hitter, but Almonte led off and played center field in 20 of Seattle's first 29 Cactus League games prior to Wednesday's contest with the Rangers. And four of the nine games he didn't start in that spot were in split-squad situations where he could only suit up for one of the games.
Endy Chavez led off in seven of the other spring games, including Wednesday, but the veteran outfielder has already been assigned to Triple-A Tacoma to start the season.
While Almonte leads the team with 69 at-bats this spring, he's only hit .174 with a .237 on-base percentage. But McClendon continues to say he likes what he's seen from the 24-year-old, who batted .264 in 25 games with Seattle as a late-season callup last year after an outstanding season with Triple-A Tacoma.
"He's been swinging the bat pretty good for awhile," McClendon said. "He hasn't had the results; even last night he hit a couple balls extremely hard that were caught. In the end, all that stuff evens out. I just look to make sure he's not being overmatched, going out of the strike zone consistently, and I haven't seen those things. I've seen a very consistent approach, where he's barreling balls up, making solid contact. His speed is a pretty nice dimension. It's just nice to have."
And while McClendon has yet to officially commit to a set leadoff man, he leaves little doubt what his message is for Almonte.
"I just want him to be himself," McClendon said. "Don't have a preconceived notion of the type of hitter I want you to be or the type of leadoff hitter other people think you ought to be. Just be yourself. Play your game. Play the game you know how to play.
"Like I tell all my guys, unleash your talents. You've got to be carefree. You can't be afraid to make mistakes. You have to be conscious of mental mistakes, but don't be afraid to make physical mistakes. Go out and unleash your talents and have fun. That's the message I sent to him just like I sent to the rest of the guys."
Acquired from the Yankees for reliever Shawn Kelley last year, Almonte stole 20 bases for Tacoma and has had four seasons in the Minors with 30-plus steals. The 5-foot-9, 205-pounder has a blend of speed and power that intrigues McClendon. But there's little doubt as to his main asset.
"Speed is his forte," said the skipper. "Listen, we're all blessed with certain things and he's blessed with speed. If he doesn't use it, shame on him. If he doesn't use it, he's not going to be here. That's the way it is."
Greg Johns is a reporter for MLB.com. Follow him on Twitter @GregJohnsMLB as well as his Mariners Musings blog. This story was not subject to the approval of Major League Baseball or its clubs.