Walker shakes off rust in Minor League outing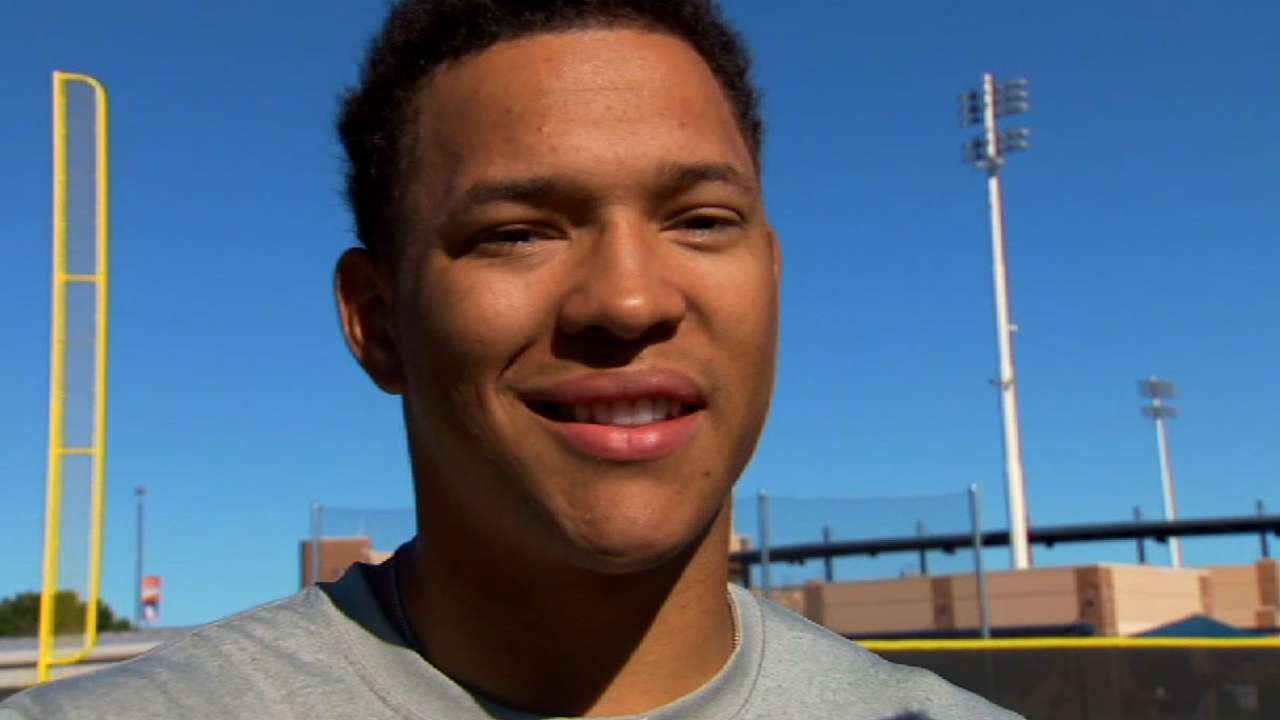 PEORIA, Ariz. -- Taijuan Walker threw 48 pitches in a three-inning Minor League outing Tuesday, as the Mariners' top prospect took another step toward returning from a sore shoulder that sidelined him early in Spring Training.
Walker, 21, is the No. 6 rated prospect in baseball by MLB.com and was expected to open this year in the Mariners' rotation. Instead, he'll open the year on the disabled list, but he's begun building back up his arm strength, having made two live mound appearance since being shut down for a week at the start of the month.
Walker gave up four hits and four runs (three earned) with two walks, three strikeouts and a wild pitch while facing members of Triple-A Tacoma. His first two innings were halted early to control his pitch count, so he wound up getting six outs in the three frames, including a 1-2-3 third on eight pitches.
"My arm felt good; I just got tired," Walker said. "But that's to be expected. I used my legs a lot today, which was a good sign. I wanted to use more legs, less arm. But my arm felt great."
As for his command?
"Ehhh, it was all right. Could be better," Walker said. "But it's something to work on. Again, my arm feels good, so I'll take the positives. It was my first time throwing the curveball, and I thought it was pretty good. It felt good coming out of my hand. A couple of them I got behind on, but for the most part I felt pretty good."
Xavier Avery opened the game with a triple off Walker that probably could have been a line-drive out, then scored on a wild pickoff attempt to first. He also gave up a double down the line to Cole Gillespie in the second, but looked better in the third while setting down Avery, Chris Taylor and Jabari Blash in short order.
"I looked over and [trainer Rick Griffin] told me, 'You've got 10 pitches," he said with a smile. "I said, 'All right, let's get it done fast.' It was definitely good to see how the arm reacted to setting down, cooling off and then getting back up and going out there. There was no problems with that. It felt real good. Everything has gone real well."
Walker will throw in another Minor League game on Sunday, likely going four or five innings, as he continues extending his work.
"He has a little rust, but that's OK," manager Lloyd McClendon said. "He just has to continue to get out there and work on it."
Greg Johns is a reporter for MLB.com. Follow him on Twitter @GregJohnsMLB as well as his Mariners Musings blog. This story was not subject to the approval of Major League Baseball or its clubs.