Iwakuma uses tennis ball to build up arm strength
Walker, Pryor to make debuts Saturday against Padres' Minor Leaguers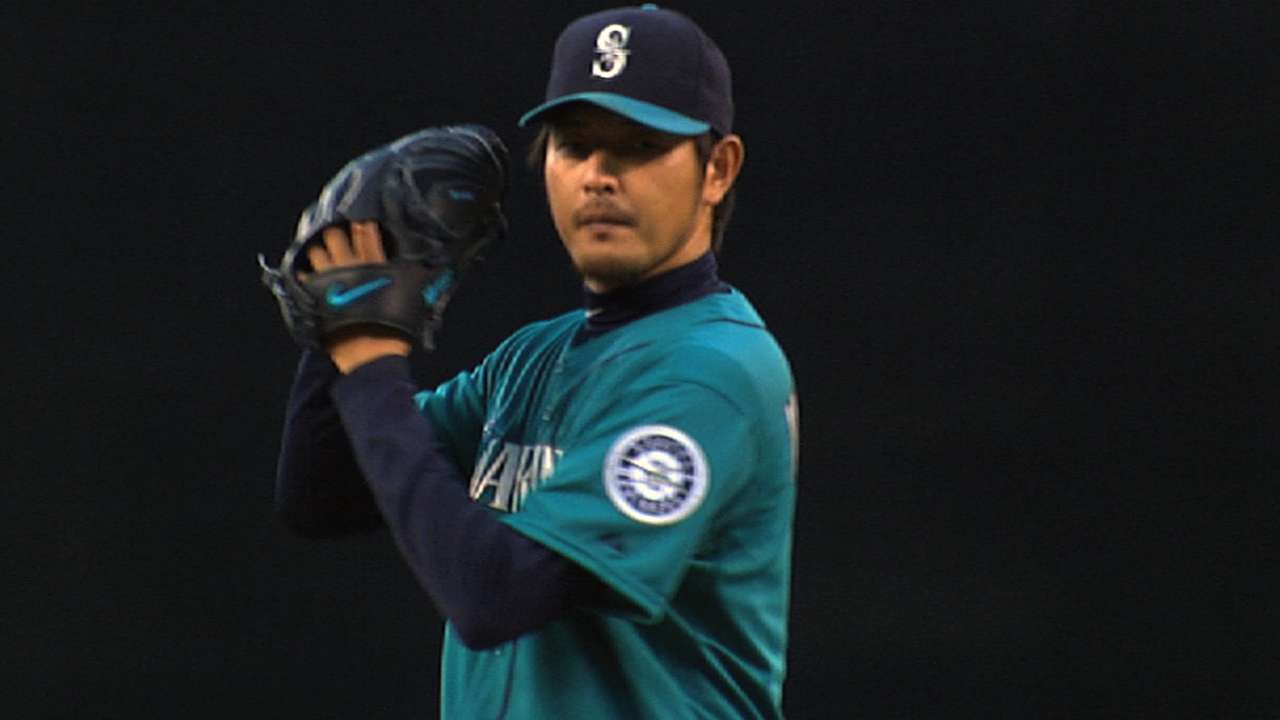 PEORIA, Ariz. -- Injured All-Star Hisashi Iwakuma threw a tennis ball Friday in his first step back from a six-week layoff with a sprained finger tendon, while young Mariners right-handers Taijuan Walker and Stephen Pryor are scheduled to make their spring debuts in Minor League games Saturday.
The three injured hurlers could all be critical factors for Seattle this season, so their progress is being closely monitored. All three will presumably open the regular season on the 15-day disabled list, given there are only 10 days until the Mariners face the Angels in Anaheim on March 31.
Iwakuma, 32, will need to slowly build back up his arm strength over the coming weeks. He began the throwing program with a tennis ball inside the Mariners' training room, just to work on strengthening his grip after not being able to hold a baseball the past six weeks.
"I threw about 40-45 times with a tennis ball inside the weight room," Iwakuma said. "I felt good, no pain, better range of motion. So far, so good."
The Mariners won't rush the process with the right-hander, who went 14-6 with a 2.66 ERA last season and finished third in the American League Cy Young voting. He'll need to build up to long-toss and then throwing bullpen sessions before taking the mound for his own Minor League rehab appearances sometime in April.
"I'm happy he's back out and starting to be active again," manager Lloyd McClendon said, "but it's going to take a little while. It's not going to happen overnight. We just need to get him moving forward."
Walker, who is ranked the Mariners' top prospect and was projected to land a starting-rotation job coming into camp, hasn't pitched in a game since arriving in camp with a sore throwing shoulder and later being shut down for a week after being diagnosed with bursitis.
Walker has thrown three bullpen sessions in recent days and now will begin testing his arm in game situations, with a scheduled 20 pitches Saturday in an outing against the Padres' Class A club at the Mariners' practice complex at 1 p.m. PT.
"I'm pumped," said the 21-year-old. "When they told me they'd get me in a game with 20-30 pitches, I'll take it. I'll take whatever it is. This is a big test. I don't want to go out there blowing it out. It's going to be tough holding it back, but I want to go out there with fastballs and changeups and just work on location, throwing at 80-85 percent and just keep it there. If everything goes good, we'll move forward."
"Ideally, we'd like to see him go two innings and see how it goes," McClendon said. "It's a Minor League game, so we can control it and go from there."
Pryor, 24, hasn't thrown in a game since a Minor League rehab outing last July, when the hard-throwing reliever discovered he was having further issues with a torn latissimus dorsi muscle behind his right shoulder that initially sidelined him two weeks into the Mariners' season.
Pryor is scheduled to follow Walker on Saturday with a 20-pitch inning of his own in the Minor League game in Peoria, Ariz.
"I'll get in there and see how it goes," Pryor said. "It's a big step for me. I'm excited about it."
Pryor has thrown five bullpen sessions and three batting practice sessions this spring, clearing every hurdle while increasing his strength and velocity. Pryor was expected to be a key member of last year's bullpen and had thrown 7 1/3 scoreless innings in the first two weeks of the year when he initially tore the lat muscle.
If Pryor can return at full strength in the early going this season, that would be a significant boost to Seattle's relief crew. And the big right-hander feels that is certainly possible.
"I'm not coming up sore or hurt, so this is the next step in the progression," Pryor said. "I set high goals for myself, so I was hoping to be ready to go April 1. That's not the case. I don't know where they have me, but if I could be back in mid-April, before May sometime, that would be great, in my opinion. But we'll have to wait and see how the progression goes."
Greg Johns is a reporter for MLB.com. Follow him on Twitter @GregJohnsMLB as well as his Mariners Musings blog. This story was not subject to the approval of Major League Baseball or its clubs.