Relaxed Felix jokes that he wants to play center field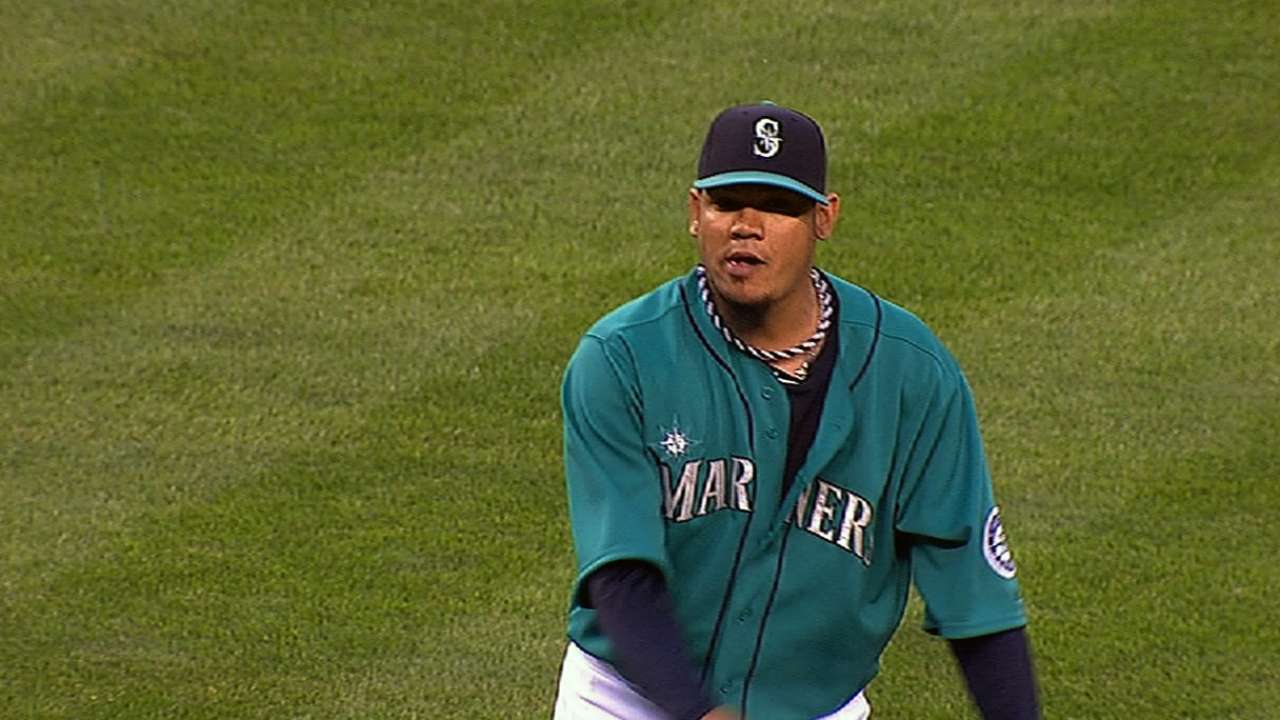 SCOTTSDALE, Ariz. -- Felix Hernandez has done a lot of things for the Mariners over his nine seasons in the Majors, but he came up with one new idea Friday.
On his way off the field following four innings of outstanding work against the Rockies, Hernandez meandered through the defense warming up for the next frame, stopped and chatted with an umpire, intercepted a ball in center field intended for Abraham Almonte, who was playing catch with right fielder Stefen Romero, then asked for the ball back moments later and tossed it to a fan in the stands as he exited the field.
Relaxed? Why not, given he'd just held the Rockies to two hits and an unearned run in his strongest outing yet this spring. But beyond that?
"I was going to play center field," Hernandez said with a laugh. "l said, 'Almonte, go.' I would like to play center field one of these days."
He was kidding, of course. But Hernandez has carried much of the team in recent years and is preparing for his club-record seventh Opening Day start on the mound.
He was efficient enough Friday that he got through his designated four innings on just 41 pitches, then went to the bullpen to throw 24 more to get his count up to 65.
"Felix threw the ball extremely well," manager Lloyd McClendon said. "I thought he came out very, very well. It looked like he was a little more focused tonight. He felt very strong. He wanted to go back out there, but we wanted to get [Erasmo] Ramirez out there as well."
Hernandez allowed just a pair of singles and the one unearned run, courtesy of a throwing error by Minor League second baseman Jack Reinheimer on a double-play relay in the second. The Mariners ace walked one and struck out two in his longest stint so far this spring.
"Not bad," he said. "I threw a lot of strikes. I told Lloyd to let me go back out [for another inning] and he said, no, go to the bullpen. I was just throwing a lot of fastballs down in the zone and working on my changeup."
Greg Johns is a reporter for MLB.com. Follow him on Twitter @GregJohnsMLB as well as his Mariners Musings blog. This story was not subject to the approval of Major League Baseball or its clubs.